Cute Czech Gay Porn Star, Isaac Hartley
Known Aliases:
Years Active: 2016
RANDY BLUE INFO:
Isaac Hartley has that sexy black Irish vibe. He has blue eyes and jet black hair. He kind of reminds me of Toby Maguire. You know if he was European and wanted to get into gay porn. Isaac is very stoic. This straight man has muscles in all the right places, and knows how to show them off. He may be new to gay sex, but he takes to it like a fish to a gay orgy. He can deep throat a cock, and he can take a raw dick like a champ. And if you want to shoot a hot white load up his ass, he is totally game for that too. Watch this sexy hot naked man get down and dirty and get fucked hard and raw. He's the newest find at Randy Blue Universe.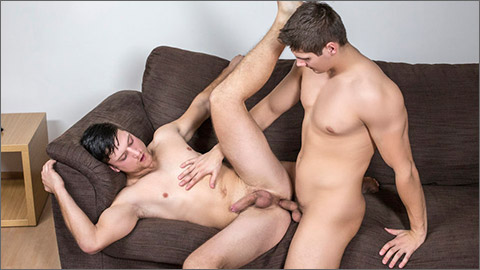 STRAIGHT BAREBACK MUSCLE FUCKING WITH TOMAS FUK AND ISAAC HARTLEY
Isaac Hartley is the new kid in town. He is short, but full of hard muscles. He says that he is straight, and this dark haired, steel grey eyed muscle boy is ready to try gay sex for the first time. Enter Tomas Fuk. This tall and beefy sweet heart is the perfect guy to break someone in. I mean if you are going to have gay sex for the first time, it might as well be with someone big and manly. They start to kiss and it soon moves to blow jobs. They tae turns sucking on their long hard uncut cocks. Next Isaac offers up his virgin ass. Tomas slides his raw cock in there and begins to fuck him hard. They bareback in position after position. Isaac is surprised by how much he loves feeling the a raw dick pumping in and out of him. Then finally Tomas can't handle how good Isaac's tight ass feels. He pulls out and cums and shoves the cum back inside. Then Isaac goes over the edge and cums too.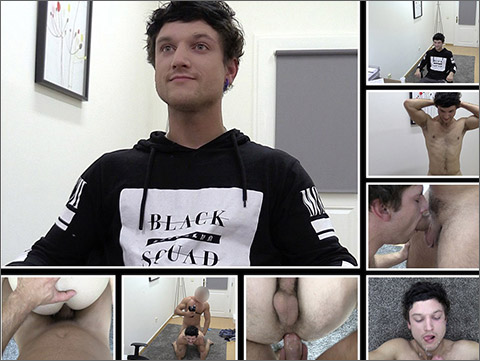 DIRTY SCOUT 55
This guy looked a bit eccentric. He barged into my office without knocking. Judging by his appearance, he looked like he came straight from a party. But I couldn't smell alcohol so it was okay. He was from a poor part of Moravia and moved to Prague to find a better job than working long shifts in a machinery factory. He wanted something easy and nicely paid. I had a job like that for him, contract was ready to sign. But as usual, there was a problem. His wallet was empty and my balls full. He agreed and I honestly think he enjoyed it, at first. Or at least he didn't mind it that much. Then I started working on his ass. I was starved for nice tight ass, so I fucked him little harder than usual. And then I tore his pretty virgin ass apart… Thank God he just took the money and left.
CLICK HERE TO GO TO HIS RANDY BLUE DETAILS