Bloond Hung Tattooed American Gay Porn Star, Harley Hardman
Known Aliases: Liam Corolla
Years Active: 2012 – 2015
COLLEGE DUDES INFO:
Age (2012): 19
Height: 5.7 (170cm)
Weight: 135 (62 kg)
Shoe: 8 US (41 EU)
Cock: 7.0 (18cm)
IN HIS OWN WORDS:
"Happy to be strutting my stuff for all you great fans!"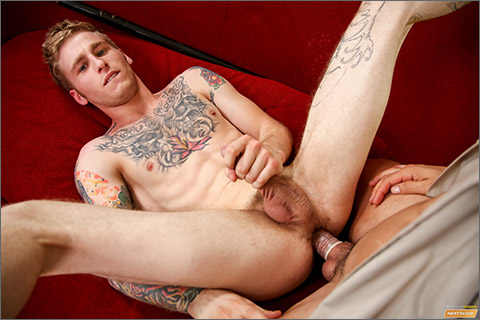 OFFICE SURPRISE
It's just another day at the office for Harley Hardman. As he pores over speadsheets and progress reports, the afternoon slog catches up to him and he feels himself start to crash. It is just at this moment that his secretary informs him there is an officer present to see him. Though he cannot think what it could be about, Harley sees the officer immediately, and his first thoughts are that Arad is both a hunk of cop and also the strong silent type. For his part, Arad says nothing and carries a big stick. Well, two big sticks if you count the one in his pants. Harley is visibly concerned when Arad sits him on the couch for interrogation, but his reluctance turns to confusion when the officer begins to undress him. By the time Arad has his cock in his mouth, Harley is fairly sure this isn't a regular cop, so he decides to go with it, pushing Arad's mouth down further onto his cock as his dick gets harder and harder. However, Arad didn't come just to hand out justice, but also to recieve it as well, so Harley reciporcates head, blowing Arad as he begins to take off his uniform. Harley still has his tie on when Arad bends him over his desk and fixes him with cuffs, pinning Harley's hands against his back as Arad plunges his cock deep inside the waiting executive. Harley bites his lower lip as Arad contiues to pound, bringing him back over to the sofa and banging him missionary, letting Harley out of the cuffs just in time for him to stroke himself off, before Arad pulls out and blasts him with a load of his own, discharging his weapon and emptying his pistol all over Harley, before answering the call of duty at another location, leaving Harley to wonder what exactly just happened.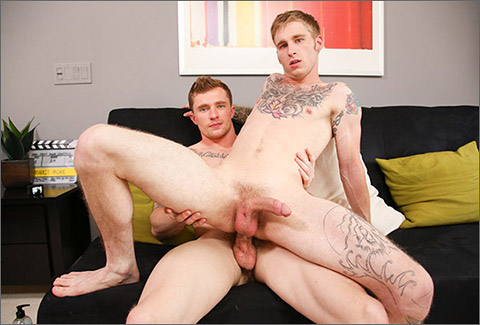 BUDDIES CASTING: HARLEY HARDMAN
Markie has busted out his selfie stick and is messing around with GoPro when Rocco informs him he's got a visitor waiting on the casting couch. Harley Hardman is a lean sexy stud with a loose attitude and a jovial nature, not to mention a nice cock that he's ready to show off.Markie immediately is enamored with Harley's body and can't keep his hands off of him, as they begin making out as soon as Markie sits down. Ripping his clothes off, Markie drops to his knees and begins sucking off the noobie, who gets nice and hard inside Markie's mouth. But Harley shows he can give as well he receives when he flips Markie onto his back and returns the favor, downing Markie's hard dick and spitting on the head, teasing Markie's hard on along, before stroking himself hard and bending Markie over.
   Markie takes Harley's cock deep inside him, as Harley pushes up against his ass, slapping his balls against Markie's stomach as they continue to fuck doggy style on the couch. Once Markie's had his fill, he tests Harley's bottom, mounting him from underneath as Harley bounces up and down on Markie's cock. Harley takes a dick like a real natural, stroking his own hard dick as Markie continues to pound, before they switch up one last time, and Harley tries to fuck the cum right out of Markie. Markie lay on his back while Harley pounds away, and he succeeds as Markie loses his load all over himself as Harley pulls out and explodes as well. With both guys shagged and glistening, Harley's smile lights up the room like a kid in a candy store. Surely he enjoyed himself, but is it enough to make him a full time fixture on the Next Door scene?
Blonde, Condom, Hardcore, Anal Sex, Deep throat, Athletic, Straight Men, Climax, HD Movies, Gay Porn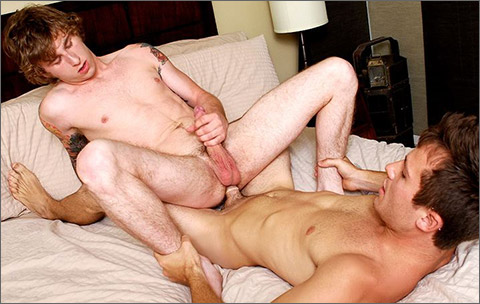 NICK STUART FUCKS LIAM COROLLA
Nick Stuart has been really busy studying for a while, but we were glad to get him back for more action with Liam Corolla! Nick has a rock hard dick and knows how to fuck, and Liam shows us how great he is at getting a pounding! Nick and Liam make out passionately, and the cocks pop out of the pants quickly, each of these guys grabbing for the others dick. Nick goes down first, showing us what an amazing cocksucker he is. Liam is pleasantly surprised at how wonderful it feels! Liam returns the favor, but he is eager to hop on for a hot ride. With Nick flat on his back, Liam straddles Nicks cock and the fucking begins! Liam feels great and his cock is hard as he rides up and down on Nicks pole. Nick loves it too, but soon gets Liam on his knees so he can pound him even harder. Liams bubble butt is on display and getting plowed – Nick loves it! With an intense kiss, soon Liam is on his back, continuing to get fucked good, and after a few more minutes he can barely wait to blow a hot load of jizz. Nick fucks him a little more before pulling out and cumming himself. Awesome Fuck!
LIAM COROLLA BUSTS A NUT
NICK STUART FUCKS LIAM COROLLA
OFFICE SURPRISE
BUDDIES CASTING: HARLEY HARDMAN
NEXT DOOR STUDIOS
COLLEGE DUDES
BROKE STRAIGHT BOYS
CLICK HERE TO GO TO HIS NEXT DOOR STUDIOS DETAILS
CLICK HERE TO GO TO HIS COLLEGE DUDES DETAILS