Cute Blond American Gay Porn Star, Guy Holiday
Known Aliases:
Years Active: 2012; 2016
JAKE CRUISE INFO:
Age: 27
Sign: Aquarius
Height: 5′ 8″
Weight: 150 lbs.
Dick Size: 7″ thick & cut
Position: Versatile Bottom

GUY HOLIDAY MASSAGED
Previously I serviced blond, hung, muscle stud Guy Holiday. Man was that great. Guy is hot and has a great, sexy smile. His smooth body is ripped in a natural way. His cut cock is thick and gets hard as marble. I enjoyed Guy so much I asked him back for a massage. I start out as usual, feeling his back and legs and oiling him down. As I get to his ass I can't help myself. I reach underneath grabbing his dick and plunge my tongue in his ass. I then go down his leg to his feet and feast on his smooth soles and tasty toes. I turn Guy over, his cock is like a rocket ready for launch. I kiss his mouth, his chest, his belly, and work my way down to suck his thick prick. I can't tell you how much I want to get on the table with Guy. He has me roaring hard. I pull up Guy's legs and he holds them back. I suck his rod, lick his balls, and rim his ass. His fat cock feels like thick steel in my hand. To complete the happy massage I stroke and massage Guy Holiday's massive pole in several ways. In less than a minute he bursts, shooting streams of white cum onto his belly and chest. Guy moans loudly and looks down at his juice. I suck his cock again, then eat his spunk before leaning over for a wet kiss. Weeks later I still dream of this massage and Guy's sweet face, hot body and powerful cock.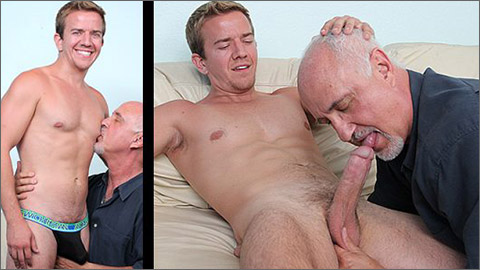 GUY HOLIDAY SERVICED
You know that college student who lives down the street? The cute blond one with blue eyes and an athletic build? Well, I got to spend an afternoon with him. Meet Guy Holiday. Sweet, sexy and with a cock that approaches perfection. Guy has a great body, muscular, but he doesn't live at the gym. He's a great kisser and I love touching every part of his body. I slowly remove his clothes and play with him. He's very playful back. When I pull out his cock from his Andrew Christians my eyes pop. Guy has a beautiful, perfect, thick cock. It is one of the hardest cocks I've ever experienced. I guess you could call him the man of steel. After taking off his socks I found that Guy has soft, sexy feet. I suck on his toes and lick his soles. Guy lays down on the couch and I worship his backside. He has such a nice ass and hole. I get a good taste of every inch. At the end of the fun I sit on the floor and Guy pounds my face. I can't suck that huge pole for very long, so I do a lot of licking. I stroke Guy hard and he shoots a big load into my mouth and onto my face. Nice! With a big smile on both of our faces we say goodbye.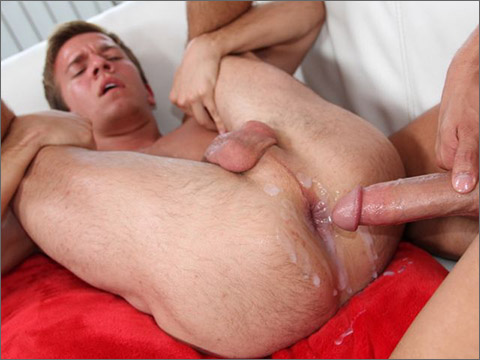 BIG COCK PARTY
Guy Holiday is in town and has met some new hot boys to play with. He's looking for a good time and a big cock for that extra kick. We all know he loves to play, but can he play with the big boys.
CLICK HERE TO GO TO HIS JAKE CRUISE BIO PAGE
CLICK HERE TO GO TO HIS GAYROOM DETAILS