American Gay Porn Star & Escort, Geoff Gregorio
Known Aliases / aka:
Years Active: 2016
TWITTER @geoff_gregorio
RENT MEN
RENT MEN INFO:
Age:34 Y/O
Height: 5'6″ – 164 cm
Weight: 130lbs – 58 kg
Body: Athletic
Body Hair: Light Hairy
Orientation: Gay
Position: Versatile
Ethnicity: Caucasian
Profile Visits: 984
Last Login: 56 min ago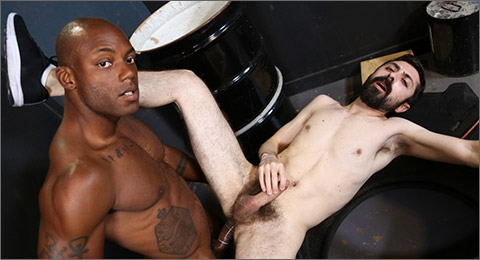 WAREHOUSE HOOKUP – PART 1
Osiris has never met with Geoff before but they have no place to hookup. They found each other online and Geoff gave him an address to meet up at. Once Osiris arrives at the address he calls his friend just to let him know where he is at because he arrived at a sketchy dirty warehouse. He hangs up on the phone and moments after Geoff comes walking in and Osiris who is a little worried has to ask him why this place of all places. Geoff chose this place because his friend owns the warehouse and neither of them had a place to fuck so once Osiris hears his explanation they get down to business. Geoff pulls out Osiris's long fat dick and Geoff can't believe how beautifully big this cock is. He takes care of every inch with his tongue licking the shaft from the base of the balls to the tip of the cock back and forth as well as deep throating it. Osiris is hard as a rock and extremely turned on. Geoff's dick needs some attention too so Osiris repays the favor and his eye light up once he sees how big Geoff's dick is. Lots of dick in this warehouse and two sweet asses that will get plowed with them sexy cocks. Geoff wants to fuck that bubble ass first so he puts a condom on and slowly pushes into the tight smooth ass pushing as his cock pulsates into Osiris. It's so tight Geoff can't pump fast enough and has to fuck him slowly in and out from behind. You can see Osiris's big hard cock flopping around as he is being fucked. Just about to cum Geoff pulls out and wants to feel Osiris's big dick inside of him when he does release his load. Osiris fucks him on the tire with slow long stokes which Geoff can see every inch going deep inside of him. He's watching that dick and finally his ass tightens and he shoots his load all over the place leaving Osiris to do the same but he fucks Geoff's face and leaves him with a mouthful.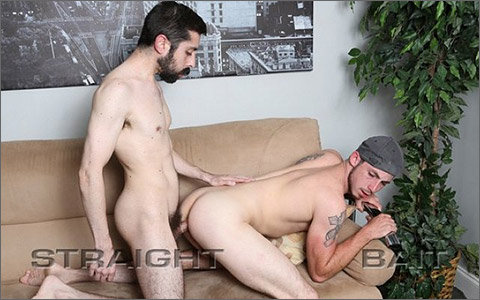 TOBY SPRINGS & GEOFF GREGORIO
It's been about a year since our hot bait boy Toby Springs has been here and each time he comes back he's more and more experienced in gay for pay porn. Lucky for him, he has a girlfriend or as he calls her a "friend with benefits", that is completely fine with him having sex with other men! At Toby's ripe young age of 24 he has plenty of sex to go around!
   Caruso brings in a 34 year old Greek exhibionist Geoff Gregorio. He's 34, 5'6", 130 pounds with brown eyes and brown hair, and a fat 7" dick! Geoff loves sex and loves having an audience watching him fuck! He's pretty much done it all sexually except having sex with another dude. You can imagine Geoff's reaction when Caruso walks back in the room to break the bad news. Sadly the girl has friction burns and can't make it. With only one option left and double the money offered, Geoff agrees to give it a try.
   Toby reaches over and starts stroking Geoff's cock. Geoff doesn't know what to think or how to react with another man jacking him off. Caruso has Geoff start stroking Toby's dick and Geoff becomes completely fascinated in what he's doing. Toby bends over and starts sucking Geoff's cock and Geoff's eyes roll back in his head. He's clearly enjoying every moment of his new experience and decides to take it to another level by returning the favor and blowing Toby!
   After a while Caruso has both guys stand up and rub their cocks together. Toby can tell that Geoff is really getting into it so he leans in for a kiss. Both guys make out for a while until Toby can't take it anymore and wants Geoff's cock inside him. Toby bends over while Geoff slips on a condom and some lube. Geoff slowing goes in but it isn't long before he's pounding Toby's ass. Toby flips over so Geoff can really fuck him hard. Toby starts talking dirty to Geoff saying "I want you to cum all over me!" Geoff can't take his new experience and the dirty talk for much longer so he pulls out a shoots a huge load all up Toby's stomach. Toby can't hold back either and shoots a hot load of his own!
PRIDE STUDIOS
GIO CARUSO'S BAIT BUDDIES
CLICK HERE TO GO TO HIS PRIDE STUDIOS DETAILS