American Military Active Duty Amateur, Gabriel Watson
Known Aliases / aka:
Years Active: 2016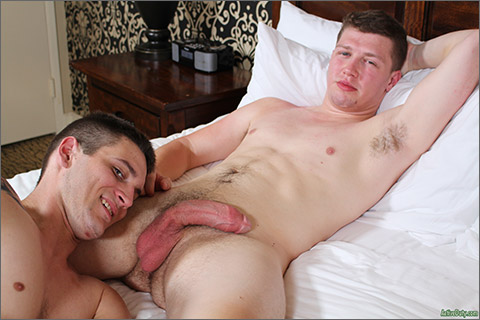 ALLEN LUCAS & GABRIEL WATSON
Take a look at these two fine specimens! They're a couple of sexy peas in a steamy pod and they're hookin' up for the first time. We've grown to know Allen Lucas very well and have seen him turn from eager, curious fresh recruit, to bold, daring squad leader. He's exactly the man for this job, initiating brand new boy, Gabriel Watson into the fold. Allen finally suggested Gabriel have a taste of his cock, so he sure did, and what do ya know?! Gabriel took to it like a fish to water. And then what a treat for Gabriel. Allen reciprocates by taking Gabriel's absolutely enormous erection very deep down his throat. The action at this point becomes so hot, the guys naturally move into an intense 69 formation and go to work on each other's throbbing knobs for a while. All this fun was plenty to convince Gabriel to take the ultimate leap and try fucking his first guy! Claude gets underneath the guys and we see a wonderful view of Gabriel going in and out, starting slowly first, then building up some speed and fucking that sweet recruit real good. Then the soldiers move right into phase 2 of this operation: Gabriel lays flat on his back on the bed and Allen gets on top of him to ride that big boner. He starts out nice 'n' easy but gets going really fast and hard, bouncing down hard on Gabriel's lucky cock. And then finally, Allen goes to his back so Gabriel can fuck the cum right out of him. And what a great job he does of that! Allen explodes like a firehose as Gabriel bangs that tender pocket with purpose and duty.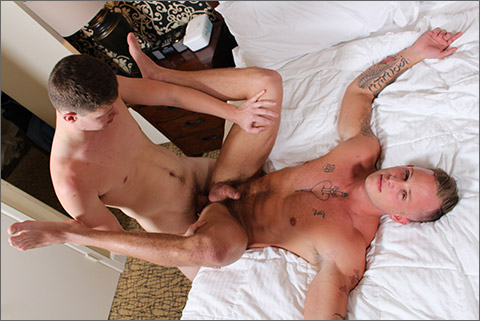 GABRIEL WATSON & ZACK MATTHEWS
I just get giddy when we have a favorite of mine back to hone his ever expanding set of skills and push his boundaries. I'm talkin' 'bout Zack Matthews! He's the incredibly hot, outrageously sexy stud who we recently saw get tag teamed by Ivan James and Quentin Gainz. Alongside him this time is Gabriel Watson, a handsome newer recruit with certainly potential for miles.
   What a nice job Gabriel does! I have to admit, I was a little nervous for the young man, being as green as he is, but he swallowed down that fat, swollen cock like a natural. He definitely seemed to enjoy it too, because after some good bobbing and slurping, Gabriel had a nice stiffy to serve up to hungry Zack!
   I'm so proud of how great of a cocksucker Zack has become. Gabriel really puts him to the test, thrusting his hard meat in and out of that eager mouth. Zack stayed focused, taking down lots of Gabriel's cock.
   And if that wasn't enough, Gabriel decides to go back in for MORE of Zack's tasty dick. Claude does some nice work here, showing us Gabriel's bubby ass and luxurious balls as he lays on his stomach to blow Zack this time.
   Then we really get the party started! Zack sticks his hard dick into Gabriel's tight little hole and shows him what a serious pounding from a decorated AD man is like!
   But Gabriel came here to get the FULL experience. And Zack likes the idea too! He lets Gabriel return the favor by sliding his own throbbing member in. I do love watching Zack get fucked. He's a big guy and he really is starting to enjoy taking dick, nice and deep.
   After some good ramming while Zack is on the bed on his back, he spreads his cheeks wide so Claude can get a nice shot of Zack's tight, pink hole…yummy! Then it's more hard pounding from Gabriel. I think Gabriel really held his own this time! Zack is a heavy hitter, and more experienced than Gabriel, but I can tell Zack really enjoyed himself, yet again.
CLICK HERE TO GO TO HIS ACTIVE DUTY DETAILS