Sexy Uncut Latino Gay Porn Star, Gabriel Alanzo
Known Aliases / aka:
Years Active: 2017
TWITTER @GabrielAlanzo1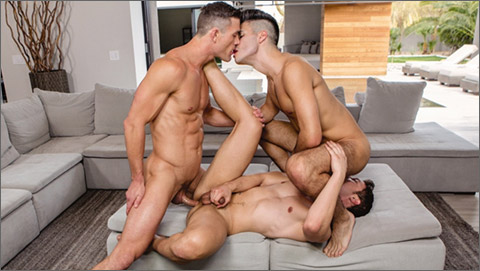 INTIMATE: Ryan Rose & Jake Archer spit-roast Gabriel Alanzo
Jake Archer is in his underwear in the living room checking out his phone when Gabriel Alanzo enters while listening to his headphones. Gabriel is dancing and making Jake giggle when he comes over and makes the moves on Jake. They make out and grind pelvis on pelvis through the cotton fabric of their tighty whities when Ryan Rose casually walks in and joins the action. Ryan sits down and immediately becomes the focus of the other two hunks. Jake and Gabriel take turns sucking Ryan, working his hard member and licking every inch of his ripped body. Jake pulls out his fully erect manhood and slips it into Ryan's mouth as Gabriel completes the chain down between Ryan's legs. Not a writhing body goes without attention as the threesome works and pumps and grinds on every patch of available skin. Jake gives Gabriel lots of oral pleasure as Ryan enters him from behind. Gabriel wants in on the riding action and the guys switch it up so everyone can get a bit of Ryan inside their tight bodies. Ryan takes turns on each lucky stud, giving them exactly what they want and need. Jake is the first to give in, and as Ryan keeps up a steady pace, Jake lets loose all over his own perfect abs. When Gabriel sees Jake let go, he follows suit and explodes his passion all over Jake's panting body. That's Ryan's cue to join the guys and finish up as he covers Jake with a shower of cum from above. The guys kiss and continue to enjoy each other's bodies in the afterglow of their 'Intimate', fun and sensual escapade.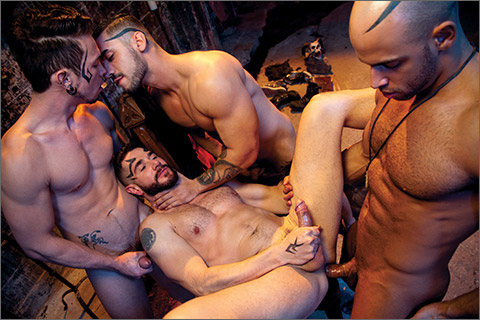 EARTHBOUND – HEAVEN TO HELL 2: Sean Zevran, Arad Winwin & Gabriel Alanzo as Dark Angels fuck Dean Monroe as Devil
"Please me," says the Devil (Dean Monroe) to his Dark Angel servants. Duty-bound to satisfy their master, Dark Angels Sean Zevran, Arad Winwin, and Gabriel Alanzo press their hands on Dean's muscular body. The four menacing demons of the underworld turn to each other and savor the pleasures of their flesh. Gabriel opens his mouth to receive Sean's monster cock, slathering it with spit, as Dean swallows Arad's massive sword. Sean eats Gabriel's ass, and Arad spits into Dean's mouth. Borrowing the Devil's throne, Sean takes a seat as Arad services him orally. The four dirty angels congregate together in a seething, writhing mass of bulging muscles, hard cocks, and open mouths. Sean and Dean tag team Gabriel's cock as Arad face fucks him. As Dean relaxes on his throne and watches, Sean thrusts his cock inside Gabriel's ass and pounds him with all his supernatural strength. Gabriel licks Dean's nipples, always trying to please his master. Dean savors the taste of Arad's spectacular cock as it slides into his gullet. But now it's time for the boss to get what he really wants: his hole pounded. Sean slides in first, stretching out Dean's hole. Arad steps up next and drives his meat deep inside Dean. As Dean strokes his cock, Arad moves up to Dean's face and shoots his load into Dean's open mouth and across his dark beard. Sean pounds Gabriel's load out of him, but he's sure to deliver it directly to his master. Sean sprays his load across Dean's thigh, and Dean shoots off a white-hot load.
FALCON STUDIOS
NAKEDSWORD
AMERICAN MUSCLE HUNKS