Cute Hung Twink Gay Porn Star, Gabe Isaac
Known Aliases:
Years Active: 2017 – 2018
HELIX / 8TEENBOY INFO:
I'm originally from Utah. I love hiking and photography. I currently go to school for music production.
Age: 18
Height: 5′ 8
Weight: 105 lbs
Cock Size: 9
Sexual Role: Versatile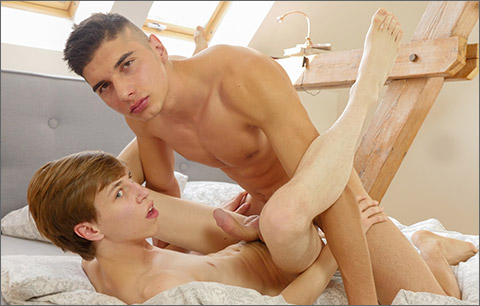 WHILE THE GIRLFRIEND'S AWAY
Handsome straight lad Jared Shaw works out a lot, which is perhaps why he always finds himself so damn horny all the time. He's the kind of young man who doesn't need a whole lot of persuasion to try sharing some BoyFun, and when a gay twink as forward as Gabe Isaac makes a move on him he just can't say no. A little groping of Gabe's impressive bulge and a friendly kiss is all he needs and he's soon feeling less guilty about cheating on his girlfriend. The boys move to the bedroom where they can really get to know each other and within moments Gabe's incredible cock is being released from his straining underwear. Jared is in awe, tasting the pink length for the first time and realizing just what he's been missing. A little licking of the boy's snug little hole and he's ready to get his own uncut jock cock out for his friend to taste, feeding Gabe his gorgeous shaft and sharing a wild session of mutual sucking. It's clear the straight boy has already been convinced that cock is awesome, but when Gabe offers his ass and slides down on the gorgeous young hunk's throbbing tool it seems he's more certain than ever. Perhaps knowing he has an opportunity to add the gorgeous young man to his list of regular fuck buddies Gabe goes all out, riding that cock with his own length swinging around and laying back to give Jared complete control of his butt, his bareback ass willing to be totally used and enjoyed by the handsome young man. By the time Gabe has splashed his semen all over his pale twinky body and Jared has fired off ropes of hot jock cum over the boy's face, it seems a future of continued illicit encounters is already confirmed!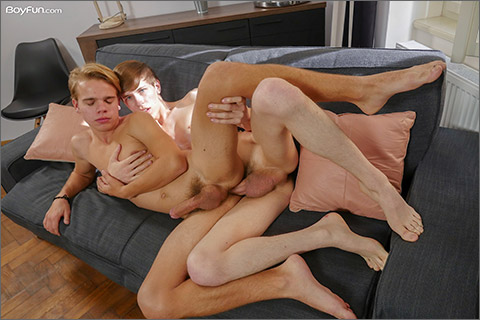 AMERICAN BOY'S EURO TOY
Richard Hicks arrives in town looking for some fun, and he doesn't have to look too far at all before spying young teen twink Gabe Isaac hanging out with a friend. All it takes is a little eye contact and Gabe is following the arrival to have some BoyFun. It's a perfect partnership, Richard loves tight boys with big uncut cocks, and although he doesn't know it when they start making out Gabe has one of the biggest boners in town! As clothes come off and hands grope for stiff young inches the two fall onto the couch, Gabe quickly seeking out the delicious dick standing to attention between handsome Richard's legs. He works the length with greedy passion, showing off his oral skills for his new friend, his own awesome cock growing in his pants. The moment Richard gets the chance he's heading down for a taste, experiencing the immense manhood Gabe possesses. Truly, it's one of the longest and thickest cocks anyone has ever seen on a slight young man like him, but Richard can handle it. The boys swap back and forth, greedily gorging on each other until gorgeous Richard is demanding that big bare boner up his hole. Taken from behind, spooned on his side and riding his new friend Richard takes every inch of that incredible bareback teen dick inside him, his moans of ecstasy only encouraging young Gabe to go deeper. As the cum floods from his cock Gabe releases his own dick from the boy's hole, wanking himself off until his huge meat is splashing cream all over the place!
GABE ISAAC BOY FUN PROFILE
GABE ISAAC 8TEENBOY PROFILE