Corbin Fisher Amateur College Man, Finn
Years Active: 2015
CORBIN FISHER INFO:
Age: 23
Waist: 30
Eyes: Blue
Height: 5′ 9″
Weight: 165 lbs
Hair: Brown
Build: Athletic
Cock: 7.5″ cut
Shoe: 10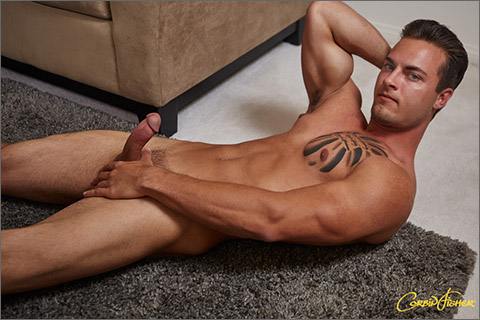 FINN
Finn is really laid back and easy going. Coming fresh off a plane he's a bit jet-lagged but ready to put on a show. He's definitely a charmer and it's not hard to see why, the cameras don't curb his confidence and personality. He's the same outgoing guy regardless of who's watching!
   He doesn't hold back in flashing that smile of his and shares his equally sexy and funny of when he lost his virginity by asking a girl if she was ready to go on an adventure.
   With those big arms, big shoulders, broad tattooed chest, lean stomach, bubble butt, and even cute feet- I'm sure she yelled out, "Let the adventure begin!" When he starts going at it, he shows off a nice curved cock and more of that awesome body of his. One thing's for sure, he's definitely welcome to get into some adventures with us!