Handsome Muscular Randy Blue Gay Porn Star, Fabio Acconi
Years Active: 2015 – 2017
TWITTER @Fabio_acconi offline
RANDY BLUE INFO:
With the name Fabio, you probably get visions of romance novels in your head. And trust me, if there is anyone who could be a bodice ripping stallion, it is this man. This Italian stud is covered from head to toe in tan rippling muslces. And he he has a nice bubble butt behind him and a hard long thick cock right in front. Fabio says he is straight, but he is more than ready to get hardcore and jump into some gay fucking with another man. He is a smooth talker and when asked what his best feature is, he likes to say his attitude. This man is a charmer. He will charm the pants off of you. And he will certainly charm a big load out of you.

RAW OBSESSION: Brandon Moore, Chris Blades, Fabio Acconi
As he's leaving Fabio's place, Chris comes face to face with the object of his desire. Fabio slowly starts undressing and exploring Chris' perfect body. Eager to taste Fabio, Chris goes straight for his big thick cock and starts to blow him. That's when Brandon Moore joins them and right away sits on Fabio's big dick, who mercilessly pounds his ass raw. All three studs take turns deep-fucking each other until Brandon is left covered in all their cum.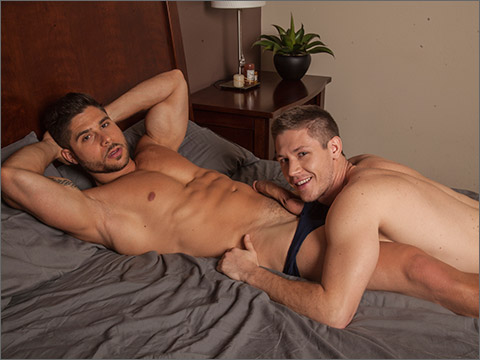 FRESH MEAT OWEN HUDSON MAKES HIS BAREBACK DEBUT WITH FABIO ACCONI
Owen Hudson is our new fresh meat. I showed him a picture of his future scene partner Fabio and he said, "I've never been with a man that muscular before." I asked him if he was going to be okay with that. He exclaimed, "Hell yeah!". I got them together and Fabio warned Owen that he likes to fuck rough and hard. Owen was okay with that. A mesmerized Owen then began to remove Fabio's clothing. He got the shirt off and started to touch his glistening muscles. Then he got his pants off and went straight for his dick. Owen sucked him off and then Fabio got Owen a naked and returned the favor. As Fabio slid his mouth down Owen's dick, he begged for more. He wanted to get fucked. And Fabio was happy to oblige. He shoved his raw dick in him and barebacked him. He pounded him harder and harder. Owen's dick got rigid as Fabio's cock touched his prostate. Then after trying some doggie style, and riding, Owen shot ropes of white cum all over Fabio's chest. Then Fabio pulled out while Owen begged for him to shove his cum in Owen's hole. Fabio squirted the white hot jizz and cream pied Owen. For his first time out, Owen sure had a blast. Be sure to check out the free gay porn trailer in full HD right here at Randy Blue.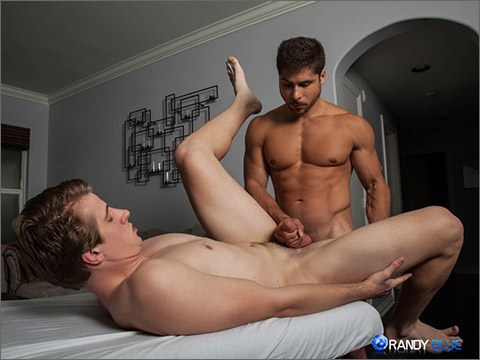 FABIO ACCONI GIVES SETH BOND A BAREBACK MASSAGE
Fabio Acconi is making some extra money giving massages. He heads over to Seth Bond and this six foot three behemoth is sore and needs a serious rub down. Seth takes his clothes off. Fabio starts to oil his body up and rub Seth down. He comments how muscular Seth is. Seth thinks Fabio is muscular too and asks him to take his shirt off to show his abs. Fabio obliges. The rubbing moves to that big bubble butt belonging to Seth. Fabio works it so well that when he asks Seth to turn over he is completely hard. Seth apologizes. Fabio tells him that he does not mind but it will cost extra. Fabio starts sucking his dick. Seth loves it and wants to feel Fabio in his mouth. Seth was a hungry whore. He needed more. He asked for Fabio to fuck him. Fabio fucked him bareback until Seth came on the floor while Fabio was inside him. It was so hot that Fabio pulled out and came all over his hole and shoved it back in. Watch the hot bareback action in the free gay porn trailer here at Randy Blue.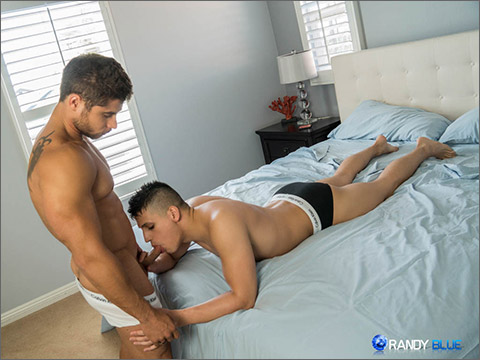 WATCH STRAIGHT HUNKS RICKY MUELLER AND FABIO ACCONI BAREBACK
Ricky Mueller loves to get his butt played with. And Fabio Acconi has come back after a hiatus to bareback him nice and hard. Ricky has gotten fucked by dudes before but actually had never sucked a cock before. So when Fabio walked in and slapped his hard erect dick right in his face, Fabio looked at me and asked if we were going right into it. Hell yes. Ricky sucked his first cock and loved every minute of it. Then Fabio walked over and put that hard dick right into his ass. He barebacked Ricky nice and hard and then flipped him over. Fabio had never sucked a dick either and he put Ricky in his mouth down to the base. Then he kept on fucking Ricky harder and harder until he pumped out a white hot load. Then Fabio pulled out and dumped his jizz on Ricky and shoved it back deep inside of his hole. There were a lot of firsts in the video. Please watch the free gay porn trailer of the hot action here at Randy Blue.
CLICK HERE TO GO TO HIS RANDY BLUE DETAILS