Hung American Gay Porn Star, Eric Nero
Years Active: 2015 – 2016

TAXMAN CUMETH: Eric Nero audits Tex Davidsons huge cock!
Tex Davidson whips out his huge cock for a live webcam show, then pumps it up. He's interrupted by a knock at the door—agent Eric Nero needs to conduct an inspection for a home office deduction. Tex is happy to show off how he works, sliding his meat out and putting it back in his cock pump. "You wanna try it?" asks Tex. "I don't need to," offers Eric, his monster cock soon staring Tex in the face. "Damn, Mr. Taxman! You got a big ol' dick!" Tex sucks it deep, Eric's big balls drooping over his pants. Tex looks up, his beard rubbed by Eric—who then fucks his face. Eric worships Tex's beast, the two soon kissing as their scruff touches. Tex gets eaten and fingered before ramming Eric from behind. Eric's hard cock and balls bounce as he gets fucked. He sits down on the top, riding him as his own big dick flops back and forth. He arches back for a kiss, then gets fucked on his back—reaching up to touch Tex's beard again before his toned bod gets coated. And all the while the two don't realize the live cam is still turned on and they've been broadcasting it all on the internet!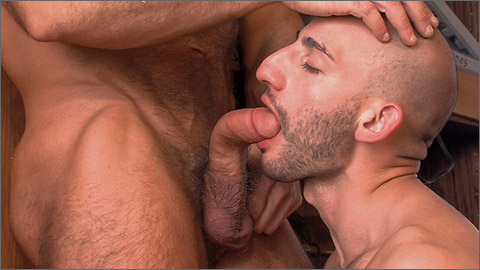 JAILBREAK: Jesse Jackman hunts (and fucks) fugitive Eric Nero
Escapee Eric Nero runs through the woods as a helicopter hovers overhead—with armed officer Jesse Jackman hot on his tail. He gets tazered to the ground by the muscle cop: "Get on your knees!" demands Jesse, soon stuffing the prisoner's face. Eric strokes his own big dick as he worships Jesse's meat—the officer then dragging him into a nearby shed. Eric sucks him some more before feeding the cop, Jesse slurping up the huge shaft. Eric spits down on it, Jesse reaching up to grip Eric's neck as he sucks him. Jesse spits a big wad on Eric's cock, then lets it dangle back into his mouth as Eric smiles down on him. Jesse rubs his shaved head and scruffy face on Eric's dick, then buries his salt-and-pepper chin in his hole. He fucks Eric from behind, grunting as Eric turns around and smiles. Eric gets on his back, rubbing Jesse's beard as he gets fucked—the two kissing before releasing their loads, Eric's sac covered in his own white-hot cum.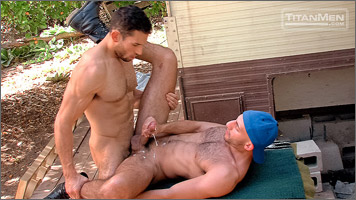 PACIFIC COAST
SCENE 2: Ricky Decker fucks Eric Nero
Ricky Decker knocks on a door nestled in a winery. "You're late," says Eric Nero, a baseball cap atop his handsome face. "We don't have a lot of time." They kiss, stripping their shirts off as their bristly chins meet. Ricky rubs Eric's clipped, toned chest, taking out the lean stud's huge cock. Ricky sucks it deep as Eric holds his head. They kiss, Eric stroking their cocks together before getting on his knees. "Play with that big dick while you do it," says Ricky, Eric stroking his own beast as he sucks. Ricky's boner is caught in a beautiful side shot as his muscle bod is pressed against the wall, his hairy hole soon eaten by Eric. Ricky fucks Eric from behind, the bottom then sitting down on him as his monster cock bounces. "Look at that big dick floppin' around!" marvels Ricky, the two kissing as Eric arches back. The bottom gets on his back as Ricky slams him: "Wanna fuck that cum outta you!" moans the top, Eric's hairy bod soon covered in cream.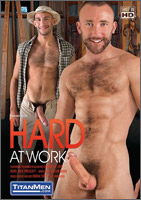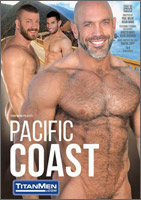 HARD AT WORK
PACIFIC COAST