Slutty American Gay Porn Star, Eli Hunter
Known Aliases: Eli
Years Active: 2009 – 2016
TWITTER @Eli_Hunter88
KINK MEN INFO:
Body Type: muscular
Height: 5'7″
Weight: 168
Hair Color: brunette
Gender: male
Cock Girth: thick
Cock Length: 7
Foreskin: cut
Scene Role: switch
Pubic Hair: unshaved
Ethnicity: white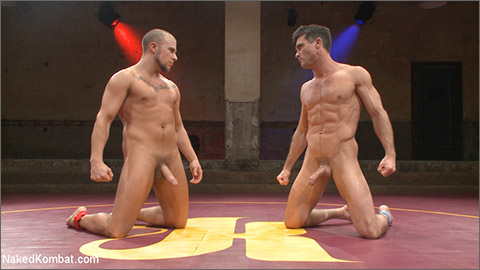 LANCE HART TUSSLES WITH ELI HUNTER
Lance Hart's got a perfect body, and he's ready to use every inch of it to dominate Eli Hunter. Eli, coming back from a defeat, feels confident that he'll reclaim his glory and fuck Lance into the mat. The second round maintains the intensity, as Lance uses every opportunity to shove his dick into Eli's mouth while Eli commands the ring with punishing holds. Both contenders fight admirably, but there can only be one winner. He emerges with a clear margin and hard cock, ready to take his prize. The winner makes the loser worship his cock and balls before manhandling him around the mat for a victory lap. The loser gets a good taste of winner feet and armpit after being thrown to the ground. The winner can't wait to take the loser's ass to town and slides right in for a rough fucking. With the winner's hands fish-hooking his mouth, the loser moans and pounds his fist into the mat. The winner pulls out and covers the loser's ass in cum. After the loser cleans the winner's dick, he gets taken into an arm bar and his cock milked. The winner uses his feet to smear the loser's cum all over his face.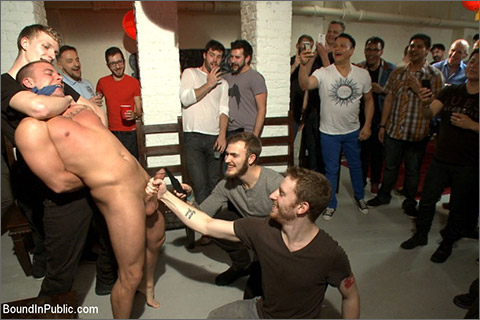 HOT ART THIEF WITH A BIG COCK BEATEN AND FUCKED INTO SUBMISSION
In downtown San Francisco an art thief, Eli Hunter, attempts to sneak a painting out of the gallery when no one's paying attention to him. As he makes for the door, the guys notice the piece of art and tackle him down to the ground for trying to steal from them. He kicks and screams, but his resistance is futile as the swarm of guys tear away his clothes and gag him. He's passed around as the crowd teaches him a lesson, spanking his ass and tormenting him with the electric zapper. They throw the klepto down to his knees and shove cocks down his throat before bending him over for an ass fucking. They fuck him like a spit roast before binding his hands and legs to the pillars and flogging him for everyone's amusement. Eli endures CBT as clover clamps are clipped all over his balls and even on his nipples. When the thief begs for mercy all the guys give him is cock instead. After getting plowed from behind the guys take their turns blasting loads of cum onto his face.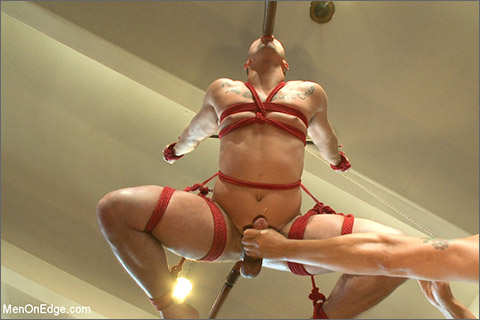 MUSCLED STRAIGHT STUD HAS HIS COCK EDGED TO THE MAX!
Eli Hunter is a hot muscled straight stud who's bursting with energy. Excited to get started Van and Branden Forrest take Eli to the window and tie him up on the metal cross. His arms are bound and his eyes blindfolded as Eli's clothes are torn away, revealing his muscled chest. As Eli's underwear is pulled back, Branden teases him with his tongue before stroking Eli's cock till it's nice and hard. Eli's bound with a ball gag in his mouth as Van attaches the tit suckers to his nipples. Hitachi's are used all over his package till Eli's about ready to cum. At the last second they pull away the vibrators and rip off the tit suckers on Eli's chest. The muscled stud is suspended in the air with his cock dangling to the ground while having dildos shoved in his mouth and ass. On the bed Eli's cheeks are spread for the fucking machine while Branden shoves his cock in Eli's mouth. The fucking machine is kicked into full gear as the guys milk a huge load of cum out of Eli's cock. After some post-orgasmic torment and intense tickling, Eli's left tied up lying in his own mess.
KINK MEN
JAKE CRUISE'S COCK SURE MEN
GUYS IN SWEATPANTS
GAY ROOM
CHAOS MEN
FRATERNITY X
SKETCHY SEX
KINK MEN INFO PAGE
CLICK HERE TO GO TO HIS MEN.COM DETAILS