Mormon Boyz & Dream Boy Bondage, Elder Titov
Known Aliases / aka: Archer Jacques
Years Active: 2014 – 2015
DREAM BOY BONDAGE INFO:
Titov
Age: 19
Height: 5? 11? (1.8 m)
Weight: 165 lbs (75 kg)
Waist: 30? (76 cm)
Chest: 41? (104 cm)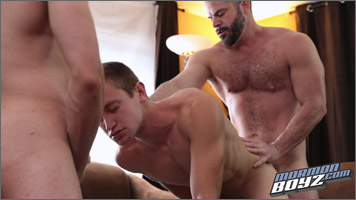 ELDERS BERRY, TITOV & BISHOP ANGUS
Elder Titov's long ordeal is coming to an end. He was invited to join The Order, but turned it down.
   Unbeknownst to anyone, and against the mission rules, he had called home to talk about what he had gone through. The brethren were hearing from the Area Authorities that his very concerned and confused parents were calling trying to understand what was actually going on.
   Of course the church leadership is better at dealing with this sort of thing than just about anyone. It wasn't difficult to reassure the boy's parents. But as a result, Titov would need to be returned to the mission field with a new companion.
   The brethren met and a recommendation was made for the boy face disciplinary action for breaking the rules. Several of the men on the council, including his mission president, objected arguing that Elder Titov had gone through enough. In the end the council recommended sending him to Bishop Angus for his exit interview.
   Elder Berry's adventures, on the other hand, were getting him exactly what he wanted. He had accepted his invitation to join The Order. He was eager to have his priesthood leaders set a date for his ordination.
   When the two boys met, Titov hadn't done much with another guy. Just some innocent games of you show me yours and I'll show you mine.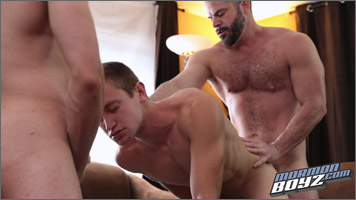 ELDERS BERRY, TITOV & BISHOP ANGUS
ELDERS BERRY, TITOV & BISHOP ANGUS
ELDER BERRY & ELDER TITOV
ELDER TITOV: TIME WITH DADDY 2
ELDER TITOV: TIME WITH DADDY 1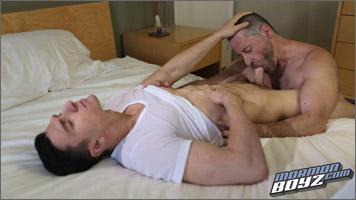 ELDER TITOV & PATRIARCH SMITH
ELDER TITOV & PATRIARCH SMITH
ELDER BERRY & ELDER TITOV
ELDER BERRY & ELDER TITOV
BONUS: ELDER BERRY & ELDER TITOV
   MORMON BOYZ
   KENNETH BENJAMIN'S DREAM BOY BONDAGE
   KENNETH BENJAMIN'S ROPED STUDS
   CLICK HERE TO GO TO HIS MORMON BOYZ DETAILS