Blond Hot Young Hung MormonBoyz, Elder Holland
Known Aliases / aka: Austin Everett
Years Active: 2016
MORMONBOYZ INFO:
Hot, blonde Elder Holland has always considered himself to be a guy's guy. He likes to pull pranks on the other missionaries, and see what he can get away with.
   He's only been on his mission for a short while, but he's already gotten into trouble for pantsing the other boys, short sheeting beds, and turning off alarm clocks so other missionaries would sleep through their wake up times.
   Holland also loves girls, and lately, without any of his girlfriends around he's been feeling horny as hell. He needs to stick his thick dick somewhere, anywhere.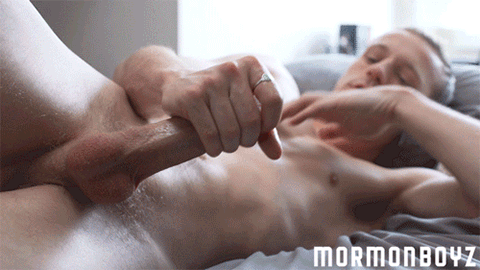 THE INITIATION OF ELDER HOLLAND:
CHAPTER 1 – ELDER HOLLAND CAUGHT MASTURBATING
Hot, blonde Elder Holland has always considered himself to be a guy's guy. He likes to pull pranks on the other missionaries, and see what he can get away with.
   He's only been on his mission for a short while, but he's already gotten into trouble for pantsing the other boys, short sheeting beds, and turning off alarm clocks so other missionaries would sleep through their wake up times.
   Elder Holland also misses the girls he was dating back home, and he's been feeling horny as hell. He wakes up every morning with aching boners and is dying to stick his thick dick somewhere, anywhere.
   Holland's mission companion, the innocent young Elder Oaks, is quiet and reserved. The boys haven't exactly gotten along, but Oaks can't help noticing how handsome Holland is. Especially after what happened a few days ago.
   Elder Oaks was walking into the courtyard to gather their dry laundry and out of nowhere, Elder Holland jumped him, wrestled him to the ground and straddled Oaks.
   Elder Oaks struggled, trying to get out of the boy's grip, when suddenly, he felt Elder Holland's erect cock pressing against him…
CLICK HERE TO GO TO HIS MORMONBOYZ DETAILS