Kinky Spanish Gay Porn Star, Ehrik Ortega
Years Active: 2014 – 2016
TWITTER @EhrikOrtegaX
FUCKER MATE INFO:
Country: spain
Age: 20
Cock size: 8 Inches
Position: versatile
Ehrik is an extovert guy, one that you will want to meet in the street, perfect for fuckermate. This young Spanish guy is mischievous and adventurous, his beautiful and innocent face hide his horny and dirty instincts. The thing Fuckermate love about Ehrik most is his unquenchable sexual appetite. This tattooed twink is 100% fuckermate material.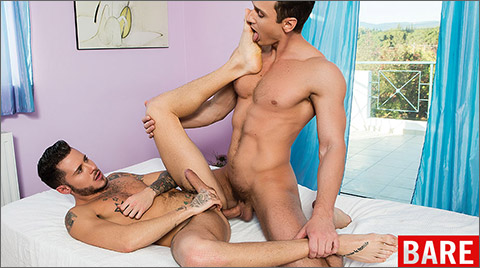 BAREBACKING ABROAD: Ehrik Ortega Takes Alex Kof's Uncut Russian Cock
Ehrik Ortega fell in love with Alex Kof's beautiful body the minute he stripped off his clothes. And, like with Klein Kerr, Alex is wearing tight black briefs to further accentuate is incredible physique. Ehrik pulls them down quick, though, so he can swallow the huge uncut Russian cock that Alex has hanging between his legs. It doesn't take long for Ehrik Ortega to get on all fours and arch his back, ready for Alex Kof to stick it in. Take a look at 11:12 — Alex is an awesome top with great momentum!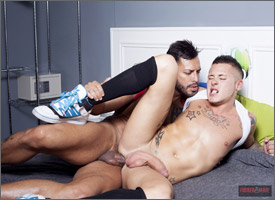 VIKTOR ROM FUCKS EHRIK ORTEGA ROUGH & RAW
We have wanted to pair the sexy Latino Viktor with our mate Ehrik Ortega for quite a while now. They are both lovers of hot bareback sex and they both know Fuckermate.com does it best. This raw encounter is hard and rough. Viktor dominates Ehrik's ass with his huge cock, making him take every inch deep inside. Hot sweaty, passionate and RAW action not to be missed.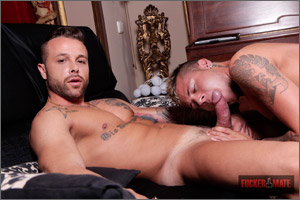 FRANK VALENCIA & EHRIK ORTEGA
Here Fuckermate proves that it doesn't just give flowers, but special unique treats, a hardcore present. Our sexy tattoed mate Frank disturbs our tattoed twink Ehrick from his sleep with a gift, not any gift a sex harness, exactly what Ehrick has always wanted and perfect for a horny, dirty, hard session. Ehrick must have thought he was still in dream land by the look on his face, he was in pure sexual ecstasy. This session gets hotter and dirtier the whole way through and Ehrick had no idea what horny surprise was instore for him in the shower. Frank gave Ehrick a shower of cum and piss. This is the hottest Fuckermate watersports session to date. Not to be missed!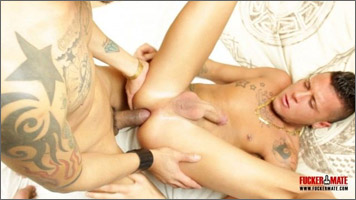 PABLO BRAVO & EHRIK ORTEGA [BAREBACK-PASSION]
LUCAS ENTERTAINMENT
FUCKER MATE