Sexy American Guy Next Door Gay Porn Star, Dustin Holloway
Years Active: 2015 – 2017
RANDY BLUE INFO:
There is an innocence about Dustin Holloway that makes him not look like a gay porn star. And that is exactly what makes him so fucking hot. This straight boy from the midwest, has that boy next door quality and handsome good looks that make him the type of guy that you take home to meet your mom. He is so fucking handsome and seemed so well mannered and shy. But the more I talked to him, the more I realized that he liked to get down and dirty like the rest of us. He just needed to warm up. He was very nervous. But I told him to relax and just have fun with it. It seemed that as he removed a layer of clothing, he also removed a little bit of his apprehension. Once he got down to his underwear, he started to touch himself. He pulled out his dick and it was nice and hard. I could still tell he was holding back. But I let him go at his own pace. He stood up and sat on the edge of the couch and started to jerk off harder. I noticed his dick got raging rock hard, and he started to talk dirtier and breathe heavier. The beast was unleashed. Any nervousness he had was gone, and he was in absolute heaven. So much so, he accidentally came. However, this did not stop him. He flipped over and played with his ass. Then he laid back and kept beating off until he came a second time. He had such a good time, he agreed to fuck a boy for the first time the very next day. So keep an eye out of that! And be sure to watch the free hd gay porn video trailer here at Randy Blue.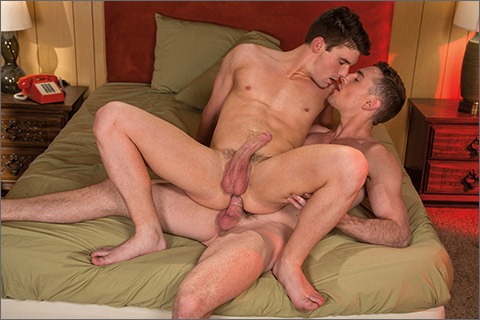 ROUTE 69: Fane Roberts fucks Dustin Holloway
Dustin Holloway and Fane Roberts get a motel for the night on 'Route 69'. As best friends, they've always avoided sleeping together, but after a road trip filled with each of them sucking and fucking multiple strangers, they finally admit to having a secret desire to be together. Dustin makes the first move and takes down Fane's pants where he finds that his buddy is hard as a rock. Dustin gets down to help Fane out with his hard-on and takes him all the way down his throat. Fane wants to satisfy his own curiosities and takes Dustin to the bed to get a taste of his best friend. The duo assumes the 69 position so that they can both suck all the dick they want. Dustin is determined to get Fane inside of him and rolls over to let Fane open up his ass with his tongue. After getting nice and loosened up, Dustin hops on and rides Fane, taking him as far inside as he possibly can. Fane wants a little more control and rolls his buddy onto his back where he can pump him just the way they both like it. Fane keeps up a steady pace until Dustin moans out, rolls his eyes to the back of his head, and pumps his load onto his own stomach. When Fane sees the pleasure that Dustin has just enjoyed, he pulls out and follows Dustin's lead as his own cum squirts out and mixes with his buddy's. It's been a long road trip and once these two finally got together, they're lives will be changed forever.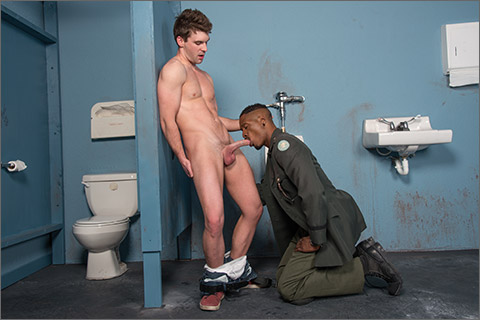 ROUTE 69: Derek Maxum & Dustin Holloway toilet gloryhole action
After several hours of driving Route 66, Fane Roberts and Dustin Holloway pull over at a rest stop so Dustin can take a piss. As Dustin stands at the rest stop urinal, he notices Derek Maxum head into the stall next to him and as Dustin is washing his hands, he sees Derek's big meaty dick slide through a hole in the wall. Dustin isn't sure if he should run or get on his knees but when he hears Derek's deep voice command him to "suck it", Dustin does as he's told and takes the giant rod in his mouth. It grows thicker and harder with every slurp from Dustin, and as a pool of spit collects on the floor under the two hunks, Dustin peels off his shirt and unzips his pants for easy access to his own growing boner. Derek his ready to get a look at the eager stranger sucking his dick and comes out from inside the stall. He's ready to taste a dick as well and happily services Dustin's raging hard-on. All the sucking gets Derek in the mindset to take the random public encounter to another level and bends Dustin over the wall to eat his ass. As the two studs get completely naked, they go back to taking turns sucking each other off. With his dick worked to the max, and a hunky naked stranger in front of him, Derek lets go of any inhibitions he may have left and blasts his load all over Dustin's tight pecs and body. The thrill of the public sucking in the dirty bathroom combined with the feel of Derek's warm load running down his body is all it takes for Dustin to finish up. Dustin moans out and polishes the floor with his own creamy brand of liquid before the strangers part ways never to see each other again.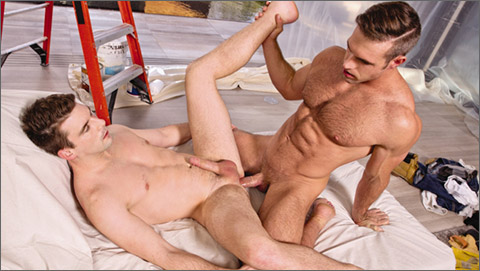 PROPERTY LOVERS: Alex Mecum fucks Dustin Holloway
Young, successful couple Brent Corrigan and JJ Knight just bought their dream home: all it needs is a bit of remodeling for everything to be just perfect. After JJ leaves for work, Brent welcomes the sexy contractors into the house. After Brent heads out, Alex Mecum interrupts Dustin Holloway's painting for a high-stakes rim job. Dustin unzips Alex's jeans, liberating his massive, throbbing boner. Wrapping his lips around Alex's huge cock, Dustin reciprocates eagerly, spreading his warm saliva up and down Alex's shaft. Putting his legs up in the air, Dustin receives Alex's meat. Dustin's eyes roll back in his head as Alex delivers an intense doggy-style fuck. They're so focused on each other, they don't even notice that Brent has returned to the house and discovered their on-the-job affair. Brent retreats: he'd rather watch the hot studs get off than bust them for having a bit of fun. With Alex deep inside him, Dustin shoots a massive load across his stomach. Alex grabs his dick and jerks out a huge, spurting load onto Dustin's torso.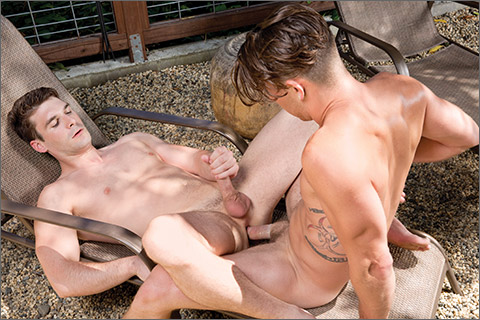 WILD WEEKEND: Paul Cannon fucks Dustin Holloway
Dustin Holloway and Paul Cannon have been making eyes at each other all weekend, but so far they haven't acted on it. As they strip down to their white briefs and step into the hot tub, they trade a knowing glance. Their feet touch at the bottom of the spa, and their cocks swell in their wet briefs. Paul, with his dirty-blond hair slicked back, leans in and locks lips with dark-haired Dustin. Pulling down Paul's briefs, Dustin unleashes Paul's rock-hard cock and deepthroats the entire shaft. Relaxing into the depths of the hot tub, Paul enjoys an underwater blowjob as Dustin relentlessly services Paul's throbbing meat. Dustin, emerging from the water, spreads his ass for a thorough rimming. Rising up, Paul rubs his cock in the groove of Dustin's perfect ass, and Dustin is eager to take things to the next level. Exiting the tub, Paul lies down on an outdoor lounge chair and Dustin straddles him. Lowering himself down, Dustin sits on Paul's cock and goes for a wild ride. Paul's huge balls, hanging low in the summer heat, rise and fall as his body throbs with sexual excitement. Flipping to missionary position, Paul grabs Dustin's cock while simultaneously fucking his hole, and the sensation brings Dustin to climax, drenching his stomach in puddles of semen. Paul then fires off rope after rope of cum, shooting all the way up to Dustin's shoulders in a spectacular orgasm.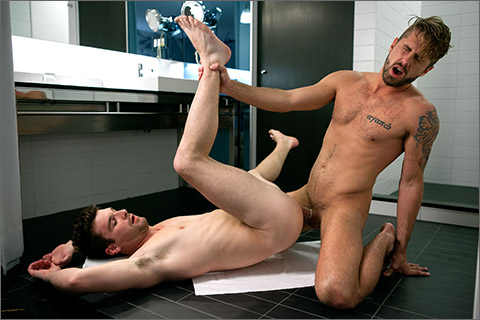 WESLEY WOODS AND DUSTIN HOLLOWAY FLIP-FUCK
This hot scene introduces you to two of our newest models in their CockyBoys debut — Wesley Woods and Dustin Holloway. It's difficult where to start with these guys. They're both so handsome and energetic as individuals that you could just stare at them separately and still get off. However, it's their chemistry together that really raises the bar. I mean holy fuck… do these guys know what they're doing or what?!
   Wesley's a standup comedian and Dustin always seems to have a smile on his face, so they really got along well when they first met up in Montreal. There was a romantic walk in the park, a snowball fight, they tossed some coins into a fountain… and then it was back inside for a shower. As Wesley watered down, he kept sneaking glances at Dustin sitting on the bathtub a few feet away, admiring him through a glass barrier and jerking off at the very sight. Dustin soon approached the glass where the guys teased each other some more — breathing steam, making out, rubbing their cocks against the glass — before Wesley dried off and decided it was time for the real thing.
   Being the slightly more aggressive one, Wesley propped Dustin onto the edge of the tub so he could suck his cock and look up deep into his eyes. Dustin brought him up for a kiss before Wesley went down and rimmed Dustin for the first time. Before getting fucked, however, Dustin wanted to give Wesley a blowjob to really get him in the mood. That certainly did the trick, because Dustin was soon back on all fours getting hammered deep by Wesley's thick rod doggy-style.
   With Dustin being as well-endowed as he is, though, there was no way Wesley wasn't going to feel that cock inside him. Feeling the tightness of Wesley's hole was really getting Dustin close. And that was Wesley's cue to take back the reigns and skull-fuck Dustin before moving back into the more comfortable aggressor role and pile-driving the cum out of Wesley in missionary, his cock still firmly inside him. Wesley then jerked himself to climax looking on at Dustin's breathless body, his legs still tightly wrapped around his thighs.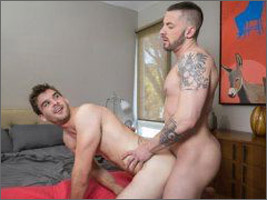 GAY PORN STAR TYLER WOLF FUCKS THE HELL OUT OF STRAIGHT STUD DUSTIN HOLLOWAY
Tyler Wolf loves to rim. And before I could even finish the interview, Tyler was munching away on Dustin and eating out his ass. Dustin loved the ass play. It was new to him, but it felt so fucking good that he wanted more. After a bit of dick sucking, Dustin wanted to get to fucking. Tyler slid his cock inside of him and Dustin felt so amazing, that he just came right then and there. But he was not satisfied. He wanted more. So Tyler kept fucking him. Until finally Tyler pulled out while fucking him doggie and came all over his butt. Watching this straight stud turn into a power bottom before our eyes is just the hottest thing ever. Be sure to check out the free gay porn pics of the hot action here at Randy Blue.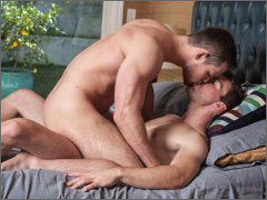 DUSTIN HOLLOWAY AND KURTIS WOLFE FLIP FUCK AND SWAP LOADS
Dustin Holloway has a crush on Kurtis Wolfe. Kurtis has been helping Dustin with some workout tips at the gym and has been giving him a ride home. Today, Kurtis asks if he can stop in to use the bathroom. Dustin tries to be coy, but he cannot help but take a peek as Kurtis goes to the bathroom. But then he gets caught. Humiliated, Dustin retreats to his bedroom. Kurtis confronts him, and Dustin admits that he has a crush on him. Kurtis admits that he has a crush on Dustin too. Cue porn music. These two have a fire that is fucking electric. They have the wettest deepest kisses and Dustin goes down and devours that cock like he has not eaten in days. Then as Kurtis sucks on him, he straddles Dustin and takes his cock and begins rubbing it on his ass. Kurtis slides down on it and has Dustin fuck the bejesus out of him. As Dustin fucks him doggie, he whispers into his ear if Kurtis wants to fuck him now. Kurtis is more than obliged. He pushes Dustin on his back lifts his legs and slides it in. It is too much for Dustin to bear. He spurts a geyser of cum while Kurtis is balls deep inside of him. Then Kurtis pulls and nuts. Dustin sucks up the last drops hanging off of his dick and then feeds it back to Kurtis. This is the best hd gay porn video you are going to see in a while. And you can catch the free gay porn trailer right here at Randy Blue.