Hung American Nasty Gay Porn Star, Drew Sebastian
Years Active: 2013 – 2020
TREASURE ISLAND INFO:
Age: 39
Sign: Virgo
Height: 6′ 2″
Weight: 200 lbs
Dick Size: 9.5 cut
Position: Top
Drew Sebastian is one of the sexiest daddies you'll ever come across. He's got a great bod, a great smile, and a great big cock to please all the lads. At 6′ 2″ with a 9 1/2 inch pole, Drew can be intimidating – in a very good way.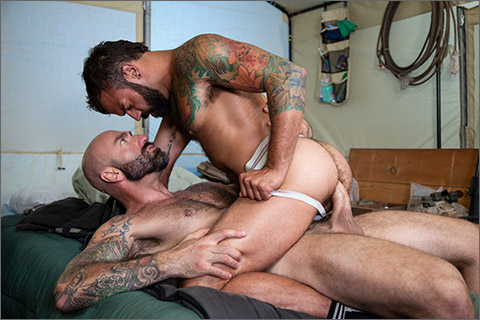 BLOOD MOON – TIMBERWOLVES 2: Drew Sebastian fucks Drake Masters
Drake is forced to face his actions, in exile in the desert. He thinks he's alone, but the wind carries his scent to a nearby campsite where Drew Sebastian is polishing his big gun. Drew finds Drake and takes him back to his tent, where the older, wiser wolf daddy educates the pup in more ways than one, starting by aggressively rimming Drake's fine jockstrapped ass. Opening his hole with his tongue and thumbs, Drew prepares Drake to take his ginormous cock in a hardcore bareback ass pounding. Drew totally owns and dominates Drake's fuck-hole "Stay there! Good Pup," and uses the jock waistband as a handle to maneuver a grunting Drake onto his titanic tool. Going ass to mouth, Drake tries to deepthroat Drew's unforgiving cock and gets throat-fucked, till Drew finally lies down and Drake hops on top, riding the bearded stud with all the secret tricks his hungry muscle-butt knows. Deep drilling finally forces a load out of Drake, who feeds his seed to his wolf daddy. Drew laps up every drop and blows his own orgasm, then Drake nurses his spent cock and they sleep.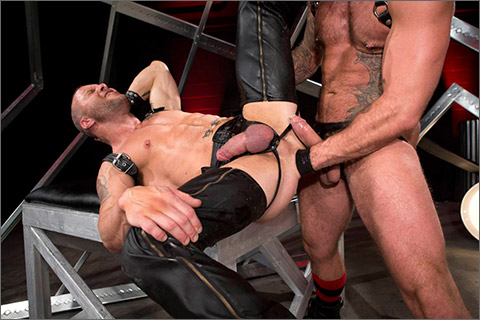 FULL DEPTH: Drew Sebastian fists Drew Sumrok
Drew Sumrok swallows Drew Sebastian's pierced dick, tugging at the steel ring and slobbering everywhere. Sebastian slams his huge cock into Sumrok's ass for a rough fucking, but when that's not enough, he adds his hand to the mix. Alternating between his fist and his cock, Sebastian stretches Sumrok's hole to the max. Sumrok even manages to get double penetrated by Sebastian's cock and fist at the same time! Sweaty and sticky, with lube everywhere, they explode with semen all over each other.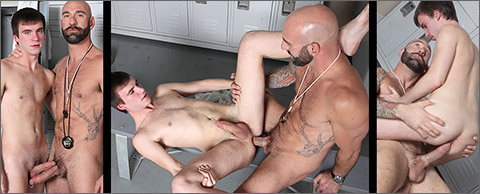 DREW SEBASTIAN FUCKS AARON SLATE
Aaron Slate is pissed of at his coach who told him to run laps around the track. He's a defiant lad and when caught, asks Coach Drew Sebastian if he can do something other than laps. Drew whips out his pierced, monster cock so Aaron can redeem himself. Aaron goes down on Coach Drew, slobbering on his huge pecker. They stand up and jack each other as they kiss. Coach Drew plays with his student's hole, spitting on his cock and rubbing it against Aaron's ass. He bends Aaron over the locker room bench devouring his tight hole. Drew plunges his 10 inch cock all the way in Aaron's ass. He's been dreaming about fucking Aaron since he joined the team and plows him deep from behind. Coach Drew sucks Aaron's dick and licks his sweaty pits before filling his hole again. Aaron sits on his coach's monster cock with his greedy ass. He faces forward, sliding up and down on the huge pole. Aaron lays back and lets his coach take control, smashing his ass from below. Drew Sebastian shoots a massive load in the air and on his hairy body. Aaron Slate stands over his coach and releases a hot load in Drew's mouth. Drew won't need to run any more laps.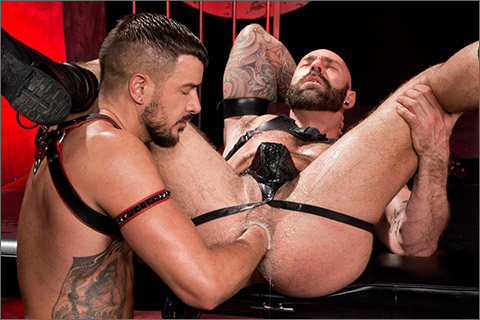 HOWLERS: Drew Sebastian and Dolf Dietrich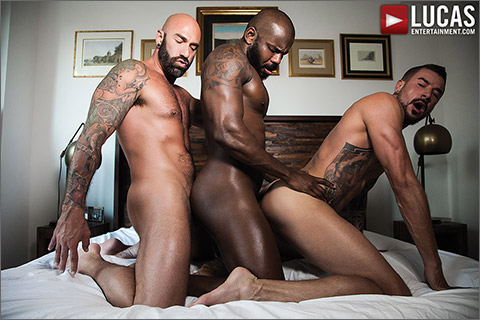 ROD BECKMANN, DREW SEBASTIAN, AND DOLF DIETRICH | INTERRACIAL BAREBACK THREESOME
When I talked to Rod Beckmann about his sexual background, he let me know that he is a top (good to know). But when he's on film he's more than willing to give up his ass if the guys are hot enough. I assure you: Dolf Dietrich and Drew Sebastian are always hot enough. Both Drew and Dolf had a hankering for some dark meat, and a threesome with Rod was right up their alley… literally; no one's alley was safe at the end of this filming. Rod enjoyed himself getting between his two bear brothers-in-arms, and he didn't hold back at all when servicing their dicks. I could go into detail about who sucks who when and who gets their holes slammed, but that action comes to life in the video itself. What are you waiting for? Watch Rod Beckman take on Drew Sebastian and Dolf Dietrich.

DOLF'S BIRTHDAY SLING PARTY
What do you get your porn star boyfriend for his 40th birthday? An ass full of cum, of course! It's Dolf Dietrich's 40th birthday and his super hung boyfriend Drew sets him up a sling party to get his ass loaded with hot man spunk. Raw and Rough producer Rob Rodin just happen to get invited, and he asked if he could bring his video camera along. Dolf said "Fuck yeah!" Rob captured all the hot loads that got pumped into Dolf that night… Well, the ones that guys let him film. Must be nice to have such a caring man for a boyfriend that he gets you cum loads for your birthday!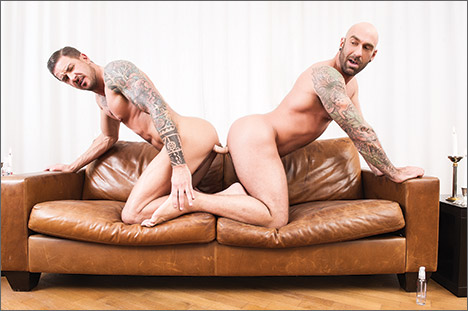 WATCH DREW SEBASTIAN'S RAW SEDUCTION OF DOLF DIETRICH
It's going to sound biased, but I don't particularly care: I've been waiting to see Drew Sebastian paired with his real-life partner Dolf Dietrich on Lucas Entertainment since it was made known the scene was a go, and it turned out even hotter than I was expecting. As said on Drew's model page, he's one of my favorite muscle bears in porn today, and with the equally handsome Dolf Dietrich they have put on some of the best duo shows Lucas Cams has aired. In the tradition of the original "Bareback Lovers" movie, we see a sexual perspective in porn rarely seen — the one between two genuine lovers. They're both aggressively tender and passionate with one another, and it's the perfect capstone scene to the upcoming film "Drew Sebastian's Raw Seduction." I don't want to give away too many details as to what happens — this is a scene you'll have to see to truly appreciate!
JAKE CRUISE / HOT DADS HOT LADS
CLICK HERE TO GO TO HIS HOT HOUSE – CLUB INFERNO BIO PAGE
CLICK HERE TO GO TO HIS LUCAS ENTERTAINMENT DETAILS
VIDEO ON-DEMAND: Drew Sebastian @ AEBN SMUTJUNKIES THEATER
DVDs & ON-DEMAND: Drew Sebastian @ TLA VIDEO