American DJ Gay Porn Star, Dominic Pacifico
Known Aliases: Dominic P. (Chaos Men), Andre (Brian Mills)
Years Active: 2006 – 2020
GAYVN INTERVIEW:
2007-04-27
Fresh Off the Bus: Dominic Pacifico
By: Richard Bright
Posted: 2:00 pm PDT 4-27-2007
NORTH HOLLYWOOD, Calif. – Fresh off the bus from? San Francisco
Age: 26
Height: 5-7
Weight: 155
Distinguishing features: "Smile, huge cum-shots, uncut cock."
Tattoos/ piercings: "Four tattoos and pierced ears."
Penis size: "Seven inches, uncut."
Sexual orientation: Gay
Relationship status: Single
First adult video performance: Tahoe Trip[Factory Video] Subsequent performances: ManPlay 24 [Titan] Mirage [Raging Stallion], Color Blind [Unzipped]
What did you do before getting into porn?
"Deejay and bartender."
How did you get into the gay adult industry?
"I did a Web jerk-off solo for Titan's Brian Mills in 1998. Then in 2005, I got an offer I couldn't refuse."
How did you get your porn name?
"A friend called me Dominic by mistake and it stuck."
Most memorable on-screen performance:
"I did a film for Bacchus and fisted a guy while a Russian beat him with a riding crop. Very hot."
What is the dirtiest/ sexiest thing you've ever done? "I pissed on a guy in Las Vegas at the Green Door. Every time I needed to go, he took his clothes off and I pissed in his mouth and all over him, a total of five times."
Favorite co-star?
"Josh Powers."
Who would you like to work with?
"I'd Like to work with Falcon models, any one of them."
Favorite sex act or position?
"As a bottom, doggy-style, as a top… I hope you like toys."
What are your long-term goals?
"I would like to work in the music industry for a while, then teach electronic-music classes on a college level, and finally retire and own a bed-and-breakfast."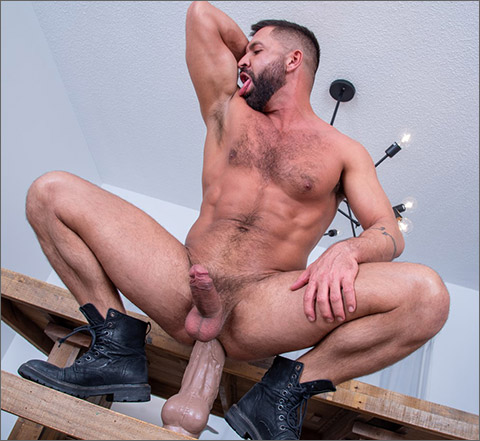 JERKIN' FOR YOU (DOMINIC'S BIG DILDO RIDE)
I have a lot of fun fucking around with my buddies on camera, but sometimes it's hot to get off on my own, knowing you guys will be watching. Today I'm jerking and getting my ass rammed with a big dildo, but I'm thinking of YOU.
   I take out an inhuman-sized dildo and give it a little lick, slap it down on the bench and climb on. It takes a bit of effort, even though I am totally horned up, to stretch my ass to take its fist-sized girth. But it's worth it. My cock stays stiff as the dildo slowly slides up into my big muscle butt. Once I get it halfway inside, I pull it out and see my open hole, juicy and hungry for more. Time to take out the fuck machine and mount the dildo on. It starts ramming in now — I'm totally ready to take whatever that mechanical monster can dish out. When it speeds up I have to brace my hands on the bench to keep from getting my ass knocked right off. My pucker is all stretched out, now I better finish this off. I milk a giant squirt of cum onto the big fucker that just impaled me, and silently thank you all for getting off with me.

TATTED RYAN TAKES ME ON
Something SO hot about an edgy tatted stud, especially one like Ryan Powers who needs to stick his big cock in a hungry hole like mine. Pierced, bearded, and with a nice bit of body fur that gets thicker around the crotch, he got me down on my knees in no time flat. I opened wide as he slammed his dick into my juicy mouth. Tasted so good I had to tell him so. For a top he's a major cocksucker too, and gave my nuts the oral attention they need. I knew this would be a bareback fuck to remember! I climbed on the bench on hands and knees to offer up my tan muscle ass.
   Ryan's short blond mustache and scrubby beard felt great tickling my butt crack, his tongue went deep into my ass. Both hands parted my cheeks as he sucked harder and got me wet and ready. He stood up and slid his raw and rockhard prick in, grabbing my arm and slapping my butt between thrusts. "That's it, keep slamming it in!" I yelled as he started pulling out all the way then pumping in till his balls hit my butt with a smack. We grunted out hot filthy talk to each other and raced to a big juicy climax. I got on my knees to beg for his load just as he sprayed down my chest with man seed. I licked every drop off Ryan's thick meat as it spurted its last.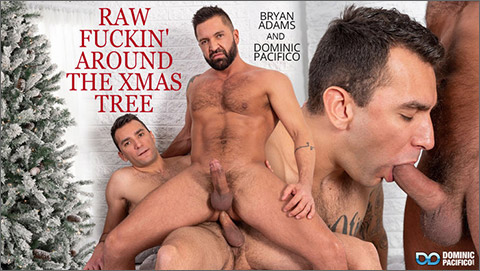 RAW FUCKIN' AROUND THE XMAS TREE
When I started sucking face with lean muscle stud Bryan Adams next to the Xmas tree, I felt something hard and juicy pressed into my crotch. That was a present I needed to unwrap, and fast! Getting that beast into my hands and mouth was just what I wanted for the ho-ho-holidays, and when Bryan peeled off his shirt to show off some tats and a nice sprinkling of natural chest hair, we were off to the races. I opened wide to get it all the way down and sniffed his rough masculine scent. Kneeling down next to the tree, he got my cock just as hard and wet with spit and precum.
   I bent over onto all fours and Bryan got a mouthful of my cockhungry ass, running his tongue along the hairy crack between my big muscular cheeks. "Yeah, baby, gonna give me that big dick?" I moaned. He slid into my spit-soaked hole and gave me what I needed. His raw, bareback pole pushed in to the root and he began pumping, big rough hands gripping my hips to brace each stroke. When he sat down I wasted no time grinding my hole onto his massive ass-splitter. Dug one hand into his hairy chest and started beating with the other. He pulled away and stood to whip up a batch of sticky yuletide cheer for me to gobble down. Dripping with cum from my mouth to chest, I was fucked-out and ready for a long winter's nap.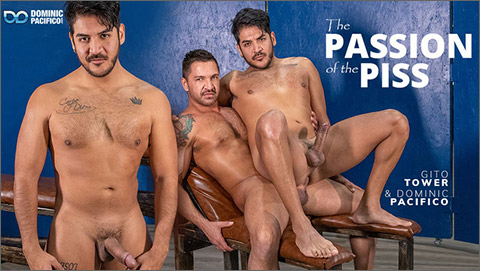 THE PASSION OF THE PISS
With his hot body, sexy face and sexy bubble butt I'd been craving Gito Tower for some time (fortunately the feeling was mutual). I brought him down to my studio for some passionate raunchy piss play, jock sniffing, dick sucking bareback action. And I must say, I fucked the shit out of that hot ass in every position, busting my nut up his ass. For my fans that have been asking me for more pissing and watersports play with sexy gay Latin men, this video is guaranteed to quench your thirst!

ULTRA FAN: Brent Corrigan & Dominic Pacifico spit-roast Dorian Ferro; Dominic Pacifico fucks Brent Corrigan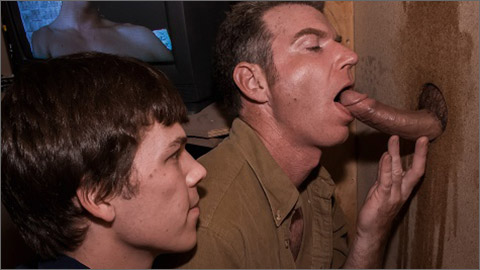 ARCADE ON ROUTE 9 – BOOTH 23
Brett Anderson and Matthew Matters suck Dominic Pacifico
Meanwhile, in Booth 23, Dad's showing Junior the finer points of arcade etiquette. Dad's pointing out the glory that lies in a glory hole, with businessman Dominic Pacifico all too eager to chow down on dad's bountiful boner. "Lemmee try," says junior, and soon slams Dominic with a young man's blasts of jet propelled spunk. Then dad and son are switch-sucking that businessman bone, making Dominic jet his jizz 'cross the booth in a real razzle-dazzle finish. "Happy birthday," says dad. "Thanks," Junior replies, wiping cream off his chin.
   The businessman has met handsome young Josh Powell in the buddy booth. They're stripped naked and stroking. Dad and Junior make the phallus-flailers a
quartet. When cashier Jody Scott comes in, things heat up dangerously. Dominic and Josh take side-by-side squat fucks atop Jody and Dad. Junior beats the jizz outta Dominic while the dude's still squirming on his dad's cock, and the rest of the guys join in on the cream fest. Then Junior gets a sight he's not prepared for—Dad's pissing all over himself!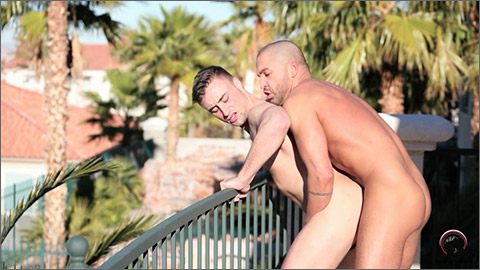 MASSAGE IN VEGAS
On a trip to see friends in vegas my boyfriend Samuel Stone wanted to relax and called one of the sexiest Masseuse of Vegas : Dominic Pacifico. Sam lay himself down on the table while Dominic warm up some oil to poor all over his beautiful body. It dosent take long before his hands get him hard and horny. Then slowly almost like a new form of massage therapy Dominic start sucking his cock deeply. The two too excited take things on the balcony where they start fucking passionately with the impressive vegas background. There chemistry is undeniably intoxicating. Our eyes cant get aways from their beautiful body against each other. The final will leave you breathless…

FRESHMEN  August 2006
[2]  Sept/Oct 2006, March/April 2008
UNZIPPED  April 2007, May 2007, May 2009
HONCHO  August 2007
BADPUPPY  #21
2011 DICK OF THE MONTH WALL CALENDAR
LIVE CHAT & PRIVATE SHOWS @ FLIRT 4 FREE
VIDEO ON-DEMAND: Dominic Pacifico @ AEBN SMUTJUNKIES THEATER
DVDs & ON-DEMAND: Dominic Pacifico @ TLA VIDEO