Handsome Hairy Spanish Gay Porn Star, Denis Vega
Known Aliases: Denis Vegas
Years Active: 2013 – 2019
TWITTER @DenisVegaXXX
LUCAS KAZAN INFO:
Mediterranean good looks, manly traits and sexual charisma. Denis Vega has it all. Will you feast your eyes on his hairy chest? On his carefully trimmed beard? On his strong arms?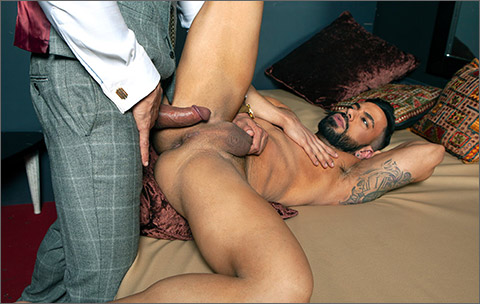 THE MANSION
Good news: Denis Vega is back this week and he's showing Noel Santoro the tricks of the trade in The Mansion. Denis is a wealthy, sophisticated man. He knows what he likes, and he gets what he wants. Sipping on a scotch while he struts around his mansion, Denis comes upon Noel relaxing in his pool. Noel has an awesome swimmer's body with a bubble but that begs to get rammed. And Denis is in the mood for it!
   Noel waits no time wrapping his moist, plump lips around Denis hard cock. This is a blow job that Denis won't soon forget. In return, he slides his tongue straight into Noel's wide-open hole. Seriously, the site of Noel on his knees with his whole gaping and slick with Denis's spit is enough to get anybody off, but Denis needs more. With a condom on, he pumps Noel's ass like crazy before they climax so hard even you'll feel it. Find out for yourself.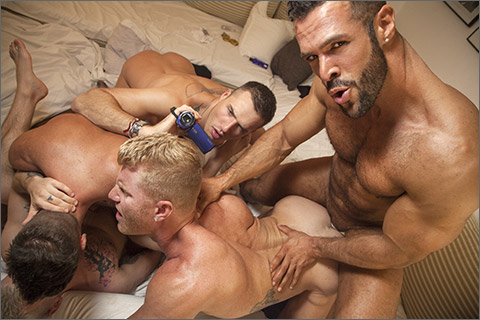 PARIS PERFECT: Colton Grey, Johnny V., Theo Ford, Dani Robles & Denis Vega
Johnny V. and Theo Ford return to the house and the case of the mistaken identity is solved but the 24-hour debt is due. Johnny and Colton Grey offer to pay up but Theo Ford explains it's not money the Spaniards are after. In order to settle the debt, Dani Robles and Denis Vega must fuck Mr. Ferrand's tight virgin hole – and it must be filmed. When Ferrand flatly refuses all eyes turns to his doppelgänger, Colton. Ready for anything Colton and Johnny are all in! Passionate tongues dive down hungry throats as clothes fly off revealing chiseled, muscular bodies, perfect round asses, and giant rock hard cocks. Americans Colton and Johnny take one for the team while the Spanish studs fuck their faces and asses leaving no hole unfilled. Loads fly and are greedily licked up as the International fuck-fest comes to an end. Everyone gets laid, debts are paid, and dreams are made. Paris really is Perfect! There's just one more mystery for Colton to solve… who is this "Boss?" You might be surprised!
TORERO – CHAPTER 1
BULL FIGHTER PART 1 (Sevilla)
A bull fighting story taking place in Andalusia Spain, where a famous matador named Manuel Vega goes to his private bull fighting ring to train every morning. Dani, who is in his trial period to work at the ranch, is waiting for him there. The matador has a weakness for men but he doesn't let it take him over. He keeps it a secret for fear of the society around him. Also, because he is engaged to the famous flamenco dancer Carmen Torres. They are both very famous and a power couple in the tabloid magazines. However, he is unable to avoid this kinky feeling of being alone in a stable with an attractive man. Upon finishing with their days work, Dani has a big surprise. No details are lost in this passionate story with a mix of sex and drama, all wrapped up in the typical Hispano-Andalusian art.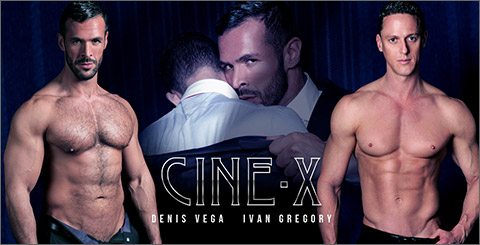 CINE-X
Bored with the usual app hookups, Denis Vega ventures out into the night cruising the streets of London and pays a visit to one of his favourite pick-up spots – a secret XXX Cinema. And as soon as he walks in his cock stiffens. The sleazy atmosphere, the hardcore visuals and deep moaning, and the anticipation of getting some cock action gets Denis' testosterone pumping straight to his dick.
   So as soon as a tall stranger walks and sits next to him Denis discretely reaches across to grab his neighbours crotch and start stroking his thick, uncut meat. Without exchanging a single word the suited muscle hunks start playing with each other's cocks as they enjoy the movie – at first stroking and sucking but then they loose their inhibition and the strangers take turns to fuck the cum out of each other.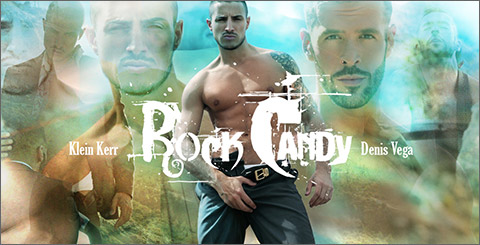 ROCK CANDY
We've only gone and done it again! Adding to our army of boner-enducing men, Menatplay bring you yet another brand new face – and what a face it is! 25 year old Klein Kerr has all the makings of a high fashion model, so his decision to step into one of our sharp tailored suits for his debut scene seemed only natural. And we couldn't wait to get our hands on him (metaphorically of course) and here is the result – ROCK CANDY, co-starring none other the the muscle god that is Denis Vega. Except this time round Denis pulls no punches and breaks the new recruit in, the hard way, tying him up and giving him a bit of the Vegas rough treatment. But its evident that Klein can play rough too and they engage in a man on man power-struggle, wrestling all over the dirty rugged terrain and fighting for top position. Watch Klein as he takes the upper hand and gives Denis a good hard ass pounding and proves without a doubt that he has what it takes to be an official Menatplay Man.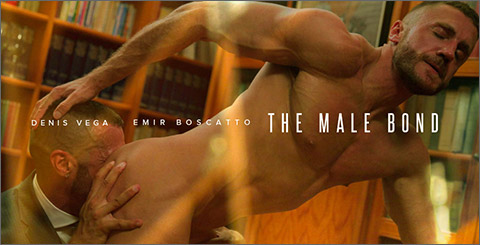 THE MALE BOND
MENATPLAY presents a Worldwide exclusive in the form of ex Big Brother contestant EMIR BOSCATTO who makes a leap into the world of Gay Porn. 33 year old Emir who came runner up in the 2011 Argentinian edition of the reality show, has been regular face on the celebrity scene in Latin America, appearing in a number of TV shows and gaining a huge following on twitter. But Emir being the hot blooded Latino that he is, has always had a desire to show his fans his other talents on camera. And for his big debut we have paired him up with none other than MENATPLAY star DENIS VEGA – and the result is a white-hot, muscle fest that's sure to mark a turning point in Emir's career. And once you see how the Argentinian beefcake is stacked and hung there is no doubt that he will become a clear Porn favourite. Download the uncensored scene now and see how these two prime specimen of Men bond with each other at a wedding party and discover eachother's muscular bodies for the first time… and just in case there was any doubt we're talking about deep, passionate and very sweaty Male Bonding.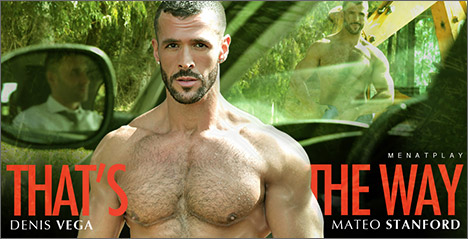 THAT'S THE WAY
He's back, with his dark Spanish skin, those thick masculine shoulders , and that pearly white smile. Yes we'd be lost without Denis Vega. And so too it seems would our new Spanish executive Mateo Stanford who comes across Denis digging the land in his JCB. When Mateo finds himself lost in the middle of nowhere he asks directions from Denis, and does Denis show him the way! We just love these scenario; the conformist office guy in his crisp white shirt meets the wild, rugged , blue-collar labourer, who's ready to rough up that straight laced executive with his dirty manly hands. In the open air with no-one around Denis drops his boiler suit to reveal his thick cock which Mateo gags on with pleasure as Denis gives the back of his head a good shove to make sure that Mateo really get the taste for the entire joystick. The monster tyre of Dennis digger is the perfect place to finger and fuck the arse off this lucky disoriented white collar stud. That's the way to do it Denis…. That's the Way!
NAKEDSWORD
KRISTEN BJORN PRODUCTIONS
MEN AT PLAY
LUCAS KAZAN
MEN.COM

CLICK HERE TO GO TO HIS LUCAS KAZAN GALLERY
VIDEO ON-DEMAND: Denis Vega @ AEBN SMUTJUNKIES THEATER
DVDs & ON-DEMAND: Denis Vega @ TLA VIDEO