CzechHunter Guy Gay Porn Star, Mickey Rush / Marion Anel
Known Aliases: Mickey Rush (East Boys), Czech Hunter 205
Years Active: 2015 – 2016
STAXUS INFO:
Ever the artistic one, young Mickey couldn't wait to visit the tattoo parlour to express his creative side – but it didn't impress his parents! However, they've since got used to the work, which incorporates his birthday and features some "personally significant" aspects of his young life.
Date of birth: 12th November 1994
Height: 5'11" / 180 cm
Cock size: 7″ / 17.5 cm
Ethnicity: Czech
Role: Top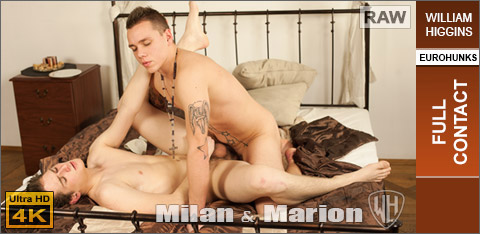 FULL CONTACT: MILAN POKORNY & MARION ANEL RAW
Milan Pokorny and Marian Anel are on the bed, naked and hard. Marion has an ice cube that he is rubbing over Milan's lips and then his nipples and down his body. He rubs it over Milan's hard cock and balls and kisses them too. Then Marian has a suck of that hard cock. He keeps playing with the ice and kissing Milan's sexy body. Then he starts to suck the cock, alternating with rubbing it with the ice cube too. He laps at the cock with his tongue and gets more ice to rub over the head. He rubs the ice on Milan's hairy balls as well. Then Milan lifts his legs to that ice can be rubbed over his tight hole as well. Marion tongues the hole as well and has another taste of the throbbing cock. Then he slips a finger into Milan's ass as he sucks on his cock. His finger fucks the ass hole before more rimming. His finger slips back into the hole before he climbs over Milan for a 69. Then Marion lays on the bed and Milan climbs over him and slides his ass down on Marion's hard cock. Marion fucks that tight ass, so hard and fast. Milan moans as he feel the cock slamming into his hole. He rides the cock a little before Marion starts his hard fucking again. Milan turns around and sits continues to take the dick deep in his ass. Marion's fucking continues to pound that hole. Then Milan dismounts and lays down so that they can kiss as Marion wanks him. he then returns to fucking Milan, this time in missionary position. Milan wanks himself as he takes the dick deep in his ass. His cock soon shoots his creamy cum as Marion keeps up with his fucking. Milan pulls his legs up and holds them as Marion slam his dick in and out of that eager hole. The moaning increases as Marion builds up to his cumshot. He pulls out and dumps his hot cream over Milan, milking every last drop out of his cock. Then he shoves his dick back into that hot ass and fucks it some more. Then both go off to the shower to clean up after a very hot fuck.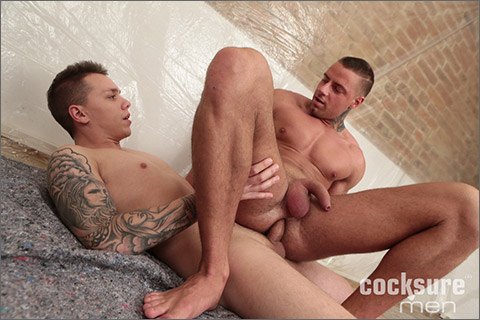 MICKEY RUSH BAREBACKS PATRICK TYSON
Ripped muscle jock Patrick Tyson is setting up to paint a wall when Mickey Rush walks in. He starts touching Patrick's hard muscles. They kiss while feeling each other's bodies. Mickey unzips Patrick's jumpsuit, sucks his stiff cock, and licks his smooth balls. After Mickey takes his pants off, he leans on the ladder. Patrick gets on his knees and sucks his uncut meat. They kiss again before Patrick takes his turn on the ladder revealing his bubble butt. Mickey spreads Patrick's ass cheeks and rims his hairy hole. Patrick helps Mickey with a handstand and sucks his cock upside down. Patrick takes a turn rimming Mickey' hole. Patrick leans his left leg on the ladder waiting for Mickey's raw cock. Patrick's face is ecstatic while getting fucked bareback. Patrick lays on the floor and holds his legs up in the air, making it easy for Mickey to fuck him raw. Patrick sits on Mickey's raw cock bareback, while jerking his cock. Mickey fucks him bareback from the bottom up until he pulls out and jerks his load. Mickey Rush sucks Patrick Tyson's cock until he blasts his creme into Mickey's mouth. A sticky kiss ends this paint prep.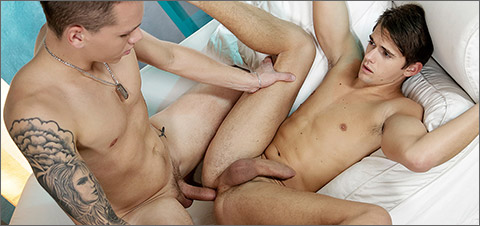 SUN, SANGRIA AND SEX: NEW BOY FALLS FOR HUNKY TATTOOED STUD & HIS BIG FAT JUICY DICK!
It's definitely a case of love – or, at the very least, lust! – at first sight for new-boy, Tony Conrad, when he encounters the gorgeous Mickey Rush in a city playground. What follows, of course, is pure imagination on the part of the cock-crazed newbie; but you have to say, as fantasies go this is definitely one of the hottest! Seconds on and the two fresh-faced buddies are smooching like it's the end of the world; before we're immediately transported to a nearby apartment, where their licentious behaviour not unnaturally continues.
   Given how clearly horned-up young Conrad is it's not exactly surprising that he makes a beeline for Rush's crotch; pulling away the buff beauty's briefs, then promptly slurping on the handsome fuck-rod that he discovers straining inside. It's certainly a fevered display on the new guy's part, and one that soon gets Conrad returning the compliment; before both lads make the most of the sofa by eagerly 69-ing each other's cocks. Ultimately, however – and arguably somewhat inevitably – attention turns to Conrad's virgin ass-hole, which by now is crying out to be stretched.
   Cue a stupendous display of rimming and fingering on Rush's part; before temptation finally gets the better of him and he thrusts every inch of his straining shaft deep into that sweet little pucker. What ensues is a tremendous romp that'll almost certainly have you jerking like crazy; with Rush eventually fucking the spunk out of his new mate, before jerking out an equally generous wad of goo all over Conrad's face and then playfully snowballing the aftermath!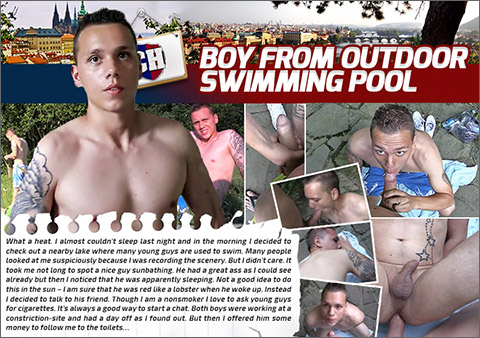 CZECH HUNTER 205
What a heat. I almost couldn't sleep last night and in the morning I decided to check out a nearby lake where many young guys are used to swim. Many people looked at me suspiciously because I was recording the scenery. But I didn't care. It took me not long to spot a nice guy sunbathing. He had a great ass as I could see already but then I noticed that he was apparently sleeping. Not a good idea to do this in the sun – I am sure that he was red like a lobster when he woke up. Instead I decided to talk to his friend. Though I am a nonsmoker I love to ask young guys for cigarettes. It's always a good way to start a chat. Both boys were working at a constriction-site and had a day off as I found out. But then I offered him some money to follow me to the toilets…
CLICK HERE TO GO TO HIS STAXUS DETAILS