Hung & Uncut, Black Gay Porn Super-Fucker, Cutler X
Known Aliases: Cutler, Cutter X, CutlerX
Years Active: 2004 – 2015
TWITTER @CutlerX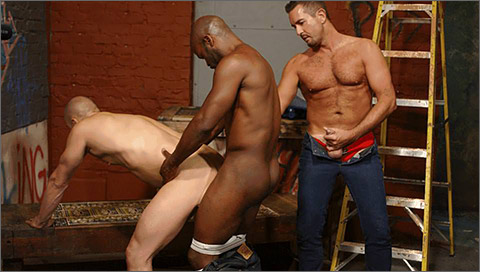 FISTICUFFS: Cutler X (top; anal & fist) Rik Jammer (bottom; anal and fist), Christophe Keller (top; fist), Nick Savage (top; fist / bottom; fist / self-fisting)
Rik Jammer returns in scene 4 and drops to his knees to service the unbelievable mammoth black dick of Cutter X. This has to be one of the biggest cocks in the business but Jammer, true to his name, manages to get every last inch of it jammed in his mouth. With his nose in the stud's black bush, Jammer's eyes begin to water – and his hole begins to twitch. Cutter moves behind him and begins to tease his ass with the monster meat. Rik's hungry hole opens up immediately and devours the 11-incher to the balls. Cutter pulls the cock all the way out of his ass and slams it back in repeatedly.
   Christophe Keller shows up and makes out with Jammer as he continues to get pummeled. Next, Jammer rolls back and lets Keller put his hand in him while he feasts on Cutter's giant cock. The two studs continue to stuff Jammer from both ends, occasionally leaning over to suck his throbbing cock. Nick Savage shows up and adds yet another hot muscle-butt to the mix. Christophe moves over to the newcomer and drops his hand in with no resistance, just one big slopped-up wet hole. The two bottoms lay back side-by-side as their respective owners take charge of their holes. The filthy action continues as Christophe sprays Rik down with a hot stream of piss.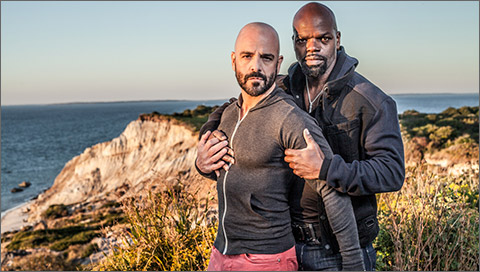 REAL COUPLES BAREBACK: Cutler X fucks Adam Russo
Adam just found out he's being cheated on and the trust he had in Cutler is broken. Trying to make up, Cutler leans in to kiss his resistant partner but Adam isn't ready to forgive him. Not wanting to throw their life away, Cutler needs to convince his love he wants him back.
   Trying to shift blame, Cutler brings up Adam's habit of making out with other guys at bars. Adam argues it's not the same, and doesn't want to forgive, but Cutler's insistent, passionate kiss works. They embrace, pulling off each other's shirts, Cutler kissing Adam's hairy stomach and nipples. Cutler pulls off their pants, and Adam takes the girthy black dick before him into his mouth, stroking the extra length with his hand.
   They 69, Cutler playing with Adam's balls before licking his ass, wetting down his hole, before slowly working his thick rod into his ass, bareback.
   Raw fucking Adam's ass deep, his hole is worked out to the max as the whole girthy length disappears into him. Cutler pulls Adam on top, his slick dick pushing into him from another direction. Adam rubs Cutler's ebony chest as he grabs his firm ass cheeks, plunging his cock deep into him.
   Cutler cracks a big smile, knowing the pleasure he's bringing his boyfriend. Cutler fucks him sideways, his thick cock sliding in and out of him as Adam jerks his cock. Cutler slows down the pace as Adam is about to come, teasing him. Picking back up in intensity, Adam's eyes roll into the back of his head as he's pounded out. Adam responds with a mix of pleasure and pain, the large cock almost too much for him, but bringing him closer and closer to the edge.
   Adam's whole body spasms with the release, unloading onto his stomach. Cutler and Adam make out, Adam's hand caressing Cutler's thigh as his boyfriend blows his big load all over his ebony stomach.
HOT HOUSE CLUB INFERNO
ICONMALE
HOT HOUSE
TIM TALES
CAZZO FILM BERLIN
TREASURE ISLAND MEDIA
RAW FUCK CLUB
DARK ALLEY XT