Falcon Studios American Gay Porn Star, Casey Jacks
Known Aliases / aka: Casey (Reality Dudes), Owen (Corbin Fisher)
Years Active: 2017 – 2018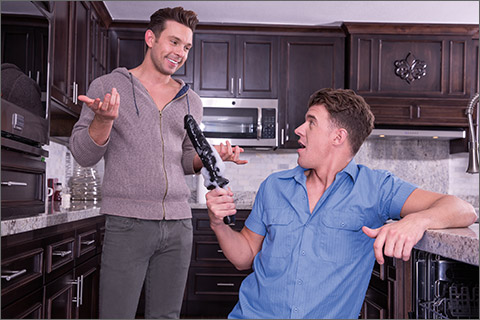 SERVICE ME!: JJ Knight fucks Casey Jacks
Homeowner Casey Jacks calls over plumber JJ Knight to fix a leak with his dishwasher. JJ identifies the problem as a giant manrammer stuck in the appliance. JJ Knight comments how big the dildo is and wants to offer Casey the real thing. Casey doesn't resist so JJ whips out his 10-inch cock and Casey gets to work taking it down his throat. Casey makes sure to cover every inch of JJ's huge dick, but wants more. He hikes his leg up on the kitchen counter so JJ can have complete access to rim his crack. JJ warms Casey up a little more switching from his tongue and his fingers to get the stud ready for the giant cock he's about to receive. When JJ feels Casey is lubed up and ready, he stuffs his rod deep into Casey's hole. Casey wants it even deeper and gets on the counter top on all fours to let JJ pound away from behind. Craving even more, Casey gets on his back and strokes his cock while JJ thrusts away. With JJ's cock deep inside of him, Casey oozes his load onto his smooth abs. The sight of Casey below covered in cum makes JJ blast his jizz all over the studs face.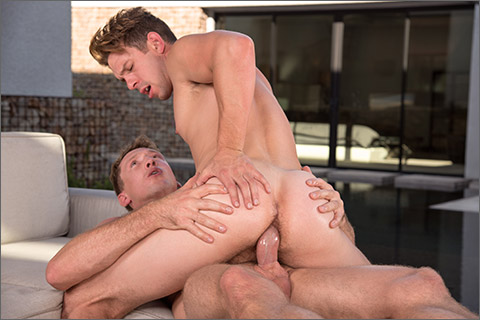 HIDDEN PALMS: Pierce Paris fucks Casey Jacks
Pierce Paris is enjoying some time in the pool and when he sees Casey Jacks napping on a couch, Pierce decides to wake him up with a kiss. Casey is thrilled and reaches back to feel what Pierce has lining the inside of his swimwear. Casey finds an extra large dick just waiting for his mouth to make it hard. Casey works his magic and when Pierce is throbbing hard, he decides to return the favor. Pierce loves the taste of what Casey has to offer and can't wait to get inside him. Pierce opens Casey's hairy hole with a nice long rimming session and when he can no longer take the anticipation, Pierce enters the stud from behind. Pierce moans as Casey's giant low-hangers dangle and flop with each thrust from the horny hunk. Casey begs for Pierce to go deeper and after hopping on to ride the massive dick, lies back to let Pierce finish up. Pierce takes total control over Casey and pumps his ass until Casey relieves himself of his frustrations. When Pierce gets an eye full of what Casey just left behind, he pulls out and gets his own relief as he blasts Casey's ripped body full of cum.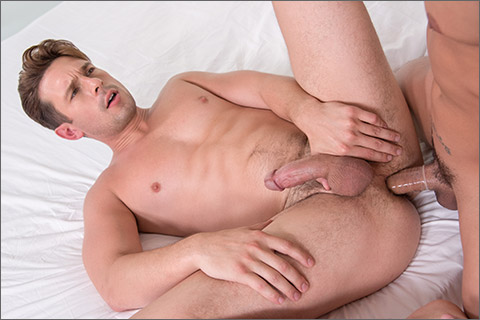 HIDDEN PALMS: Topher DiMaggio fucks Casey Jacks
Topher DiMaggio is getting horny laying out in the sun and decides to head inside to take care of business. Luckily for him, on the way inside, he passes hunky and nearly naked Casey Jacks in nothing but a swim suit. The two give a knowing nod to each other as Topher continues on his way to get naked on his bed. Casey follows him inside and plops on his knees in front of the hard and ready Topher. The cock-hungry Casey savors every inch of the smooth muscle stud with an eager blowjob that gets Topher ready to fuck. Before Topher goes all the way, he wants to sample Casey's hairy butt. Topher laps it up, getting it nice and opened up and ready for his giant pole that he's about to slip inside. Topher can no longer hold back and rolls Casey onto his back to slide his dick into the begging jock. Topher doesn't hold back and works up a frenzied pace right from the start. Casey moans out with every push from behind, demanding that Topher go deeper and harder. The studs switch up their positions and finally settle on Casey taking it hard from behind. As Topher drills Casey, he pulls out and covers Casey's muscled up butt cheeks with a nice warm load. With his back covered and sticky, Casey rolls over and gets his own release when he jacks his rod and covers his stomach with pure white satisfaction.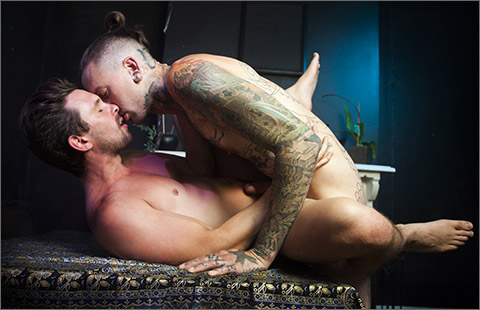 THE DEVIL'S DEAL & OTHER SORDID TALES: Ruckus fucks Casey Jacks
Dinner is prepared, candles lit, wine poured, as our handsome hero (Casey Jacks) eagerly waits for his lover (Ruckus) to come home from work. Hours pass when a brisk breeze blows out the candles and announces the arrival of the late lover. He apologizes, explaining a terrible accident kept him, but that the tragedy also made him realize he can't wait any longer. He gets down on one knee and makes a romantic proposal which is immediately accepted. Giant cocks are sucked, perfect butt-holes fiercely pounded, and loads swapped as the newly engaged couple consummate their eternal love. Entwined and exhausted they retire to their bedroom but their dreams are soon interrupted by a phone call. Our hero finds himself alone in bed as the voice on the line breaks the news: it seems there has been a terrible accident…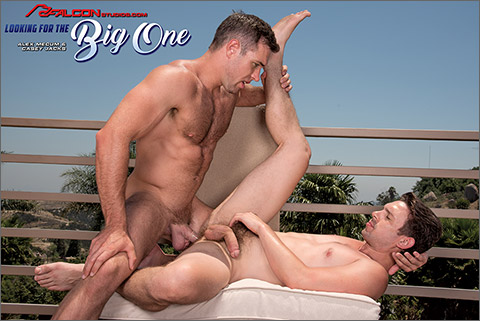 LOOKING FOR THE BIG ONE: Alex Mecum fucks Casey Jacks
It's a hot and sunny day at the beach house when Alex Mecum and Casey Jacks hook up in the back yard. Alex gets throbbing hard as the two hunks kiss and when Casey notices how big Alex has become, he can't help getting on his knees and opening his mouth wide. Casey takes his time with Alex and is careful to lick every inch of the hung hairy stud's thick shaft and big hanging balls. After getting Alex worked up to the point of no return, Casey pulls down his shorts and offers up his tight ass by bending over the balcony rail. Alex happily accepts Casey's offering and gets down to eat him out. When Alex is convinced that Casey's hairy hole can take his thick dick, he stands up and slowly slides his big pole between Casey's cheeks before he picks up the pace to fuck his buddy harder. Casey wants maximum penetration and takes Alex to the couch where he gently pushes him down and straddles his hard body. Casey sits on Alex's thick dick and rides it up and down until Alex takes charge and flips his friend around. Alex is ready to blow his load and he knows it will feel best with Casey on his back. Alex was right, and both studs blow their thick loads all over Casey, leaving him a sticky white mess.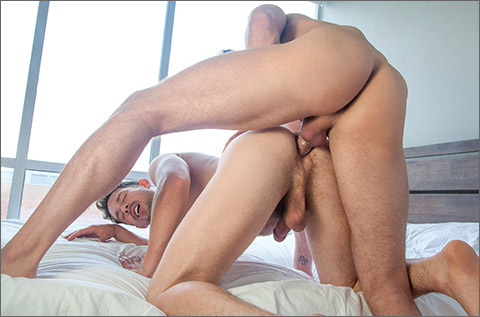 INTIMATE: Roman Todd fucks Casey Jacks
When Roman Todd and Casey Jacks get together, the sparks fly. They're kissing in front of a bedroom window, groping each other when Roman decides to give Casey a taste of his erect manhood. This is exactly what Casey wants and he doesn't waste a second wrapping his lips around Roman's big hard dick. After getting completely revved up, Roman reaches into Casey's underwear to feel his tight ass. The feel of his fingers meeting Casey's throbbing hole is all it takes for Roman to peel down his partner's shorts and get to work rimming him with his hungry tongue. Roman knows he wants to enter Casey, who's begging for his dick. After getting Casey nice and loosened up, Roman lies back on the bed and lets Casey get what he wants. The young stud hops on Roman's thick pole and rides it deep as the two maintain eye contact and continue kissing while they make love. 'Oh baby, I'm so deep inside of you,' Roman says as he speeds up his rhythm and makes Casey moan even more. When Casey is ready to blow his load, the two studs flip around and as Roman continues pumping, Casey blasts a giant hands-free orgasm all over his tight body. As his cum pools up on his stomach, Roman is ready to give Casey his load. He pulls out and stands over the panting stud to shoot every last drop he has all over Casey's face and wide-open mouth. Exhausted after their incredibly satisfying session, the two jocks collapse in a heap on top of each other and kiss Roman's cum away.
NAKEDSWORD
PRIDE STUDIOS
FALCON STUDIOS
NEXT DOOR STUDIOS
REALITY DUDES NETWORK
CLICK HERE TO GO TO HIS FALCON STUDIOS DETAILS