MormonBoyz, Brother Johnson
Known Aliases:
Years Active: 2015 – 2016
MORMONBOYZ INFO:
Until just a little bit ago, Brother Johnson was just a local member. But The Order had other plans for him and called him to a ward mission leader to take advantage of his defining qualities; his confidence, his assertive attitude, and his passion. These things coupled with his charming smile, The Order was certain he would attract many like-minded boys. And they weren't wrong!
   When he found two missionaries fooling around in a church, he took the opportunity to whip out his giant cock and test their tight holes while also fulfilling a deep sexual fantasy of his own.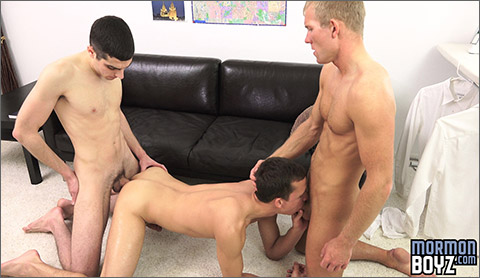 THE INITIATION OF ELDER LINDSAY: CHAPTER 7 – CORRELATION MEETING
Elder Lindsay and Elder Ricci have been dreaming about cock. Specifically, they've been dreaming about Brother Johnson's cock since he fucked them both. And Brother Johnson has been thinking about another meeting with these boys, too.
   Ever since he discovered them hooking up in the local church, and got in on the action, he hasn't been able to stop fantasizing about the wild erotic romp they enjoyed together.
   Brother Johnson had been fantasizing about clean-cut, handsome, polite, young missionaries for a long time, and to finally have not one, but two of them at once is a dream come true. And to have done all the things they did right inside the church added to the illicit thrill.
   But there are also limitations when having sex inside a church. They'd had to keep pretty quiet, and they'd all hurried a bit to avoid being caught.
CLICK HERE TO GO TO HIS MORMONBOYZ DETAILS