Furry British Gay Porn Star & Power Bottom, Brent Taylor
Years Active: 2014 – 2017
UK NAKED MEN INFO:
Age (2014): 24
Cock Size: 7
Body Hair: hairy
Body Type: Defined
A stunning hot 24 year old making his scorching debut and this boy is HUNGRY for uncut cock and raw loads.
UK HOT JOCKS INFO:
Hairy and hunky Brent is a hot manly specimen of a jock. A local Manchester guy and a personal trainer by trade he's warm, friendly and clearly charming! Under the gear he's beautifully hirsute and beefy in all the right places. Broad shoulders, large chest, awesome muscular thighs and an arse to turn the heads of even the bottom boys! A self confessed power bottom and a skilled one at that, he loves any BIG challenge thrown his way. More to be seen from this hottie which will explain just what we mean.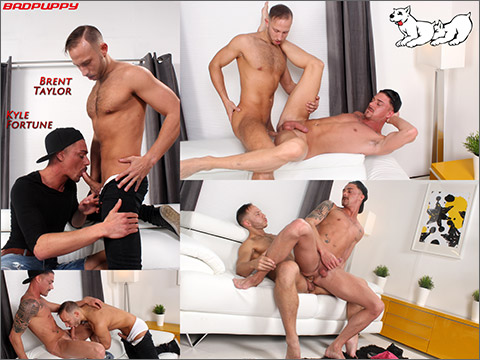 BRENT TAYLOR FUCKS KYLE FORTUNE
We find out in the interview that Brent Taylor has never topped, and Kyle Fortune has never bottomed, but for this scene, they are going to switch things up. Brent gets things started by standing up; pulling down his jeans demonstrating that just the conversation of the interview was enough to get his cock standing straight up. I'm guessing he can't wait to plant his dick in Kyle's hole. Brent pulls off his shirt, stands up on the sofa and Kyle woofs down Brent's cock like a hungry dog. Kyle quickly rips off his clothes revealing his slim, tight body decorated with some really interesting tattoos. Brent moves in quickly, swallowing ever bit of Kyle's cock; gagging on it quite a few times as he keeps trying to get it as far down his throat as possible. Brent spins Kyle around on the sofa, bends him over and shoves his cock straight into Kyle's ass. Kyle gets a good pounding; but, wanting to switch things up, he has Brent sit down on the sofa and Kyle goes about riding Brent's cock while Brent is pounding him from below. Kyle both loves the pounding and from the looks of the precum dripping from his cock, he's getting really close to cumming. Kyle starts squirting cum and it just keeps cumming and cumming; all over his hot, tight stomach and chest. The jizz splattered on Kyles torso was all it took to send Brent over the edge. No sooner had he pulled out of Kyle; he starts squirting hot, thick loads of cum all over Kyle's cock, stomach and chest. When all is said and done, Kyle is coated in cum.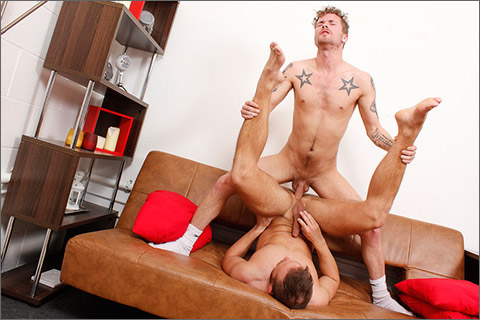 ROUGH YOUNG FUCK!: MCKENSIE CROSS FUCKS BRENT TAYLOR
Rough young fuckers McKensie and Brent love it hard, fast and deep, not to mention without a condom in sight! McKensie's tight tattooed body is aching to fuck a hot young ass and Brent is more than willing to fill that role! Fingering his bottom bitch, opening that hole wide for his raw dick to slide inside, he pins Brent to the sofa and fucks him hard, his dick almost a blur as it slides in and out so fast, the feeling of fucking a warm wet hole overpowering McKensie so much he just lets loose and loses himself in the moment! Pulling Brent ass up, McKensie has a favourite position to fuck in and pushes his dick straight down into the waiting hole, gaping open for him to fill with his bare dick. McKensie's dick sporting a hot big vein as it disappears and reappears from inside Brent's butt plunges over and over as Brent jerks himself, ending up covered in his own load whilst still getting a pounding, lapping up his spunk waiting for McKensie to join the cumfest, which is saves purely for his hole, sloppy and wet and fucking it inside him some more, letting Brent lap the remaining drips of cum in a great ass to mouth finale!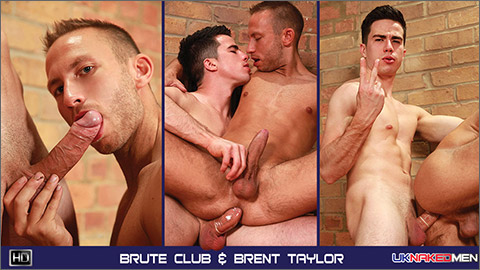 BRUTE CLUB FUCKS BRENT TAYLOR
Down by the trash dumpsters – where else – Brute Club is taking out the rubbish when he runs into Brent Taylor – "you live in this block" Brent asks ….. berdoing ! The guys are stripping off back at Brent's flat, and when greedy-bottom Brent ( our sexiest and most bi, bisexual) pulls down Brute's slightly too tight pants, the pushy bottom's eyes are out on stalks. TEN uncut inches all to himself, wowzer ! Brent strips him down and sucks on that juicy, veiny, two-hander of uncircumcised cock like there's no tomorrow, he tries valiantly to deep throat it, but its just too big – luckily this tanned, handsome hunk has got one hole that can accommodate it with only a little grunting and straining… its in. The two handsome boys are fucking like pistons with Brent pushing back for every delicious inch as Brute pushes him forward and says "right up to the nuts you fucking slut". Doggy is deep, but our top wants to see Brent grimace as the uncut meat slides in so Brent rolls over and lifts his legs before, Brute slides backwards and with Brent on top riding his monster meat to a shuddering, splatter cummy climax – its not over. We LUV spunky Brute's handsome face, ripped body and magnificent dick but most of all we luv LUV luv it when he cums in a handsome face….and so does he!
SAXON WEST, ALEXX DESLEY & BRENT TAYLOR
LOCKER JOCK: BRENT TAYLOR
BADPUPPY
BULLDOG PIT
UK NAKED MEN
UK HOT JOCKS