American Military Active Duty Amateur, Brad Powers
Known Aliases / aka: Drew (Spunk Worthy)
Years Active: 2016 – 2017
SPUNKWORTHY INFO:
Age: 26
Height: 5′ 8″
Weight: 165
Shoe: 8
Cock: 7 1/2″ x 5 1/2″
Orientation: Straight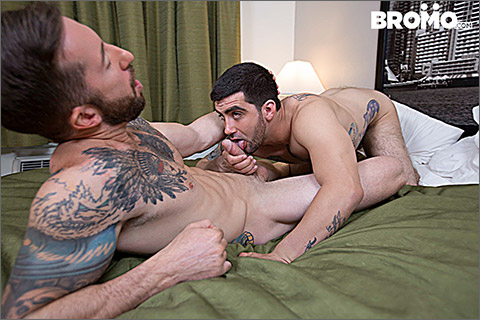 RAW LITTLE PIGGIES
Dominic Chavez has a thing for toes, especially when those toes belong to muscle hunk Brad Power. As Brad plays with his thick and veiny cock, Dominic slowly makes his way from Brad's toes to his engorged dick and deep-throats that bad boy until Brad's ready to fuck him raw.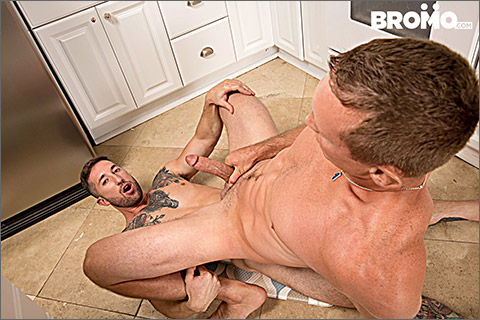 THE INTRUDER: Brad Powers fucks Pierce Hartman
In the first installment of The Indruder series, Pierce Hartman is putting the final touches on his cake when Intruder Brad Powers comes through the backdoor. Pierce offers more than a piece of cake, and soon finds himself face down and filled up by Brad's huge cock.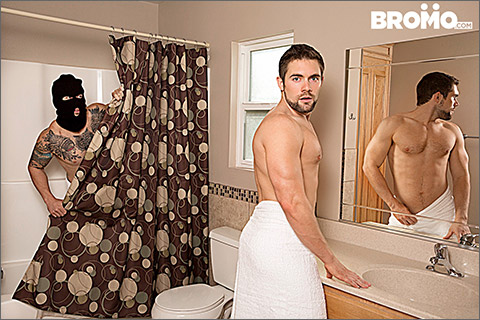 THE INTRUDER: Brad Powers fucks Griffin Barrows
Part 2 of The Intruder series starts with an unexpecting Griffin Barrows minding his own business. That is until the Intruder, Brad Powers, appears from behind the shower curtain. Griffin is reluctant, but Brad's hands feel so good he can't help but explore more of what the Intruder has to offer.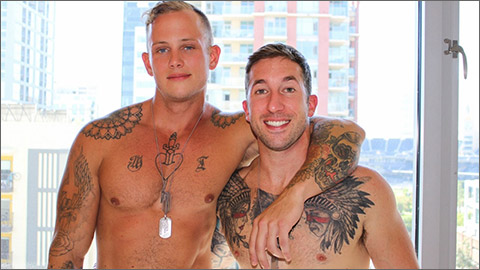 ZACK MATTHEWS & BRAD POWERS
Now y'all know I tend to get a little excited when we have a brand new, fresh recruit going out for the squad, but I genuinely think THIS is the birth of a star! His name is Brad Powers and he's matched up with one of my favorite veterans, Zack Matthews.
   It's no surprise that things started out kinda slowly this time. Zack, of course, was first to strip out of his clothes and start fattening up his cock. Then after a little while, Brad warmed up to the idea and peeled off his own garments. Once he did, Zack went right in for the kill, leaning over and gettin' a mouthful of Brad's gorgeous dick.
   A few minutes into his first guy-on-guy blowjob, Brad really got into the groove, using one hand to bob Zack's head up and down on the hard cock. Claude gets right in there and shows us that Zack sure hasn't forgotten how to choke down a fatty!
   Then we get down to the real good, hard pounding. But it doesn't start out that way, no sir. Brad is a bit cautious, sliding his swollen erection into another man for the first time isn't something you dive into without reservations. Zack is so accommodating and accepting, though, it made for an easy first go for Brad.
   Get on board with these studs as we witness Brad join the squad. Watch these guys spray their hot loads and remember…someday we'll look back at this as an historic moment in AD history.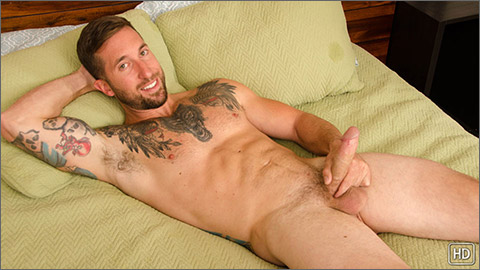 DREW
Drew moved to San Diego just a handful of weeks ago. At 26 y/o, he wanted to soak up some of the So Cal lifestyle: "good surf and beautiful women" seemed to top the list for his reasons for heading west.
   He's into all sorts of outdoor sports, especially the ones that a typical thrill-seeker would go after. When money got a little tight Drew started thinking about doing porn to make some extra cash. It didn't seem like too much of a stretch for a guy who seeks out an adrenaline rush, but it was actually a girlfriend who gave him the final push and told him to go for it.
   After Drew peeled off his clothes, I could understand why he'd heard a few times that he should do porn. Not only because of his gym-tight body, but he's a definite "grower" with a 7-1/2-inch dick that looked even bigger on his 5′ 8″ frame.
   For his first time in front of the camera, and admitting that he was a little nervous, Drew warmed up quickly and tapped into his inner porn-star. It didn't hurt that he'd saved up for 2 days so he was extra horny. His coy smiles turned serious when he got the thumbs up to blow his load. Drew started jerking his cock with a purpose until thick dabs of cum covered his stomach.
BROMO
ACTIVE DUTY
SPUNK WORTHY
CLICK HERE TO GO TO HIS ACTIVE DUTY DETAILS
CLICK HERE TO GO TO HIS SPUNK WORTHY DETAILS