Handsome Hung Dutch Gay Porn SuperStar, Brad Patton
Known Aliases / aka:
Years Active: 2003 – 2009
stats / info:
Hair: Dark Blonde
Eyes: Brown
Height: 6′
Body Hair: Smooth
Endowment: 9″ uncut
Town/City: Amsterdam Country: Holland
Year Born: 1972 (his age Dec 31 2004: 32)
Height: 6′ Weight: 184 lbs Waist: 31 Chest: 42.0
Thigh: 24.0 Calf: 16.0 Body Fat: 7.0%
" Brad and I worked together in my film called ZAK ATTACK for Falcon. Brad has to be the sweetest and sexiest guy that I have personally work with in 13 years. He does not live in Sydney however was there competing at the Gay Games in Figure Skating and is planning to compete in the next games as well. He is based in Amsterdam, travels often and to the best of my knowledge and from what he has told me does Not escort. However, if you ever get the chance to talk with him you will find like myself that he is a one of a kind and that it has nothing to do with the size of his Cock that makes him so special. He is definitely someone of a higher stature and very well liked in our business. "
Zack Spears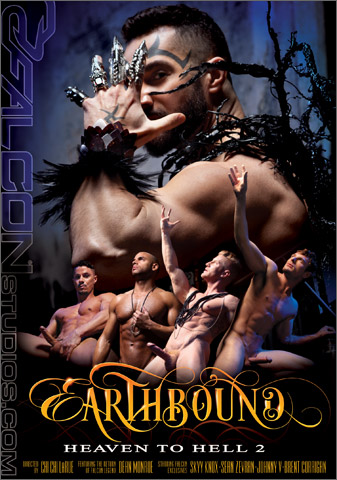 EARTHBOUND: HEAVEN TO HELL 2
The Devil (Dean Monroe) rules with a harsh hand and his soulless Dark Angels do his evil bidding, reigning terror over all who cross their paths. The Devils slave, Rogue (Skyy Knox) refuses to accept this fate and escapes to the world above, making him Earthbound. On earth, Lord (Andrew Stark) is on a mission to find out who's ripping him off, but Snitch (Trelino) gets in his way and he must pay with a powerful pounding. Frustrated by one of his Rouge going astray, the Devil demands his other minions to service him. Dark Angels Sean Zevran, Arad Winwin and Gabriel Alanzo do as they are told in an epic, hedonistic group sex marathon. Lord is angered and equally in need of relief when he orders his sidekick, Alleycat (Armond Rizzo), to ease the sexual tensions built up in his massive dick with a tender yet intense session. While on a fact-finding mission, Henchman (JJ Knight) comes across the mysterious Biker (Blake Riley) and their anonymous session leads to them cumming Hard across each other's faces and bodies. As Dark Angel (Andre Donovan) closes in on capturing Rogue in a nightclub, he can't resist the sexual energy and astonishing good looks of Barfly (Johnny V). The powerful lust of the moment distracts this Dark Angel from his mission, meanwhile, Rogue finds angelic gogo dancer, Lucky (Brent Corrigan) and finds true love in him, consummated in a passionate and romantic love-making rendezvous, the breathtaking encounter breaks the ties that bind Rogue to an eternal hell.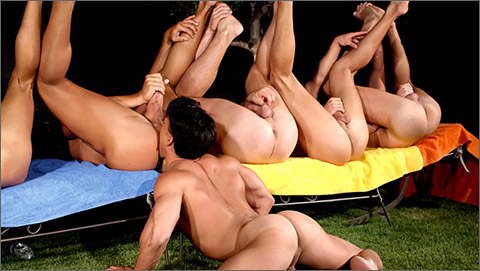 TOMMY'S TALE: Brad Patton fucks Tommy Brandt with Talvin DeMachio, Bobby Williams, Chet Roberts and Clay Foxe
Tommy Brandt joins Falcon Exclusives Brad Patton, Tyler Gunn and Bobby Williams along with Falcon men Chet Roberts, Tal DeMachio and newcomer Clay Foxe poolside as they enjoy the exhilaration of a lusty group encounter. Stiff cocks probe the depths of hungry, eager throats – fingertips find their way between ass-cheeks and over the sculpted contours of their fellows. Duos and threesomes merge and separate before these lusty studs settle into a line to be rimmed. Finally Brad Patton buries his tool in Tommy's ass and the group surrounds the lusty duo – working themselves into ecstasy and splattering Tommy with their urgent orgasms.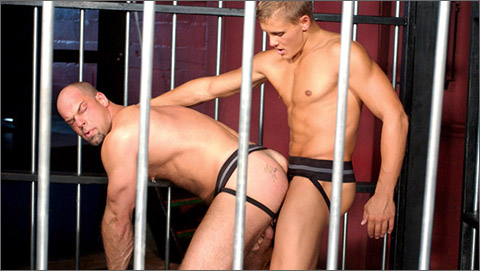 ZAK ATTACK: Brad Patton fucks Zak Spears
Witness the incredibly hung Brad Patton's first amazing leather scene as he submits Zak's greedy affections and expert skills. The erotic interplay is intense as these demanding studs work themselves to the edge of satiation and into release.
FALCON STUDIOS
HOT HOUSE ENTERTAINMENT
COLT STUDIO / BUCKSHOT PRODUCTIONS