Hot House American Gay Porn Star, Billy Cochran
Known Aliases:
Years Active: 2004 – 2008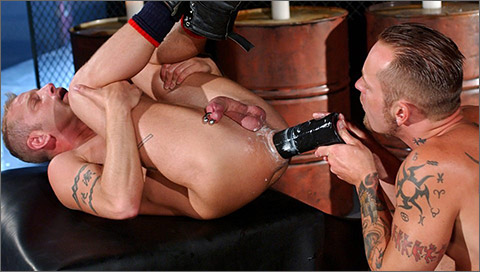 BIG ON THE INSIDE: Nick Piston dildo fucks Billy Cochran
Hot House Exclusive Nick Piston has Club Inferno favorite Billy Cochran right where he wants him – with his tasty round ass prone and ready for some hot tongue action. Once free from the stockade, Cochran swaps deep-throat blowjobs with Piston. Nick takes control, throws Cochran on his back, shoves his fat cock deep inside Cochran's throbbing hole and grabs a nearby candle to drip hot wax all over Cochran's chest, nipples and muscled abdomen. Piston probes and primes Cochran's hole for a fat 10lb dildo, followed by a fat fire-plug dildo and eventually his gloved, lubed fists. Eventually both men shoot loads of cum, followed by a hot golden shower from Piston all over Cochran's sweaty, cum-splattered body.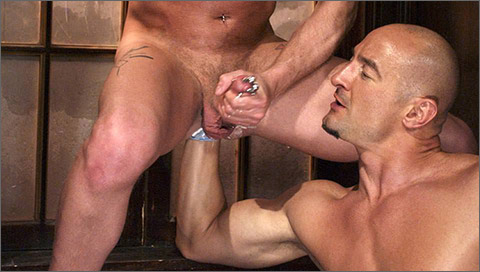 FISTICUFFS: Rik Jammer and Billy Cochran flip-fist
Rik Jammer walks into his office on a Saturday and finds Billy Cochran there catching up on some work. Billy's wearing a tie and dress shirt and Rik insists that he looks way to formal for a Saturday. As he tries to unloosen his tie, Billy protests that he's straight – but Rik promises to help him move up the ladder if he'll just kiss him. Cochran begins to relax a little and the two start to make out. After some initial cock-sucking, Billy rolls back on the desk and readies himself.
   Jammer coats his hands with grease and works away at the virgin hole until his hand disappears inside. Billy takes the hand like a pro, easily accommodating the left-right punching. Rik pulls up onto the desk next and throws his legs back for Billy to get into. The two continue fisting each other as the Saturday wears on until Billy finally shoots his load.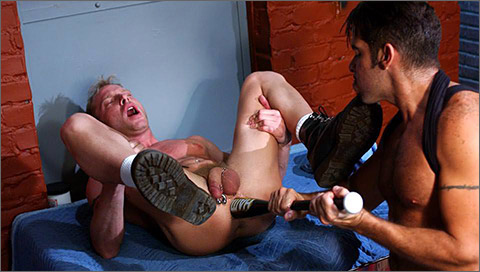 FISTICUFFS: Mario Ortiz fucks then Dildo Fucks (with Baseball Bat) then fists Billy Cochran
After screwing around with his boss, Billy just can't seem to get enough up his hole. He shows up next cruising in an alley and holding a baseball bat. He propositions Mario Ortiz and promptly bends over to get screwed in the graffiti-covered backstreet. Mario mounts him from behind and fucks him down with his giant uncut cock, drilling the muscled butthole without mercy. Next, Billy climbs up on the garbage container and offers his hole up for some deep drilling with the baseball bat he brought.
   Mario slides the greased-up bat in his hole and begins to pump, watching in disbelief as the butt lips pull in and out with every thrust. Billy is anxious to relive the deep fisting scene from the office and gets Mario to oblige. Ortiz aims for his tonsils as he drives his straightened arm up the studs' hot canal. The action has Mario beating his meat furiously and when he gets ready to pop, he orders Cochran onto his knees and splatters his hot jizz on his chest.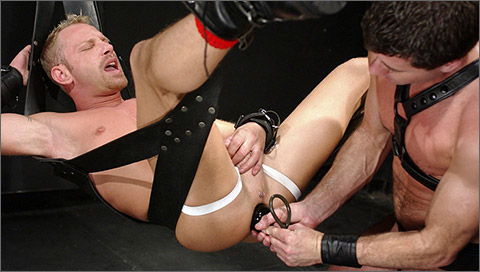 TWISTED: Jordan West fists, fucks, dildo fucks (DP) Billy Cochran then both dual-dildo fuck themselves
Billy Cochran is hanging by his arms from chains in the ceiling while Jordan West whips him with a riding crop. Cochran is delirious from the sting of the whip as Jordan stops to sniff his armpits and work over his nipples with his teeth. West lets the stud down, rolls him back, and drops yards of chain link right into Cochran's giant pink deposit box. Next Cochran lies back in a sling for some inflatable dildo action to open his inner chamber us good and sloppy. Satisfied that it's ripe for the plunging, West inserts his gloved up mitt straight in the gaping hole facing him. The scene ends as the two mount opposite ends of a double-header, bucking back and forth on each end until they pop their wads all over the scene.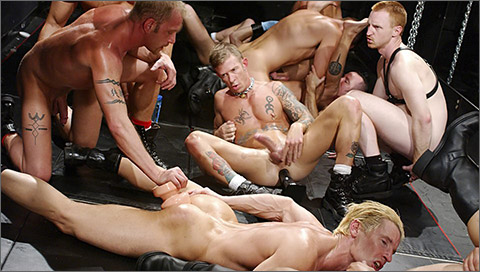 TWISTED: Entire Cast fucks, fists and dildo fucks: TOPS: Nick Capra, Rod Barry, Jordan West BOTTOMS: Billy Cochran (DP), Tim Rusty, Joey O'Bryan (DP), Nick Savage TOP/BOTTOM: Rik Jammer, Chris Neal
Twisted ends with an unbelievable, powerpacked 10 man orgy in scene 5, the kind of sex party we all dream of being in the middle of. The scene reeks of Crisco, sweat, and manjuice as the studs pile on top of each other and begin their midnight revel. There's plenty of big-dicked bossy tops to take charge of the action, loads of ungodly sized toys to tame the hungry holes, and two cameras that roam the party keeping you in the thick of the action every second of the way. The party revs into high gear as the men descend on Hot House Exclusive Kent North and gangbang his party hole with their fists. North earns a spot in the history books with an unrivaled performance here as the filthiest marathon handballer ever! Get Twisted today!
HOT HOUSE CLUB INFERNO
CHANNEL 1 / RASCAL
ALL WORLDS VIDEO
VIDEO ON-DEMAND: Billy Cochran @ AEBN SMUTJUNKIES THEATER
DVDs & ON-DEMAND: Billy Cochran @ TLA VIDEO