Self-Sucking Aussie Gay Porn Guy & Producer, Bentley Race
Years Active: 1999 – 2019
TWITTER @RealBentleyRace
BENTLEY RACE
BENTLEY RACE COMMENTS / INFO:
I'm Ben from Melbourne, Australia. You may already know me from my posts on Yahoo Groups or my older websites BentleyRace and the DIY Homepage.
I started building a homepage in 1999 when a photographer friend of mine took some photos for me. They looked great so I decided to out them up onto a simple gallery only website. I also used the site at the time to find customers as for my very short and unsuccessful career as an escort.
   Gradually I added gallery after gallery and ended up with almost 100 galleries of photos.
   Over the past 2 years I have also been photographing and filming some of my mates. So my skills both in front and behind the camera have increased greatly. I started this site so I could show off both my new videos and some of the sexiest guys I've come across in Australia.
   If you do have a moment please write me, I'd love to hear what you think of the site.
Cheers!
Ben x
Height: 6′ 0"
Eye Colour: Brown
Waist: 32"
Chest: 40"
Cock Size: Extra Large (8" – 9")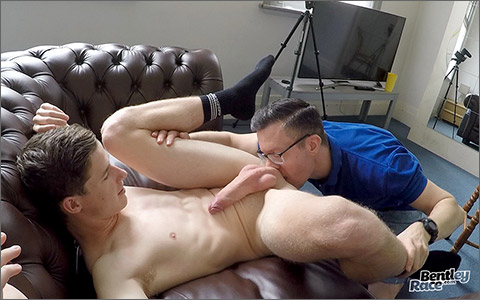 FGETTING BRAD HUNTER OFF
Our cute mate Brad Hunter is back this week to celebrate his first year anniversary of stripping naked and showing off that horse cock with Ben. The year has gone so quick since I first met 20 year old Aussie boy Brad. I've had a load of requests from people to get him back from more shoots. And since he loves to show off, and I love shooting with him, here is Brad having some more fun with me in the studio. Those track pants come off pretty quickly as Brad bends over the stool to show off his exposed bum and tight little hole. But it's that big horse dick that grabs the eye when you flick through his photos. Brad has made a very special video for you this week. I will load it up later this week. I'm really happy to had our cute mate back with us this summer.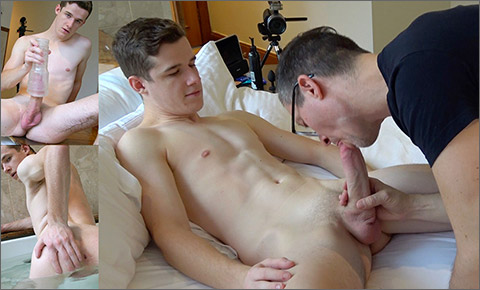 GETTING OFF MY HORNY MATE BRAD HUNTER
Our hot mate Brad Hunter has become very popular on the site this year and I love getting him off in his videos. After making some very hot photos in the hot tub, Brad also starts his video in the hot water. He pulls out his fat dick and squeezes it in to a rubber fuck toy. He cock gets even bigger as he rams it in. But it's after he dries off and jumps on the bed that things get a lot more fun. I set up the cameras by the bed and pull out my own cock for Brad to suck on. One of the things I love doing with Brad his licking his tight little hole and tongue fucking him. He wriths around on my face as I push in deeper. We get into a 69 position so I can take care of Brad's hole while he sucks my dick. It's not long before Brad loses control and splashes cum everywhere. What a great new video from our hot hung mate.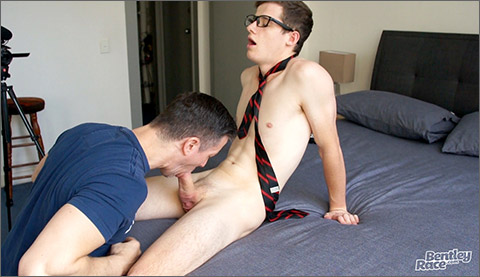 WATCH ME PUSH MY COCK UP BRAD HUNTER'S TIGHT BUM
I guess I could boast about this shoot because I am in it. It's been a long time since I have been in front of the camera but when my horny straight mate Brad Hunter pulled down my shorts and pulled out my cock half way through his video shoot, suddenly I was a part of it. Brad is one of my straight mates who has a girlfriend but also likes getting fucked occasionally. He was extremely horny when we met to take photos of him dressed in shorts, short and a tie. He looks cute with his socks pulled up high. After the photoshoot we started his jerk off video on the bed. Then he came toward me and pulled my shorts down to take a look at my cock. Then it was in his mouth making me rock hard. So I turned him around, pulled out his butt plug and started tongue fucking his little hole. My cock was already out and tapping on his hole, so I pushed it all the way in. He was face planting the mattress and moaning as I started thrusting in to him. Then he asked me to suck him off. I love sucking on that big fat cock. It wasn't long before he was milking that dick all over my face. I'm hard now just writing about it. It goes without saying that Brad will be back again soon.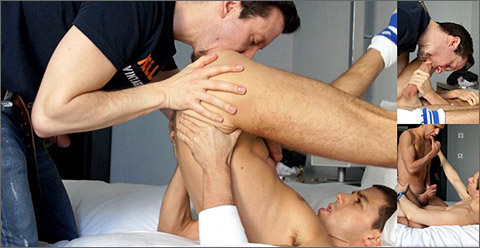 GETTING OFF WITH TOMMY DE LUCA
GET ME OFF – DRAKE TEMPLE & BEN
SAXON WEST AND BENTLEY GET IT ON IN NEW YORK
GETTING OFF WITH FLYNN EVANS
GETTING OFF WITH TOMMY DE LUCA
MIKEY LANE AND BEN IN THE PARK
AUSSIE SURFER ZAC AND BEN IN THE HOT TUB
DEREK REYNOLDS AND BEN GET IT ON IN SAN FRANCISCO
COPPING A HUGE CUM FACIAL FROM HARRY LOUIS
TATE RYDER & BENTLEY RACE
SAXON & BEN
BENTLEY & SHAUN MICHAEL
BLOWING ASTROBOI
COCK SUCKER
BENTLEY & IVO AT THE BEACH