Blond Corbin Fisher Amateur College Guy, Ben
Years Active: 2016
CORBIN FISHER INFO:
Age (2016): 22
Waist: 31
Eyes: Brown
Height: 5′ 10″
Weight: 155 lbs
Hair: Brown
Build: Athletic
Cock: 6.0″ cut
Shoe: 9
If Ben is nervous being in front of the camera, I don't see it. What I do see is an attractive and outgoing young man. He shows off his 'cute' feet, his full body- and then plays with his dick for us!
   With his cute smile, his wonderfully natural build, he's a pleasure to watch as he rubs up and down his nice thick cock. He really digs stroking off in front of the camera and truly enjoys being filmed. I'm hoping we get to see some more of this stud!
   If you can get through his scene without cracking a smile- then you're a stronger man than I! His interview endeared me to him, but watching a huge load of come spewing out of his big dick like a volcano had me grinning from ear to ear!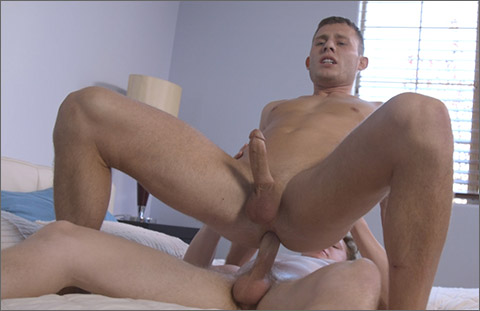 BEN FUCKS KENNY
Ben's horny and down to fuck so Kenny takes him to a back room so that they could get some one on one time. The two definitely make the most of it.
   Kenny works his way down Ben's body. They strip down and rub their dicks together. Ben jerks off while he sucks on Kenny's cock. Kenny slaps his head on his tongue then slides it in and out of his mouth while ben rubs on his hot ass. The guys 69 for a bit, then Kenny sits up so that Ben can eat his ass before he fucks it.
   Enjoying every inch as it slides in, Kenny rides Ben. His cock sticks straight up as he grinds into Ben. Then he bends Kenny over to fuck him from behind. Kenny earns the big load he shoots!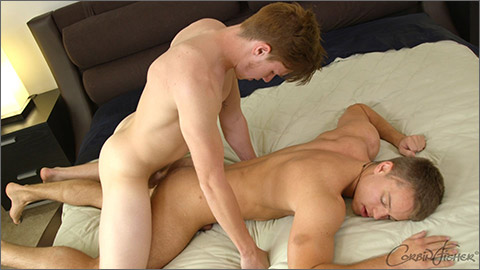 BEN DICKS JASPER
While Jasper has shown us he loves to fuck and knows how to use that hot cock of his on a tight hole, it's just as much of a treat to see him take a pounding every once in a while!
   Today he takes on Ben, who's still new to guy/guy but has become quite enthusiastic to get into more action since his first time topping here at CF. Clearly he's enjoyed the feeling of a tight hole around his dick, and the deep guttural moans from an attractive, muscular partner. So of course he was excited to be paired with such a stud as Jasper.
   These two waste no time getting right into the action. Making out leads to clothes coming off and Ben's cock finding his way into Jasper's hole. Jasper presents his ass for Ben to take over and over again, wanting it as hard as he can get it. Jasper stares up at at Ben and the load he sprays while Ben's deep in him just keeps on shooting out- flying all over his stomach. After he's sure that Jasper's done cumming Ben comes up and plants his load on Jaspers tongue, thanking him for such a good time.