Bel Ami Czech Gay Porn Star, Jack Harrer
Known Aliases: Bob Nesta (Male Reality), Jack Harper, Nick Roth, Ronny Howard, Dima Lukin (William Higgins)
Years Active: 2009 – 2016
BEL AMI INFO:
Zodiac: Aries
Height: 174
Weight: 68
Hair Color: Brown light
Eye Color: Blue
Dick Size: 18.5
Dick Type: Thick
Jack's first video interview included him wearing a Rastafarian wig and joking about smoking weed, creating the mistaken impression that he is a pothead. Customers should understand that he is a 20-year-old (as of 2010) maverick who likes to tease and provoke; this is why he is shooting porn. Jack is also equal parts sweet and stubborn; it took G. Duroy well over a year to figure out how to work with him properly and earn his trust. Jack likes to dress in his own style ("he looks shabby, but trust me, it's not so cheap," George says) and harbors a great passion for cars and his pet chameleons. As a performer, he is quite flexible and very good on top or bottom. "I believe in the end he will be as good a top as Dano Sulik was, but with the addition of a huge dick," George says. Jack is instantly turned on by a chance to show off his fat boner and he enjoys when other people play with it.


OFFENSIVELY LARGE
Just as we promised last week we have the premiere of our "Offensively Large" series with Joel Birkin and Jack Harrer. Who else other than the most accommodating bottom Claude Sorel to start the series off with a bang and take two +9 inch cocks up in the ass? I can tell Claude is in paradise and most of us would love to be in his place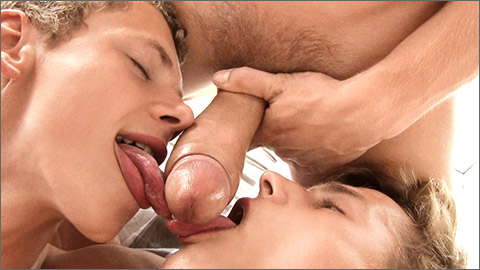 KINKY ANGELS ISSUE 38: LOVER OF MY LOVER
The great love affair of Kevin Warhol and Jack Harrer is over. Will either learn to love another? Of course! But not without incurring jealousy and competition as they each compete for the attention of our newcomers.
   Kevin's advantage is that he works in the studio which grants him easy access to the nubile newbies. We're all aware of Jack's large, uncut advantage. This week their mutual prize is Jerome Exupery, who views himself as the winner of their competition.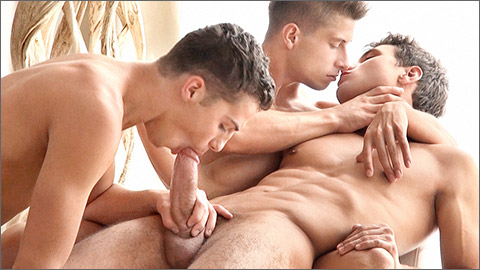 KINKY ANGELS ISSUE 36: PETER AND JACK SHARE DYLAN
Speaking of being tested…. First Dylan bottomed for Jack Harrer, then Peter Annaud. Is there a greater fat dick feat to be tried? Yes! Experiencing them both in a threesome!
BEL AMI
BEL AMI'S KINKY ANGELS
WILLIAM HIGGINS
STAXUS
MILE HIGH MEDIA / MALE REALITY