Spanish Gay Porn Star, Arnau Vila
Years Active: 2014 – 2015
Lucio Saints info:
Arnau Vilá tired of the routine in his office has wanted to try luck in the porn industry, with a cock thick enough that you might not be able to close your hand around it and a great ass for our enjoyment.
Country of birth: Spain
Height: 1,78 Cm / 5'11"
Weight: 78Kg
Cock: 20 Cm / 8 inches
Position: Versatile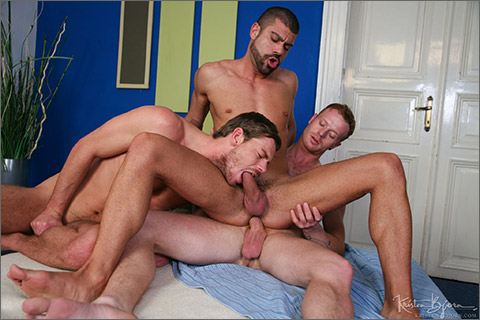 RAW ADVENTURES #16 – HOT WINTER: ARNAU VILA, TOBY DUTCH & TOM VOJAK
Arnau and Toby meet up after leaving the gym and Arnau tempts Toby with pictures of his sexy boyfriend Tom. This cold winter day just got a lot hotter. Tom takes his huge cock out and begins feeding it to the boys. Arnau and Toby are hot cock suckers and more than eager to get a taste of this hot cock. Toby and Arnau take turns on Tom's cock until Arnau is put in the middle and Toby eats his ass as Tom forces his hard cock down his throat. Toby is so hot from eating Arnau's tight ass that he blows his load. He then coats his fingers with his cum and probes Arnau's pink hole with his lubed up fingers. Toby is then put in the middle as Arnau feeds him his cock and Tom plunges his long, raw cock deep inside of his hot hole. Tom switches things up and has Arnau ride his bare cock as Toby sucks Arnau's throbbing cock. Tom then again switches things up and starts a raw fuck train with Arnau in the middle. Arnau fucks Toby as Tom fucks Arnau. The first to blow his load is Arnau and he sprays it all over Toby's wet hole. Tom strokes out his huge, creamy load all over both Arnau and Toby's cock and balls before shoving his cum soaked cock back into Arnau's dripping hole and Arnau plants his wet cock back inside of Toby's drenched hole. Now that is how you heat up a cold winter day!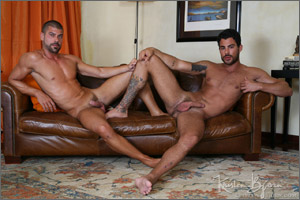 ON THE PROWL #14: ARNAU VILA & JERED AQUILA
After lunch Jered invites Arnau over. As they leisurely undress each other they enjoy the touch, smell and feel of the others sculptured body. Their hands unfasten the others pants as they fall gently and expose their strong and rigid cocks. Jered takes the full breadth of Arnau's straining cock, feeling his balls resting upon his chin. Arnau switches with Jered as Jered forces Arnau to choke his entire cock down his throat. After some hardcore cock sucking Jered is content that his cock is sufficiently lubed up and throws Arnau backwards over the arm of the sofa. He plunges his hungry cock deep inside of Arnau's raw ass and begins fucking him gently at first then building his rhythm and passion as he goes. Arnau flips Jered and rams his raw cock deep inside of Jered's awaiting hole. Jered revels in the pleasure of Arnau's cock in his ass, so much so that he blows his thick, creamy load all over his abs as Arnau continues pumping his raw ass. Arnau quickly unleashes his hot load all over Jered's balls and thighs before dumping the last of his load up Jered's ass. How was your lunch date today?
KRISTEN BJORN PRODUCTIONS
LUCIO SAINTS
CLICK HERE TO GO TO HIS KRISTEN BJORN DETAILS