Beefcake Bareback Gay Porn Star, Amir Badri
Years Active: 2015 – 2016
BAREBACK THAT HOLE INFO:
What can we say about Amir Badri except, WOOF! This hairy little beast is built like a barrel. Nice and compact with enough power and energy to make your head reel. And just feast your eyes on all that fur. Makes you want to run your fingers through that silky pelt, doesn't it?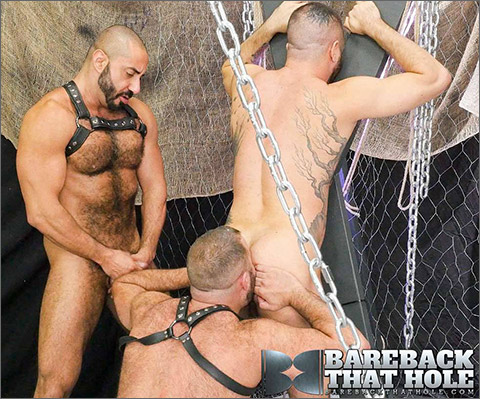 AMIR BADRI, MARCUS ISAACS AND MATTHIEU ANGEL
When you get these three hot guys, Amir, Marcus and Matthieu, in a scene together you can expect nothing less than fireworks. Amir and Marcus begin and Matthieu quickly adds in. Soon cocks and hot holes are dripping with spit getting their bodies ready for hot fun. Then it's time to pull out the toys! Major cock sucking and ass play is just the warm up to part 2 of this session. Enjoy!
   Last we left we were deep into ass play. Now we are just deep in ass. Amir slurps up Matthieu's thick cock while Marcus sits in the sling waiting his turn for some raw dick. But not before Amir turns over and gets drilled first! I love watching these boyfriends fuck. Always a pleasure. Now back to Marcus who's ass is ready for whatever Amir is giving him. I love seeing Amir fuck. He is usually a bottom, but even a bottom can't resist Marcus' sweet hole. It isn't long before Amir shoots his load all over it and then uses the dildo to push it in deeper. What a conclusion to a production weekend!
CLICK HERE TO GO TO HIS BAREBACK THAT HOLE DETAILS