Handsome Ripped French Canadian Gay Porn Veteran, Alexy Tyler
Known Aliases: Alexys
Years Active: 2007 – 2015
TWITTER
INFO:
French Canadian
Height: 150 Lbs
Weight: 5'8″
Eyes: Blue
Cock: 7″ Cut
Orientation: Bottom/Vers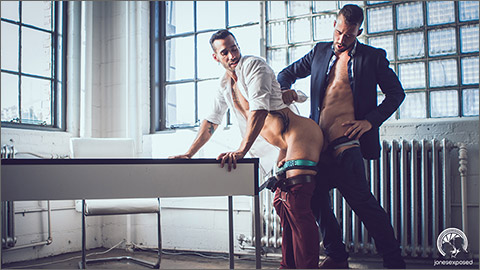 DESIRE: THE BUSINESS MAN: Alexy Tyler, Brandon Jones
There is nothing hotter than a man in suit for Brandon Jones. He just moved in his new office last week and he already saw some hot guys in the hallways that he could possibly fuck. Alexy Tyler works in the office right beside his and wanted to welcome him with a bottle of champagne. Curious about his work, the business man next door wonder if he could be a good candidate to be a star in his movies. Mr. Jones decide to pass him and audition right here and there. The 2 men in suit start kissing and sucking each other passionately by his desk. Brandon then start getting Alexy hole wet and ready for the pounding to come. Filling it up with champagne he lick up the precious liquid from his ass. Bent over the desk the bottom takes his dick hard and deep before riding every inch of it. The boss then finish the job fucking alexy on his back but that was not enough for him… so he takes out the biggest dildo of his collection to make him cum all over himself. I think he definitely got what it takes to be a star!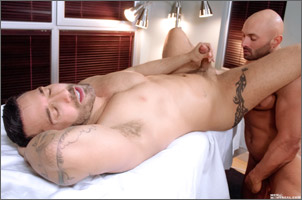 TOYING WITH THE MASSEUR
Max Chevalier and Alexy Tyler are two fit guys always ready for action. And Alexy is a bit of a toy fiend as he loves sticking things up his ass. When he came in for the shoot, he told us he was experiencing some pain in the lower back. This gave us the idea to have Max give him a nice backrub to take out some of the kinks… so to speak.
   Well, we pulled out the massage table and let the guys go at it. Max started to do his deed, slowly massaging Alexy's back and making his way down to his butt cheeks. His patient was soon experiencing some tingling in his groin as his thoughts were going from his back massage to the huge cock tenting out of his masseur's gym pants. Max was doing a superb job of oiling up Alexy's tight asshole and bringing it to life.
   Alexy needed no more encouragement as he dove right into his masseur's mid-section and started sucking on our bodybuilder's hefty cock, throwing it back as far in his throat as possible. Max started to face fuck Alexy. He then moved down as Alexy turned around exposing his bone hard cock. Our muscleman decided it was time for him to reciprocate. And he did, giving the deep-throat treatment that he had just received. Alexy was in heaven, moaning and gyrating.
   Alexy turned around again and this time Max used the opportunity to give his buddy a good rimming prior to pulling out a nice 8′ dildo to prep his bottom's ass for the soon-to-come fucking. Alexy was again enjoying this butt play to the hilt… After some pretty firm dildo play, he was ready for a good fucking. Max moved to the other side of the table and just plunged right in knowing that his partner's ass had loosened up enough to take his big cock effortlessly.
   They initially started in a missionary position, then we were in awe as Max moved Alexy to the edge of the massage table and our bottom boy just held himself in position with his hands and arms, as his ass was being plowed in mid-air. Max was pumping away. But this seemed to be Alexy's downfall, as Max got really excited and needed to unload his jizz. As he came on Alexy's balls and cock, our patient's back pain returned and Max, the gentleman, laid him on his back and pulled out the dildo again to help him shoot his load. It was a smoother ride than getting a hard fuck.
   A real trooper, Alexy took it all in stride. As they kissed in the finale, it was now time to give his back a rest.
JONES EXPOSED
NEXT DOOR STUDIOS
MEN OF MONTREAL
COCKYBOYS
TITAN MEDIA
CHANNEL 1 / RASCAL
FALCON STUDIOS
RAGING STALLION
HOT HOUSE
NAKEDSWORD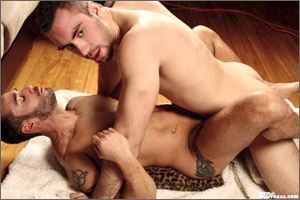 THE GIFT OF GIVING… AND FUCKING!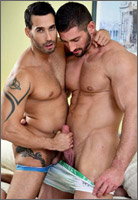 INITIATING CHRISTIAN – ROUND 2!
ALEXY TYLER SOLO 2
LONG TIME NO SEE
ALEXY TYLER & ERIK B
FRIENDS THAT FUCK
BREAKING IN THE NEW GUY
TOYING WITH THE MASSEUR
PILE DRIVING ON THE RIVER BANK
ON THE PATH OF DISCOVERY
INITIATING IVAN TO MAN-ON-MAN SEX
ROBERT LONG FUCKS ALEXY TYLER
ALEXY TYLER SOLO
SHANE & ALEXY & CHRISTIAN & SPENCER FUCK
LONG STROKE
THE CONSTRUCTION SITE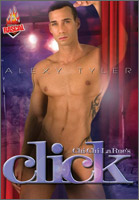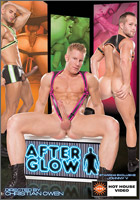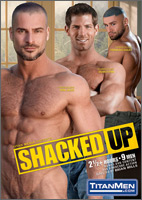 CLICK
CONTACT (MVP-095)
SLEAZE (MVP-089)
TOPDAWGS
AFTER GLOW
VERBOTEN – PART 1
GIUSEPPE AND HIS BUDDIES
THE MEN I WANTED
MAN HANDLED
DICK HUNGRY
BACKDOOR
AUDITIONS – VOL. 40: RAFAEL CARRERAS' UNCUT CANADA
FACE FUCKERS
STRAIGHT TO THE POINT: VOL. 14
HOTTER THAN HELL: PART 2
TAILPIPES
BANG THAT ASS
HUMONGOUS COCKS #7
LOS HOMBRES DE SUITE 703: VOLUME 1
MEN HARD AT WORK: VOLUME 1
HOT JOCKS NICE COCKS: VOLUME 1
SHACKED UP
COMMAND POST
UNZIPPED February 2008
HONCHO January 2009
TORSO January 2009, March 2008
BRUNO GMUNDER: CRUISING GROUNDS
BRUNO GMUNDER: LUCAS KAZAN – ITALIAN STYLE
RAGING STALLION: 2008 YOUNG BUCKS
RAGING STALLION: 2010 STALLIONS CALENDAR