Hung Hairy Handsome Gay Porn Star Ron Lloyd's LegendMen.com Model, Alex Mecum
Known Aliases: Alexander Mecum
Years Active: 2013 – 2017
TWITTER @alex_mecum
Comments from Ron Lloyd:
Alex has a huge list of talents and qualities. He's a classically trained pianist, singer, scholar, health fanatic and now he's taking on modeling in fashion, fitness and adult gay erotica.
   When I spoke to Alex about shooting together, I was so excited he said yes. He has turned down many producer/directors over the past year, and now he's a LegendMen.com exclusive.
   Working with him is a dream. He's always ready… and always ROCK HARD!
   Welcome to the LM club Alex!!
Details:
Height: 5′ 11″
Weight: 175 lbs
Neck: 17″
Hair color: Brown
Hair length: Short
Eye color: Blue
Tattoos: None
Piercings: None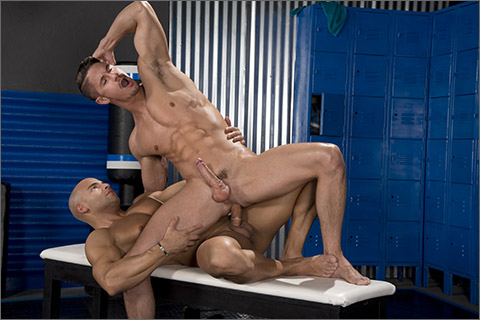 THE TRAINER – NO EXCUSES: Alex Mecum fucks Micah Brandt
Alex Mecum is lifting weights at the gym with his buddy, Micah Brandt. Micah promises Alex a present if he can do 30 reps of bench pressing. Alex takes the challenge and the two studs continue their workout until the chemistry in the air is overbearing. The horny muscle jocks kiss on the floor of the gym as they rub their bulging shorts and help each other out of their tight shirts. Alex is the first to unleash his already dripping beast of a cock, and Micah instantly follows by peeling off the rest of his workout gear. The sight of Alex's big thick dick makes Micah's mouth water. He drops to his knees before he takes the big hardon down his throat. All the cock sucking makes Micah hard as a rock. The two muscle studs 69 on the gym equipment as they suck and gag and drool all over each other's engorged dicks. Alex has fucking on his mind and he knows that he needs to get Micah's bubble butt ready for the action. Micah turns around and sits on his Alex's face to let him tongue fuck his hole. After a nice long rim session, Alex can sense that Micah is open and ready for entry and invites Micah to sit down on his big throbbing cock. Micah wants maximum penetration into his loosened-up asshole and lies on his back on a gym mat so that Alex can fuck him even deeper. The horny studs go at it hard until Alex's more primal instincts kick in and he rolls Micah over on the mat. Alex wraps his big bulging biceps around Micah and dominates him as he fucks his hole into submission. Micah's eyes roll into the back of his head and he dumps his load of cum all over the gym floor as Alex keeps up the relentless pounding. Micah's ass feels amazing and the internal throbbing sensation of Micah cumming on the floor is all it takes for Alex to dump his load. He pulls out and covers Micah's smooth, muscular back with a massive, pent-up load of jizz.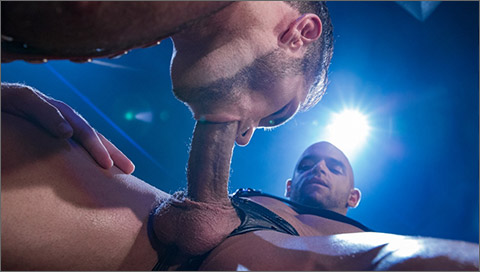 SKUFF: ROUGH TRADE 2: Alex Mecum fucks Sean Zevran
Hairy-chested Alex Mecum, clad in red and black leather, presses his ripped body against Sean Zevran. Sean, wearing all black, kisses Alex passionately. Their beefy muscles and bulging jockstraps prove that these two studs are intent on intense, connected sex. Getting down on his knees, Alex rips the codpiece off Sean's jock and inhales Sean's hard, stiff cock. The oral worship gets Sean in the mood to reciprocate, and he expertly tongues the tip of Alex's swollen mushroom head. Bending Sean over, Alex shoves his scruffy face into the crack of Sean's perfect bubble butt, coating it with thick spit.
   With Sean's ass slick and slippery, Alex drives his cock deep into Sean's prepped hole. Sean takes Alex's cock doggy style, and the muscles in his body flex as he submits to Alex's drilling. Sweat glistens on their ripped bodies as they pick up speed and intensity. After getting his hole stretched, Sean trades places with Alex for round two. Resting on his back, Alex throws his right leg over Sean's shoulder, opening himself up to maximum penetration from Sean's powerful dick. Sean moves to sit down and Alex stands over him as they both work their cocks. Sean shoots first, spewing thick, white cum onto his ripped abs. The sight of Sean's load pushes Alex over the edge, and he jerks out a gushing stream of cum that splatters across Sean's muscled torso.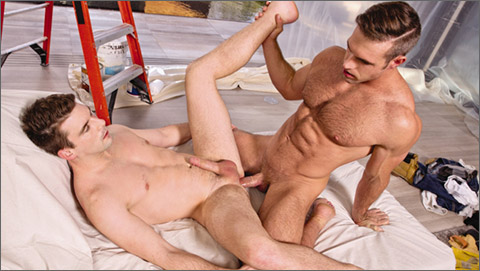 PROPERTY LOVERS: Alex Mecum fucks Dustin Holloway
Young, successful couple Brent Corrigan and JJ Knight just bought their dream home: all it needs is a bit of remodeling for everything to be just perfect. After JJ leaves for work, Brent welcomes the sexy contractors into the house. After Brent heads out, Alex Mecum interrupts Dustin Holloway's painting for a high-stakes rim job. Dustin unzips Alex's jeans, liberating his massive, throbbing boner. Wrapping his lips around Alex's huge cock, Dustin reciprocates eagerly, spreading his warm saliva up and down Alex's shaft. Putting his legs up in the air, Dustin receives Alex's meat. Dustin's eyes roll back in his head as Alex delivers an intense doggy-style fuck. They're so focused on each other, they don't even notice that Brent has returned to the house and discovered their on-the-job affair. Brent retreats: he'd rather watch the hot studs get off than bust them for having a bit of fun. With Alex deep inside him, Dustin shoots a massive load across his stomach. Alex grabs his dick and jerks out a huge, spurting load onto Dustin's torso.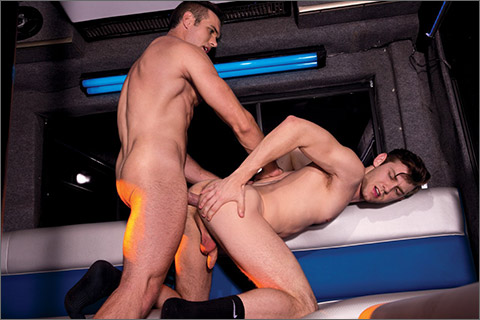 ABOUT LAST NIGHT: Alex Mecum & Jacob Peterson
Jacob Peterson walks alone towards the bachelor party bus he took to the club with his buddies. The driver, Alex Mecum, lets him in and asks, "Where are the guys?" "They're out having fun," Jacob replies, clearly feeling left out. Alex joins Jacob in the back of the bus to keep him company, and Jacob shows Alex some pics he took on his phone, including one of Jacob's buddy Ryan Rose getting his dick sucked in the club! When Alex hands Jacob's phone back to him, he leans in for a kiss, and Jacob reciprocates by grabbing Alex's bulge. Opening his fly, Alex pulls out his huge, thick, throbbing erection, and Jacob uses his tongue to provide expert oral service. As they strip down inside the party bus, Alex reveals his ripped body and furry chest; Jacob shows off his smooth swimmer's bod. Wrapping his lips around Jacob's uncut meat, Alex eagerly swallows every inch of it. After getting his dick sucked, Jacob turns around and gives Alex the chance to taste his sweet hole. Rising to his feet, Alex uses the tip of his cock to tease Jacob's tight hole, then presses in until his cock is balls deep. After pounding Jacob's ass doggy style, they move to a seated position with Alex on the bench and Jacob riding him. Alex picks up speed, stretching Jacob's hole with every thrust. Putting Jacob on his back, Alex grinds his dick into Jacob's sweet spot. Grabbing his cock, Jacob strokes until hot, white cum overflows from his foreskin. Alex jerks out a massive load, shooting multiple ropes through the air and drenching Jacob's chest and cock with spunk.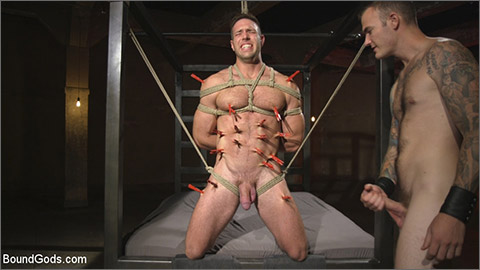 THE ONE AND ONLY, ALEX MECUM
Alex Mecum is obsessed with watching hot studs beat and fuck each other, but he's nervous about trying it out. Christian Wilde is about to change all that. First he chains Alex to a platform in the center of a dungeon, and plays with his huge cock. Alex is still too tense for a good flogging so Christian softens his tight muscles with some hard smacking. The flog strikes Alex rapidly and at random. They hit from every angle until Alex cries out for mercy, but is given Christian's huge cock instead. Alex feels the massive cock fill up his throat. Christian then pulls Alex off his cock and flogs him until he can barely stand on his own two feet. Christian then bends him over, and fucks him to the floor. Alex is bound to the dungeon bed, as Christian, with his crop in hand, watches him wriggle. Alex handles the crop well, until Christian covers his tender body in clothespins and smacks them off. Christian moves in close and gives Alex an intimate open hand beating, in order to fully test his limits. On his back, Alex watches as his master slides a long steel rod deep into his pisshole. The bound hunk loves being sounded and nearly cums with the metal still in him. Christian pulls out the metal sound, and shoves his huge cock into Alex's tight hole. Alex can't hold it back and unleashes his cum across his chest before having his mouth pried open to receive every drop of Christian's load.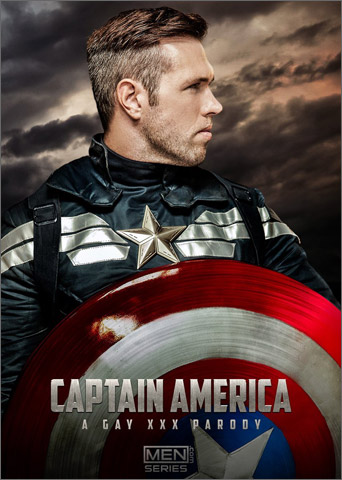 CAPTAIN AMERICA – A GAY XXX PARODY
See Alex Mecum as Captain America in Part 1 of this Super Gay Hero series.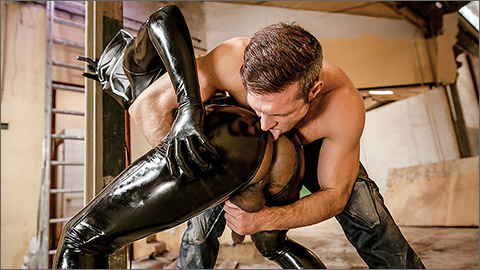 CAPTAIN AMERICA PARODY: Alex Mecum, Black Panther (XL)
The threat of the Black Panther forces Captain America from his cozy tryst out onto the city rooftops for a thrilling battle against his arch nemeses. Cap follows the Black Panther inside, where the two begin to work out their differences with their giant hard cocks. The silent Black Panther can't help but moan after Captain America's deep penetration of his tight ass.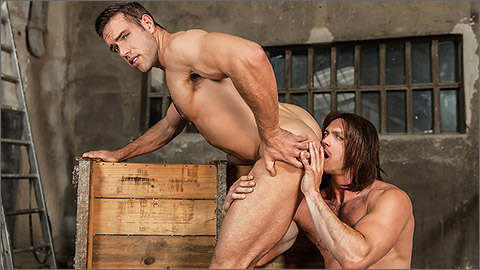 CAPTAIN AMERICA PARODY: Alex Mecum, Paddy O'Brian
Captain America catches Bucky and after a short battle ensues; he finally gets the chance to show his best friend how close they really are.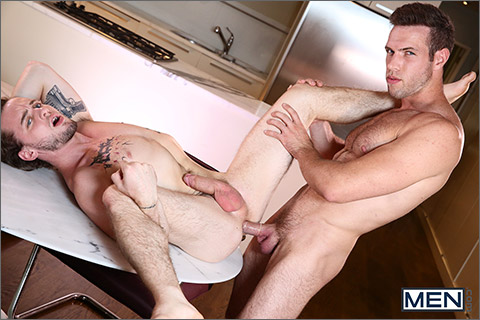 STEPBROTHERS – PART 1
Alex Mecum is caught cheating with Colton Grey when his home surveillance system is tapped. Alex fucks Colton with his thick tool and then has Colton ride his cock until Colton blows his huge load. Alex tells Colton to get down so he can shower him in his hot cum.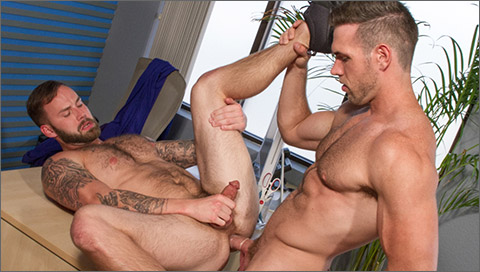 DEEP EXAMINATION: Alex Mecum fucks Chris Bines
Hot House Video Senior Medical Assistant, Chris Bines arrives to work, horned up over the new handsome staffer, Alex Mecum. Chris makes a point of seducing and fucking all the hot new guys at the office, so he brings Alex a cup of coffee to break the ice and butter him up. Little does Chris know that Alex is aware of his reputation for initiating the new guy. Alex is into Chris, but he decides turn the tables on Chris and make him the bottom. When Alex's humongous cock is out, Chris is quickly on his knees where he's met face-to-face with the monster. After a throat banging hummer, Alex bends over to expose his hairless ass for Chris to rim with abandon. When it's time for Chris' ass to get eaten, Alex makes his co-worker squirm and moan with pleasure. Taking things up a notch, Chris bends over to take Alex's hole-stretching rod. Fucking in multiple, prostate-pounding positions, Alex keeps thrusting until Chris unloads his spunk onto his furry abs. To finish, Alex bends Chris over and explodes a massive hot load across his entire backside.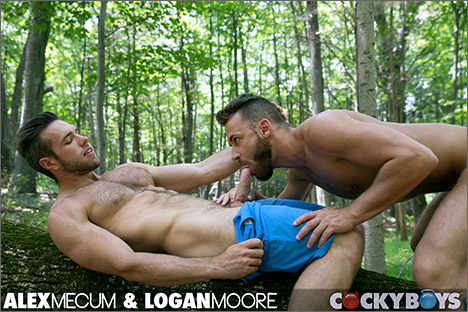 LOGAN MOORE & ALEX MECUM FLIP-FUCK
There's something about the outdoors that makes men horny… especially deep in the secluded woods, the only sounds being birds and planes passing by overhead. It's reminiscent of the earlier days of "cruising" in the Meat Rack, where guys were more savage, raw, and primal. Alex Mecum and Logan Moore proved to be a good example of those times — their hunky, slightly hairy, and very muscular bodies coming together without speaking a single word for some dirty flip-fucking.
   Alex was on his knees in no time sucking off Logan's very thick cock. He could only get a few breaths in and out by the way he was engulfing it! Then Logan set Alex down on a nearby log and gave him the same treatment, his bearded jaw bobbing up and down on Alex's dick with vigor. Alex wanted a taste of Logan's ass before he fucked him, but all Logan allowed him was a rimjob because he wanted to be the one to fuck Alex first!
   So Logan drilled Alex hard up against the log, before he moved him up to a tree branch and fucked him from behind. Just as Alex was about to cum, Logan finally let Alex fuck him. By this point, Alex was so horned up, he straight up pounded the cum out of Logan only minutes later. Alex helped finish off Logan back on the log, rubbing his balls until he shot his load all over his own pecs.
SOLO FILMS AVAILABLE AT LEGENDMEN
FALCON STUDIOS
KINK MEN
KINK.COM / BOUND GODS
RON LLOYD'S LEGENDMEN
COCKYBOYS
MEN.COM
HOT HOUSE