Uncut Hung MormonBoyz American Gay Porn Star, Alex Chandler / Elder Nicola
Known Aliases:
Years Active: 2017 – 2018
TWITTER @alexchandlerxxx
MORMONBOYZ INFO:
Elder Nicola grew up in a small town in Ukraine. He was always an obedient child, carefully learning all he could to impress his parents and teachers. He was always first to raise his hand, desperate to be teacher's pet.
   He's not sure if his feelings about guys mean he is gay or bi. But there's no denying that he has those feelings. And on more than one occasion has had wet dreams involving his companions and the mission president!
   He's not sure how to curry favor as a young convert to the faith, but he knows he'll do just about anything to win over the other boys.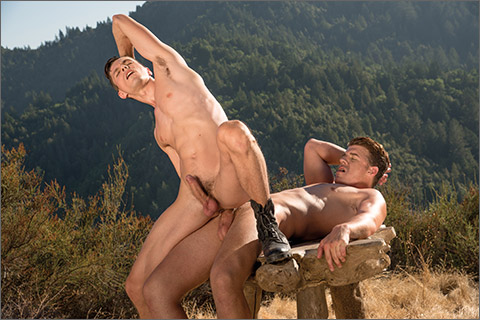 HEAD PLAY: JJ Knight fucks Alex Chandler
Alex Chandler is in charge of testing a virtual reality game where the player needs to capture an object. JJ Knight agrees to try it out and gets geared up with his headset and special gloves. As JJ enters the virtual world, Alex can't help but to test the boundaries of what JJ is willing to do when he reaches out to feel the stud's bulging crotch. Alex gingerly unzips JJ's jeans and peels his thick dick out of his underwear. Alex can't believe what he's found and starts sucking the big uncut trophy. Alex wants to make sure that JJ has the ultimate virtual experience and takes great care to get as much of JJ in his mouth as possible. Alex is unrelenting and uses his hands along with his eager mouth to pleasure JJ and his massive curved dick. It's so large that Alex can barely fit it in his mouth but that doesn't stop the overachiever from continuing onward. As JJ's moans get deeper, Alex peels JJ's jeans down even further. Finally, Alex can't take it any longer and pulls out his throbbing uncut erection. He takes some time for himself and jacks his own rod as he continues to pleasure JJ. Wanting JJ to finish off in his mouth, Alex's strokes get more frenzied and his slurping becomes more intense. His magic mouth does the trick and JJ explodes with ropes of extra thick and creamy cum. The taste lingers on Alex's over-worked tongue and he lets loose all over JJ's toned abs to mix the two studs' DNA in one tasty pool.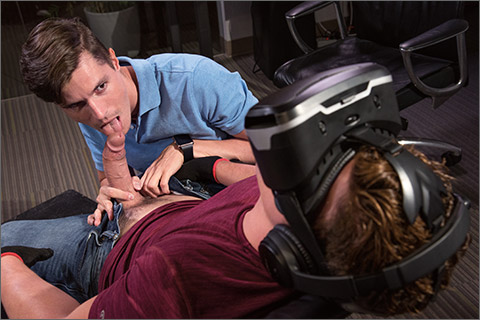 HEAD PLAY: JJ Knight fucks Alex Chandler
Alex Chandler has the object of desire and every time JJ Knight gets near him Alex uses his virtual powers to stop the muscle stud. JJ can't seem to get the upper hand and decides that to win the game, he's got to play dirty. When he corners Alex, JJ strips down and pulls out his massive dick. "This is what you wanted, right?" JJ says as he offers up his own body for the sake of recovering the object. Alex immediately gives into his temptations and starts kissing the hung stud under the bright blue sky. Alex needs JJ inside him at all costs and gets on his knees to take the massive hard-on down his throat. Alex moans out as JJ thrusts into his hungry mouth. JJ wants to feel the inside of Alex from behind and bends the hottie over to rim his ass. JJ takes his time to get Alex nice and opened up and when the time is right, JJ stands up and inserts his extra-large manhood deep into the thin jock's hairy retreat. After a long session of getting his back door serviced, Alex decides to take control and hops on to ride JJ to the finish. Alex is hard as a rock as JJ's big dick pokes in and out of his ass. JJ hits just the right spot and Alex is happy to finally let loose and spill his cum into the beautiful natural setting around them. Alex is still hungry for more and gets down to take every last drop that JJ has to offer all over his tongue. Alex laps up what didn't land in his mouth and as the two studs come down from their heightened sexual senses, only one will be able to grab the trophy and win the game once and for all.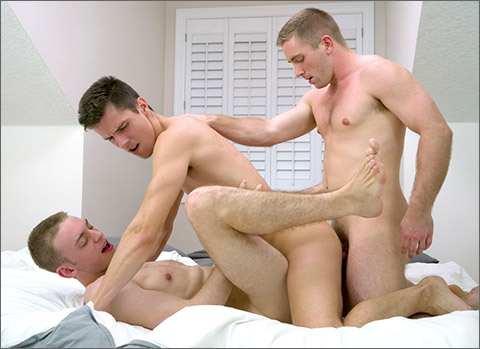 THE INITIATION OF ELDER NICOLA:
CHAPTER 8: MISSIONARY SPLITS
Elder Ivy's regular companion was called to the mission home for a zone leaders training over the weekend.
   So Elder Ivy went on splits with two other missionaries in his district, to be in a temporary "3-some" companionship.
   Elder Nicola and Elder Kimball were more than happy to buddy up with the blond Mormon.
   Following Nicola's ordination into the Order, Elder Nicola discovered that his companion, Elder Kimball, had also been selected by the brethren and had begun his induction.
   The two boys were thrilled they could privately discuss their experience in their companionship. It certainly made things a lot easier in their apartment not having to hide their secret, and it also made their late night conversations more exciting…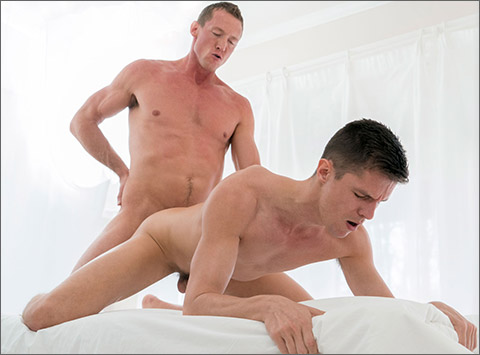 THE INITIATION OF BROTHER HALES:
CHAPTER 7: SECOND ANOINTING
Elder Nicola had a bounce in his step. Being an inducted member of the Order gave him a sense of security and joy he could not have anticipated.
   Before his calling, Nicola obsessed over impressing his superiors and standing out among his peers. He was so desperate to receive validation and be loved. In his new role, he never doubted the passion and desire the priesthood had for him.
   The Brethren were very much aware of the powerful dedication Elder Nicola had in satisfying their needs. They knew he was completely submissive and would do whatever they asked of him. As a reward, they decided to bestow upon Nicola a special honor: the Second Anointing…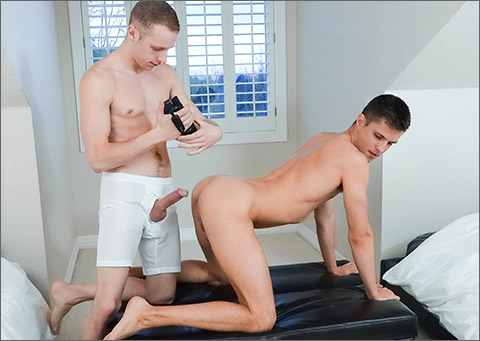 THE INITIATION OF ELDER HOLLAND:
CHAPTER 15: THE INFORMANT
Elder Nicola was a tall, handsome boy from the Ukraine whose attraction to Elder Holland hadn't gone unnoticed
MORMONBOYZ
FAMILY DICK
KENNETH BENJAMIN'S ROPED STUDS
FALCON STUDIOS
ICONMALE
NEXT DOOR STUDIOS