Falcon Studios Blond Handsome Brazilian Gay Porn Star, Alam Wernik
Known Aliases:
Years Active: 2018
Falcon Studios info:
Falcon Studios Group announced today that Instagram sensation, Alam Wernik, has signed an agreement to become the newest Falcon Studios Exclusive. The native Brazilian who grew up in Argentina will appear exclusively in Falcon Studios and NakedSword Originals releases.
A tremendously popular Instagram personality now living in New York City, Wernik has amassed over 220,000 followers with stunning images of his sculpted body, exotic features and out-of-this world ass. Having an intimate connection with the camera, Wernik started making homemade videos alone and promoting them to his social media audience, which caught the attention of the gay porn industry. Two top models in the industry introduced Wernik to NakedSword Originals director, mr. Pam, who quickly discussed his potential with Falcon Studios Group and NakedSword Network president, Tim Valenti.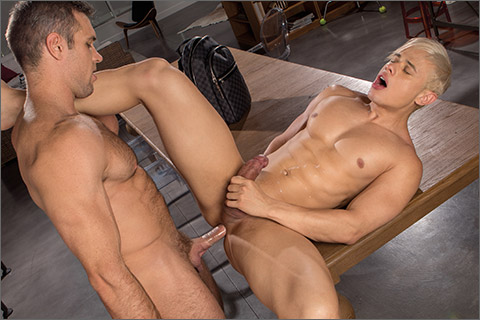 WORK IT UP: Alex Mecum fucks Alam Wernik
Blond power-bottom Alam Wernik shows up to work and is greeted by his hunky co-worker, Alex Mecum. Alam can't keep his eyes from wandering over to Alex's desk in admiration. Alam goes to put some stuff in his backpack and rips his slacks right down the crack exposing his smooth hole next to Alex's face. Alex likes what he sees and seizes the opportunity to bury his face in Alam's exposed ass. After a lengthy tongue bath, Alam returns the favor on his knees by gagging down Alex's girthy shaft to the base. As Alex's eyes roll into the back of his head, Alam can tell Alex is ready for more and climbs on top of his co-worker to stuff his perfect ass with Alex's fat cock. Alex wants control next and bends Alam over a desk to drill his prostate even deeper. The techies switch it up one last time with Alam ending up on his back, so he can jerk his thick load out onto his chiseled abs while Alex continues to fuck his hole. Seeing Alam covered in his own jizz pushes Alex over edge, and he dumps his cum all over Alam's face and into his mouth.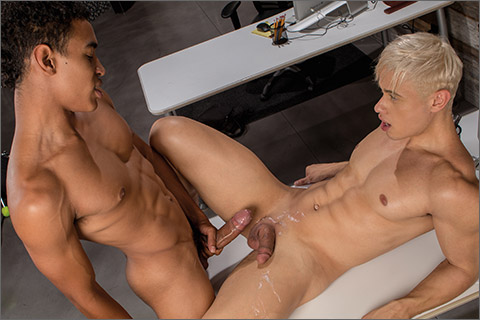 WORK IT UP: Mateo Fernandez fucks Alam Wernik
Alam Wernik is back in the office after his mishap with his slacks earlier in the week. His co-worker, Mateo Fernandez opens up his computer and stumbles on a video of Alam fucking his insatiable ass with a fuck machine. Mateo instantly gets hard and pulls out his uncut cock to start stroking it. When Alam notices what's happening, Mateo taunts the techie with his cock and slaps it on the desk a few times. Alam takes that as his que to invite Mateo over to his desk and get on his knees to service the thick meat swinging in his face. Alam does as Mateo wishes and works his way from tip to balls on Mateo's uncut pole. After taking Mateo's meat down his throat, Alam offers up his succulent hole for a taste. Mateo dives right in and tongue-fucks Alam's famous ass to lube it up for something bigger. Alam begs for more, so Mateo honors his co-workers request and slides his thick cock deep into Alam's eager hole. Alam grips the edge of the desk he's bent over on to take the hard pounding that Mateo is delivering. The two techies switch position with Alam on his back so he can stoke his own uncut cock while he takes the pounding from his co-worker. With Mateo deep inside, Alam erupts with a thick load spurting onto his sweat-glistened abs. Mateo pulls out and adds his own load to the mix, glazing Alam's drained cock and balls with his creamy load.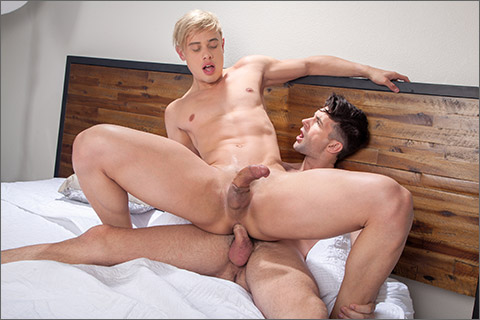 ZACK & JACK MAKE A PORNO: Woody Fox fucks Alam Wernik
With the crew on break from Zack and Jack's porn production, Zack (Woody Fox) finds himself alone on set with social media superstar, Alam Wernik. Alam is eager to show off his assets and asks Zack if he wants to touch it. Zack can't resist the temptation and soon finds himself tongue-deep in Alam's smooth hole. Alam opens up with each probing flick from Zack's tongue. It's all the invitation Zack needs to rip off his clothes to see what else Alam has to offer. Alam turns around to get Zack's giant cock in his mouth and works it until Zack is hard and ready to go. Zack is fixated on Alam's perfect tight ass and can no longer resist his instincts as he slips his extra hard dick into Alam's hole. The muscle stud pounds away on his porn star's butt, opening him up and making him beg for more. The guys mix it up when Alam rides Zack pole before he gets on his back to let Zack drill even deeper. With Zack in complete control, he slams Alam's hole until he makes the young stud blast his load all over his tight body. With the sight of all that cum dripping everywhere, Zack has Alam suck his dick one last time until he creams all over Alam's face.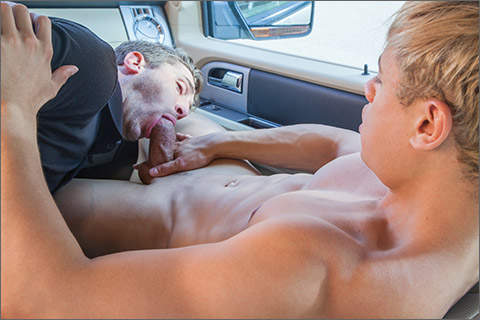 ZACK & JACK MAKE A PORNO: Wesley Woods & Alam Wernik (all oral)
On the second day of production, Zack and Jack decide to switch things up by re-casting their movie. Things are going well until they decide to take a break to get some food. Alam joins Jack (Wesley Woods) in the car and asks Jack if he can suck his cock. Jack isn't one to say turn down a blowjob and Alam gets to work as Jack drives them to the restaurant. As the studs pull up in the drive thru, Alam only stops sucking long enough for the fast food lady to hand them their food. Jack needs to concentrate and pulls over to let Alam work his cock even more. It's a long and slippery blowjob and the harder Jack gets, the more he needs to get a piece of Alam. Alam gets completely naked and bends over to let Jack eat his bare ass. It tastes so good that Jack needs to see what the rest of the stud is like. Jack opens his mouth and lies back to let Alam face-fuck him. Both hunks turn into cock connoisseurs as they take turns giving each other head. Jack is the first to get his reward and as he licks the tip of Alam's swollen dick, Alam busts his load all over the cum-hungry stud. Alam wants cum too and finishes up by swallowing Jack's massive load. Both studs and the inside of the car are covered in cum when they realize they've been gone for way longer than they'd promised.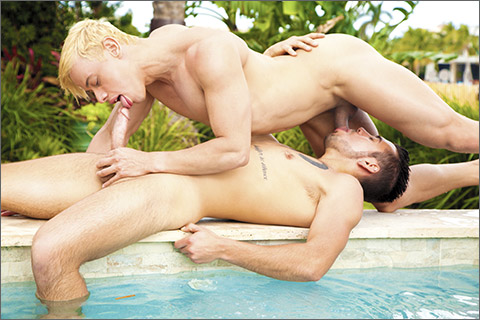 THE CHOSEN FEW: Alam Wernik & Dante Colle
Everyone in The Chosen Few knows there is only one rule: Logan Moore will give you anything you want, except the blond. Logan's generosity ends when it comes to his personal houseboy and lover Alam Wernik. Everyone pretty much obeys that one rule, except for Alam, who takes pleasure in walking around nude, showing off his chiseled body and rock-hard, bouncing dick. His first victim is dark, sexy and hung houseguest Dante Colle who Alam finds showering off after paddle boarding. Alam lures Dante over to the pool and immediately goes down to swallow his giant tool. Dante allows the forbidden blow job to continue and can't resist sucking Alam's perfect cock in return. They sixty-nine until both studs get mouthfuls of cum. Dante thinks he's gotten away with it until he sees Logan lurking in the distance…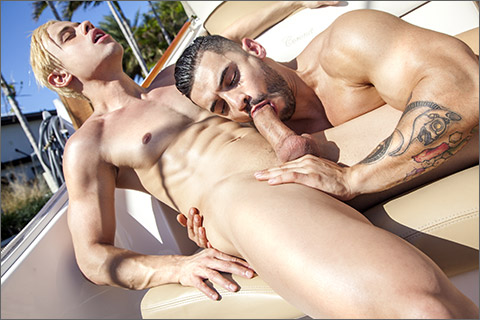 THE CHOSEN FEW: Arad Winwin fucks Alam Wernik
Alam Wernik is up to his tricks again, this time luring beefy, stoic security guard Arad Winwin out to Logan Moore's yacht, the "No Vacancy." Arad knows he may lose his job but there's no way he can resist Alam's angelic good looks, smooth, muscled body, big juicy ass and thick cock. Soon the two suntanned hunks are below deck naked and rocking the boat. A steamy mutual cock sucking session ends with Arad on top, sticking his thick dick in Alam's pristine tight hole. They fuck and suck loads out of each other as the sun goes down.
VIDEO ON-DEMAND: Alam Wernik @ AEBN SMUTJUNKIES THEATER
DVDs & ON-DEMAND: Alam Wernik @ TLA VIDEO
[Total: 147 Average: 3.8]