Spanish Muscle Gay Porn Star, Adriano Marquez
Known Aliases / aka:
Years Active: 1994 – 2007
FALCON STUDIOS INFO:
Nationality : Spanish
Height : 6′ 2″
Weight : 190 lbs.
Cock : 7″ cut
Position : Bottom
Big Muscle stats:
City/Town: Chicago / NYC / Barcelona
Year Born: 1965
Height: 6′ 2"
Weight: 210 lbs
Waist : 30
Chest: 46.0
Arms: 17.5
Thigh : 23.0
BodyFat: 1.0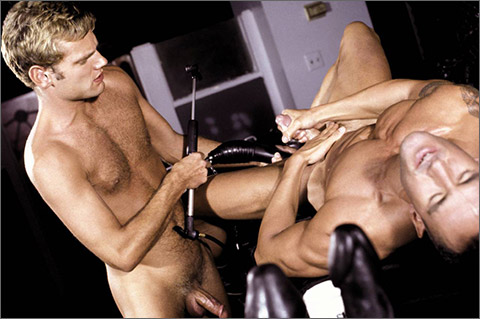 DOWNLOAD: Steve O'Donnell fucks then dildo-fucks Adriano Marquez
Jockstrapped Steve O'Donnell is primed for some heavy-duty assplay with Adriano Marquez. The young blond buck relaxes Adriano's hole with his tongue, spreads it with his fingers, then pounds on in with his stiff demanding meat. But Adriano wants more, and Steve can't wait to oblige, inserting a variety of toys which push Adriano over the edge of orgasm and into hot sticky satisfaction. Watching Adriano spill his load sends Steve into his own hefty orgasm.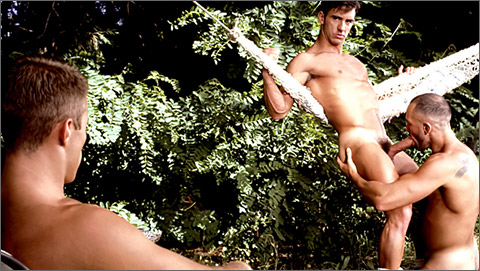 HEATWAVE: Tom Chase fucks Adriano Marquez with Logan Reed
Logan Reed is led blindfolded into the back yard, where Tom Chase and Adriano Marquez are already hard in action. Like predatory stags, daring and sizing each other up, trying to figure out who should master whom, the two men prod each other into heavy foreplay. Adriano hungrily sucks Tom's huge cock, swallowing the engorged tool in its entirety. The men tease each other, slapping, spitting, pounding, creating a tension too hot to ignore. First on the hammock, then holding a tree. Adriano gets the fucking of his life by Tom who slams and shimmies his fat dick up Adriano's hole. Looking directly into his eyes, Tom sends Adriano into a delirious state of bliss, controlling the rhythm of his breathing, the rhythm of the sex play, until neither man can stand it. They both explode spurting jets of cum as Logan enjoys the show, jacking his fat cock.
FALCON STUDIOS
TITAN MEDIA
HOT HOUSE ENTERTAINMENT
CATALINA VIDEO
KRISTEN BJORN PRODUCTIONS
CLICK HERE TO GO TO HIS FALCON STUDIOS DETAILS