Hung Handsome Uncut Lucas Entertainment Gay Porn Star, Adam Avery
Known Aliases: JAY BRIX
Years Active: 2012 – 2014
TWITTER @AdamAvery2
LUCAS ENTERTAINMENT INFO:
Height: 5′ 9″
Weight: 155 lbs
Dick Size: 8″
Position: Versatile
Adam Avery is very clear about his reason for jumping into hardcore gay porn: "I'm only young once!" Adam is an uncut bottom guy who loves having a dick down his throat right before it's stuffed up his ass. Adam loves manly guys who know how to use a hot guy like himself, just like when he was fucked on a rock in the middle of a river! Adam's favorite place to have sex is on a bed, and the one guy he'd love to have there more than anyone else is Bradley Cooper!

COME AND GET IT: Ty Roderick fucks Adam Avery
This exchange skips all formalities. Lean Ty Roderick and black-haired Adam Avery are lost in feverish kissing and groping on the den's black leather sofa. Adam clasps his lips onto Ty's throat-choker. Sheesh, it's big and fat and long as you might think possible. Adam swallows all of it with mad, zealous skill, and Ty's glad to return the favor, deep throating his buddy's bloated cock. He licks Adam's shiny ass into submission before driving his mammoth ass-stretcher in deep. The guys grapple together in a fuck frenzy. The size of Ty's cock drives Adam insensible, but his tight hole keeps a strangle hold on Ty's cock. There's pulverizing pummeling on the sofa, and then Ty lies on the floor so Adam can straddle his rock hard humper. While Ty savages his hole, Adam flails at his reddened meat, and both their loads volcanically erupt.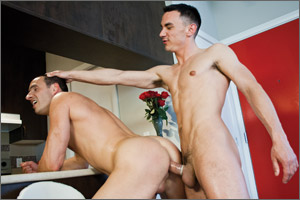 DRAIN YOUR LOAD: Adam Avery and Nick Ford flip-fuck hard
A jog under the hot sun doubles as a cruising opportunity for both Nick Ford and Adam Avery, two dark-haired men who cross paths at just the right time. Their jog turns into a follow-the-leader game as Kick lures Adam back to his apartment, where he tears into the young man the minute the door shuts. Nick pulls up Adam's shirt, pulls down his gym shorts, and lets the smooth and beautiful uncut cock hidden away pop out and into Nick's mouth. Slowly and sensually Nick works on Adam's meat, who grabs Nick's head and shows him exactly how he likes it. When Nick is ready for some service himself, Adam drops to his knees — it didn't take him long to get completely naked — and Nick gets ready. With all of his clothes off too, Nick leans against the wall while Adam uses both his hands and mouth to swallow up Nick's erection, slurping on it every second of his wet blowjob. The oral sex turns into a rimjob: it's the perfect way for Nick to tease Adam, who is a hungry bottom when the time for penetration finally arrives. Adam bends over at first, but he shows off his true skills at getting fucked when Nick sits down in a chair while Adam straddles him. While they're staring into each other's eyes, face-to-face, Adam rides Nick's hard cock until they both cum!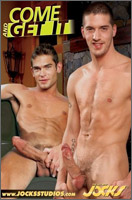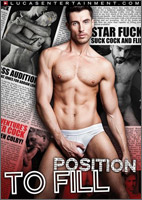 COME AND GET IT (JVP-156)
DRAIN YOUR LOAD
MAN HANDLED
POSITION TO FILL
FACE FUCKERS
FUCK IT!
LUCAS ENTERTAINMENT
FALCON STUDIOS
CLICK HERE TO GO TO HIS LUCAS ENTERTAINMENT DETAILS