UK / Spanish, Handsome and Hung Gay Porn Star, Harry Louis
Known Aliases / aka: Harry Lewis
Years Active: 2007 – 2016
MEN AT PLAY INFO:
Age: 24
Height: 6′
Weight: 150 pounds
Cock: 9″ uncut
Harry is so handsome he can make your heart flip with just one glance from his smoky, sexy eyes. And once this young man strips naked, his gorgeous body will make your cock throb and ache. With such an incredible body, he could be an underwear model. However, his underwear ads would have to be censored because of the obscenely large bulge his big uncut cock causes.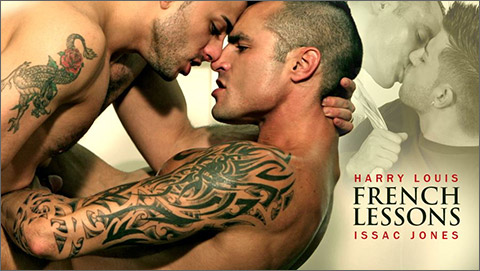 FRENCH LESSONS
Ever had a teacher at school that you used to daydream about in the middle of a lesson and loose yourself in thoughts of what you would like him to do to you? Well Harry Louis certainly has, and with a teacher like Issac who can blame him. Tall, mysterious, chiseled jaw, dark eyes you could get lost in and the sexiest French accent ever! No wonder Harry has trouble concentrating on his French vocab, or could he just be pretending to get some private 1 on 1 time with the sexy Mr. Jones? When Issac turns the blackboard and sees 'Je vais baiser ton cul' in Harry's handwriting he realizes the boy must be much more fluent in French then he may be letting on, and that he's been focusing on his ass rather than on his text books. And as we know by now, Harry always gets what he wants. Not only does he get to fulfill his fantasy by fucking his French teacher, he also manages to secure an A+ along the way!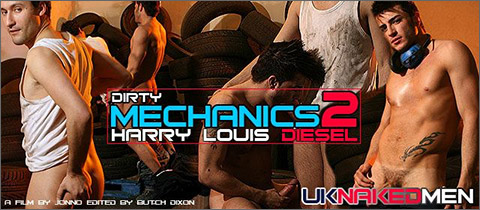 DIRTY MECHANICS 2
Diesel picks up Harry Louis's iPod and finds a video featuring Harry and another guy. He soon realises he's watching his mate in a gay porn film and he's getting turned on by it. Next thing he knows, he's tasting the real thing as Harry's thick cock is thrust into his mouth and bashing away at his tonsils. This grease monkey's soon greased up and taking a pounding he won't forget. .. and what's that hot liquid he feels splashing over his arse? That'll be Harry Juice and lots of it. Diesel adds his own juice to the pool and the wheels of industry are well and truly lubricated.
VIDEO ON-DEMAND: AEBN SMUTJUNKIES THEATER
NOW STREAMING: Harry Louis @ NAKEDSWORD