Sexy American Twink Gay Porn Star, Eli Bennet
Known Aliases: Boy Eli
Years Active: 2019 – 2021
HELIX STUDIOS INFO:
Height: 5'8″
Weight: 125
Hair: Black
Eyes: Green
Body Hair: Smooth
Cock: 7 inches Cut
Sexual Orientation: Gay
There's more to Eli Bennet than just a pretty face but his face is so hot as he has green eyes and brown hair and as he walks onto any xxx scene you just want to tear off his clothes already and put his 7 inches in your mouth. Eli was born in Albuquerque, New Mexico but he grew up in Las Vegas. He has a way to just tear you down while you're fapping in ecstasy. He is proud of being a bad boy and began his excursion into the adult world in October of 2020.
   Eli has been in many hot and sassy twink sex scenes worth checking out such as Return to Helix Academy chapter 7, Wet part 3, and Wet part 5. Eli has been in many hardcore threesomes, group sex scenarios, and one-on-one fuck sessions with some of the hottest gays in the adult entertainment industry such as Jace Myers, Riley Finch, and Travis Stevens. In Wet part 3 – a wild threesome ensues starting at the poolside and ending inside with big orgasms and everyone enjoying every moment of Eli's cock. Eli doesn't mind being on top of the bottom and loves every bit about fucking on camera. Make sure you keep your eye on Eli's page so you know when new xxx scenes become available. He truly knows how to keep you up and wanting more.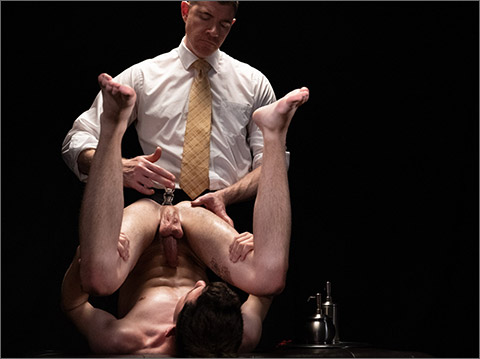 BOY FOR SALE: BOY ELI
CHAPTER 1: THE GROOMING
Eli was like many twinks I'd seen before. Preoccupied with looks, youth, vanity, and status. Not necessarily wealth or power, but wanting to be wanted. He did everything he could think of to be desired by men like me. Tattooing his body, piercing his flesh, marking himself to look as he thought we wanted him to look.
But boys like Eli don't understand… it's not the clothes or trinkets that make them desirable. It goes so much deeper than that.
   When Eli came to me, I could see that he wanted to be free from that game. He wanted to be stripped bare and cleansed of his vapid, skin-deep obsessions. He wanted to be wanted, yes, but it was more than that. He wanted to be possessed.
   I stripped him of his clothes, his protection, his facade. I removed the piercings he had in his ears and tongue, remaking him as I wanted. Clean, classic, ready to be sold….
BOY FOR SALE IS PART OF THE NEW:
CARNAL+ MEGA SITE
CLICK HERE TO GO TO HIS HELIX STUDIOS DETAILS
VIDEO ON-DEMAND: THE YOUNG MEN (TWINKS) @ AEBN SMUTJUNKIES THEATER
NOW STREAMING: COCKYBOYS @ NAKEDSWORD