Handsome Tattooed Iraqi Gay Porn Star, Babylon Prince
Known Aliases / aka:
Years Active: 2020 – 2022
LUCAS ENTERTAINMENT STATS / INFO:
Position: Versatile
Dick Size: 7" (Cut)
Height: 5'10
Babylon Prince is a Kuwait-born gay porn star who is currently living his life to the fullest in Barcelona. Babylon is versatile in the sack; it all depends on who he is in bed with. There was not any one specific reason that inspired Babylon Prince to start filming gay porn. Instead, his years of working in gay nightlife made it seem like a natural step forward for him. The craziest place Babylon Prince ever had sex in was a church, and he has a think for guys older than him. When Babylon Prince is not filming gay porn, he enjoys photography, film, and painting.
FUCKERMATE STATS / INFO:
Babylon is a hot cute guy that seems to come out from "One thousand and one night". He sparks of passion in every part of his muscled tatooed body and won't disappoint the expectations of our most faithful fans!
Height: 1.80 m / 5′ 10"
Cock size: 19 cm / 7.5"
Age: 34
Role: Versatile
Body: Toned
Ethnicity: German, Arabian
KRISTEN BJORN STATS / INFO:
Nationality: Iraq
Height: 5'11
Weight: 170 lbs
Dick: 8" (20.32 cms) cut
Position: Versatile
Zodiac: Aries
Babylon Prince is a very exotic and sexy man from Irak. His tattoos give us an idea of the wild beast inside him. Babylon loves having sex with hot men, and he is perfectly versatile; he can take it as hard as he can give it!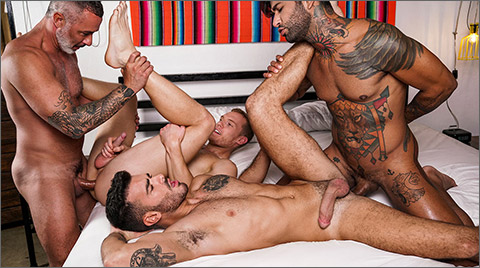 BIG BARE COCKS: Adam Franco, Sean Weiss, Pol Prince, Babylon Prince | Boyfriend Swapping
Adam Franco and Sean Weiss are in the mood to swing and swap boyfriends in this gay porn encounter. Being two men who do not believe in suppressing their desires, they invite Pol Prince and Babylon Prince over. it doesn't take long for Adam to take on Pol Prince, and Babylon Prince gets Sean on all fours and fucks his pink little pussy. At one point during the swap Pol Prince and Sean Weiss are side-by-side getting their prostates pounded from behind by Adam Franco and Babylon Prince!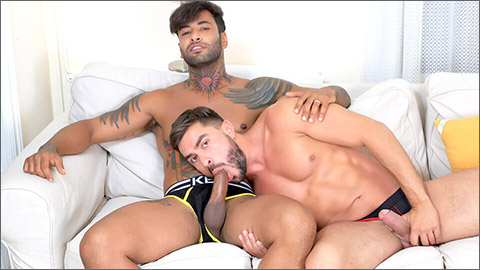 KRISTEN BJORN'S CASTING COUCH #447: BABYLON PRINCE & JUANCHO SEVERANO
Juancho Severano is thrilled to introduce us to the newest inductee to the Kristen Bjorn Society of Select Men, Babylon Prince. The guys seductively strip down exposing their amazing physiques and creatively inked bodies, expressing and telling their stories. Juancho is extremely eager to have a taste of Babylon and releases his magnificent mocha colored cock. Running his hungry mouth up and down that incredible cock shaft, Juancho truly demonstrates his expert cock sucking skills as Babylon's cock reaches to the very depths of Juancho's throat. It seems that Juancho is in deep lust for Babylon's cock, he just won't let it out of his mouth, he truly is a hungry cock sucker. Finally, Juancho lays back with his legs spread open and gives Babylon the opportunity to demonstrate his cock sucking skills. Babylon proves that he is as equally gifted at sucking cock as Juancho pummels his mouth with his throbbing cock. With a hunger that runs deeper than just a hot cock, Babylon raises Juancho's ass up and dives into those smooth ass cheeks and finds the sweet pink spot that has an irresistible flavor that consumes all of his senses. With Juancho's ass still in the air, Babylon slips his dark, meaty cock into the awaiting pink ass hole. In this position Babylon is able to drive his cock balls deep into Juancho's exposed ass. Babylon's foot is planted next to Juancho's head and Juancho takes advantage of this as he leans in and tastes the man flesh of the man that is filling his ass with utter pleasure. Babylon finds himself overwhelmed with pleasure with the feel of a hot muscular ass wrapped around his cock and the feel Juancho's wet tongue lapping at his foot that he blows his creamy load of cum all over Juancho's open hole. Babylon slips his cock back inside of Juancho's ass and drains the remainder of his juice as he also flexes his foot for Juancho to worship. The guys swap and Babylon is bent over the sofa as Juancho comes in from behind and aggressively fucks that amazing ass. Juancho pulls out numerous times so that both men can feel the full impact of being fully impaled over and over again. The intensity of Juancho's fucking has driven him wild with ecstasy and reaches a fevered pitch of fucking that rockets him over the edge and erupts his huge load of cum all over Babylon's furry ass. With his cock still spewing cum and throbbing with pleasure, Juancho slips his cock back inside of Babylon's drenched ass. Seal it with a kiss and we are all drained.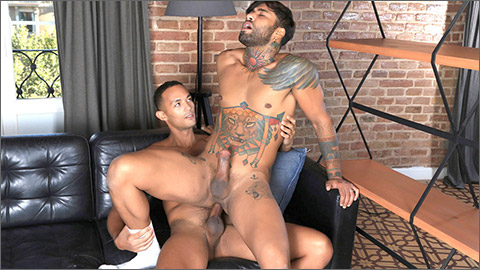 KRISTEN BJORN'S CASTING COUCH #457: AJ SLOAN & BABYLON PRINCE
AJ Sloan meets up with Babylon Prince and gets inducted into the Kristen Bjorn Society of Select Men. The guys meet up after the gym and begin stripping as they expose their lean muscular bodies. Babylon moves in and frees AJ's long cock shaft from his mesh jock. With amazing cock sucking skills, Babylon runs his lips up and down the full length of AJ's curved cock that gently slides down his throat. The guys swap positions as Babylon grabs hold of his ball sac and tugs them hard while AJ is stuffing his mouth full with his thick cock. As his balls begin flooding with juice and drawing up tight, Babylon bends AJ over and shoves his moist cock deep into his raw ass. Babylon builds his rhythmic fucking and pulls out before exploding too soon. Swapping positions Babylon lowers his mocha-colored ass down onto AJ's throbbing cock. Babylon finds himself reaching overload as his rock-hard cock slaps against his abs, AJ slams his ass with his granite cock and chews on his responsive nipples. Another flip and Babylon finds himself with his legs spread open and AJ grinding his ass deep and hard. AJ grabs hold of Babylon's cock and strokes it in unison with his fucking. With each deep thrust Both men take another step closer to bliss. AJ's deep thrusts and cock stroking has Babylon showering cum all over his abs as AJ continues with his unrelenting fucking. Babylon reaches up and begins stimulating AJ's nipples and sends him over the edge as his huge, creamy load of cum flies across his chest and abs. Babylon laps up the tasty load then shares the creamy flavor with AJ. AJ has proven his is no longer a beginner.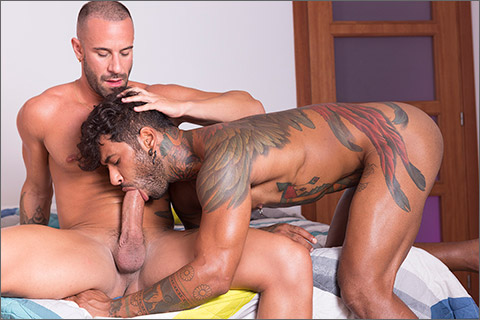 ASS BREAKER
Portuguese alpha-male Gustavo Cruz is back to prove once again his fucking skills and get his huge rod to work with Babylon Prince, a hot cute guy that seems to come out from "One thousand and one night". Babylon sparks of passion in every part of his muscled tattooed body and does not disappoint the expectations of Gustavo. Our top mate sticks the raw monster cock deep inside Prince's ass inch by inch and after breaking his ass, leaves his mouth dripping with thick cum!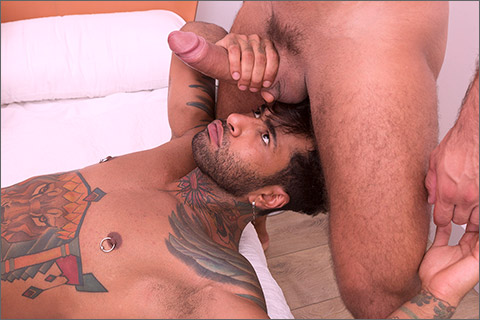 KNOCK ON MY HOLE
Babylon's dreams come true when he met our supersized Lusitanian Sir Peter, horny as always like a horse in heat and eager to give him a perfect bareback fucking! Peter has a weakness for fuckable bubble asses like the epic one Babylon got to offer: his thick monster cock easily finds its way to knock on the warm and welcoming hole. After riding Peter's hard meat, our tattooed mate gets on all fours and begs him to bang his backside and stick his dick deep down. A well-deserved and long-waited fucking lesson for Babylon!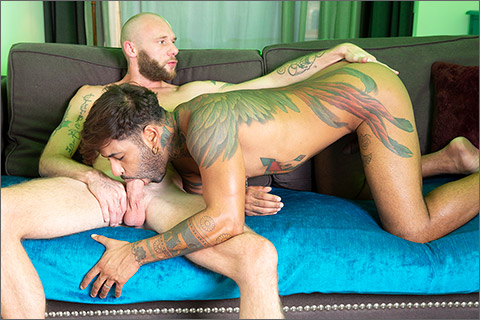 FULL SERVICE
Big-dicked top Guillaume Wayne and his buddy Babylon Prince lay into one another right in the moment they step into the living room, with lust in their eyes and in the mood for bare fornication. Horny and eager to taste Guillaume's juicy jock, Babylon kneels down, reaches his rock hard destination and swallows every inch of the boy's thick flesh, looking up at Waynes beautiful eyes. The French returns the favour and plants his face in Babylon's horny hole to deliver a proper tongue fuck, then begins to fuck him as deep and hard as possible, just like a nasty boy deserves!
CLICK HERE TO GO TO HIS LUCAS ENTERTAINMENT DETAILS
VIDEO ON-DEMAND: Babylon Prince @ AEBN SMUTJUNKIES THEATER
NOW STREAMING: Babylon Prince @ NAKEDSWORD