Italian Sex Fiend Lucas Entertainment Gay Porn Star, Zander Craze
Years Active: 2013 – 2017
TWITTER @zandercrazexxx
LUCAS ENTERTAINMENT INFO:
Height: 5'11
Weight: 161 lbs
Dick Size: 9″
Position: Versatile
Zander Craze is an Italian sex fiend: he is a guy who embraces true versatility, opening his sex life to the max. Zander started performing in the gay porn industry after meeting Matthias von Fistenberg. Zander like guys with huge cocks, big muscles, and bulging calves, and if a guy like this shoots a load in Zander's mouth, he will happily swallow it all. Zander Craze made his first appearance on Lucas Entertainment in a Gentlemen scene with alongside Raul Korso, Max Toro, and Craig Daniel. His first scene was on Friday, February 05, and he was featured in the film "GENTLEMEN 14: RAW PROFESSIONALS."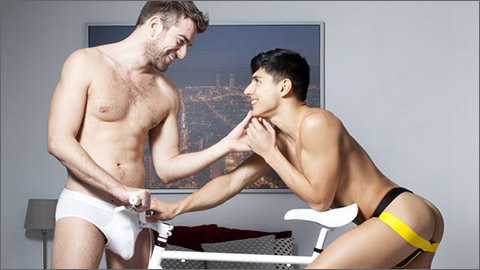 THE RAW BIKER – ZANDER CRAZE FUCKS KEN SUMMERS
It's early morning in sunny Barcelona: our dominant top Viktor Rom is in the terrace, having breakfast with Axel Max, a sexy new mate that we are happy to introduce you this week in this EXTRA release. When they finish their coffee Viktor invites his buddy to enter in the house: in a minute Axel is on his knees, sucking and deep-throating Viktor's huge latin cock. The fucking session that follows is so intense that Viktor breaks the bed and the two mates end up shagging with the mattress on the floor!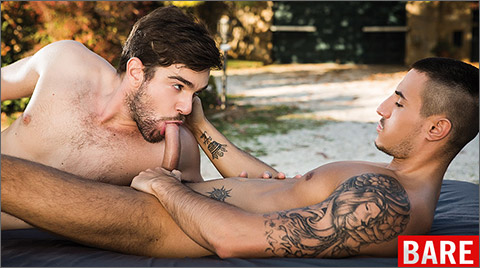 CUM-PUMPING PAPIS: Zander Craze Takes Klein Kerr Balls Deep
During this production in Greece, Zander Craze certainly spent his time on set well. He first got a chance to show Viktor Rom his stuff, and his efforts as a bottom paid off: Viktor was left satisfied and smiling after pumping out a load with Zander. Now he's paired up with the broodingly handsome Klein Kerr — and when Klein fucks he takes control of the situation. Zander Craze isn't a man to say "no" to the raw cock of a handsome top, and here you'll see him swallow and ride Klein in an incredibly hot bareback encounter.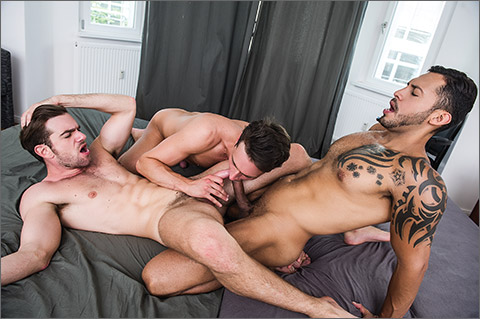 ZANDER CRAZE SHARES HIS MEAT WITH DAMON HEART AND VIKTOR ROM
Craze is a great last name for Zander, because this guy is wild and crazy in the sack: he loves having sex, and he loves showing it off. He and the dominant stud Viktor Rom take turns passing around Damon Heart, a new Lucas Entertainment exclusive model. Damon is challenged from the onset, but it's one he excitedly accepts: Zander breaks in his ass with his uncut elephant trunk of a penis, and then passes his hole over to Viktor for some breeding. To give Damon a rest the truly versatile Zander Craze gives it up for both Damon Heart and Viktor Rom.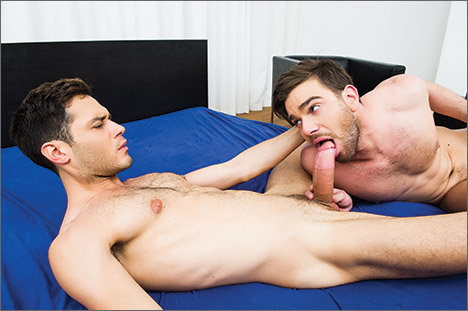 ZANDER CRAZE TAKES ALL 12 INCHES OF LEO ALEXANDER BAREBACK
Zander Craze takes all 12 inches of Leo Alexander bareback, and you'd think Leo would break him, but Zander loves every minute of it! (This scene starts out with an incredible make-out session, so don't skip ahead right away if it's the sucking and fucking you are usually after.) Here's what's exceptional about Leo: his sweet, puppy-dog eyes and smile. And then, of course, there's his smoking body and ridiculous dick. Zander is well aware of this, and it's why he is enamored with him for the full 38 minutes of the scene. And is Zander intimidated by Leo Alexander's 12 inches? If he is, he certainly doesn't let it stop him, because he takes the dick bareback and he takes it oh so well. Never before has the word "pounded" been deserved in a porn write-up.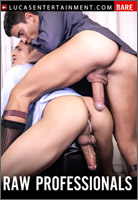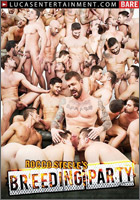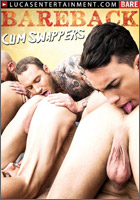 GENTLEMEN 14: RAW PROFESSIONALS
ROCCO STEELE'S BREEDING PARTY
BAREBACK CUM SWAPPERS
FUCKERMATE
LUCAS ENTERTAINMENT
DARK ALLEY DARKROOM
RAW FUCK CLUB
CLICK HERE TO GO TO HIS LUCAS ENTERTAINMENT DETAILS