Handsome Canadian CockyBoys Gay Porn Star, Gabriel Clark / Gabriel Lenfant
Known Aliases: Gabriel F.
Years Active: 2010 – 2016
COCKYBOYS INFO:
Gentlemen, I present to you the newest addition to Cockyboys: The mega-stud Gabriel Clark. Go ahead and take a look at that perfectly sculpted body and let me know if you can find a single flaw. Yeah, I didn't think so either. But don't let his lean muscular body fool you, he's much stronger than he looks. He can take you down in less than 2.5 seconds and leave you breathless and begging for mercy – in more than just one way… if you know what I mean. Honestly speaking, guys like Gabriel are the reason I'm gay. So I suggest that you clear out the next few hours because you'll be watching, pausing, rewinding, and playing his scenes over and over. Enjoy!
   To celebrate Gabriel Clark joining the ever-growing stable of CockyBoys exclusives, check out this pack of promotional images featuring Gabriel at his sexiest.
LUCAS ENTERTAINMENT INFO:
Height: 5'10
Weight: 160 lbs
Dick Size: 8″
Position: Versatile
Sculpted hunk Gabriel Lenfant started modeling because he loves being an exhibitionist. In his private life, this versatile stud works as a stripper. Gabriel's favorite sexual activity is cum play and his fantasy fuck is having sex while skydiving. Gabriel is a very spiritual person who firmly believes in the powers of good and bad energy. With his bisexual tendencies, this sex-pro is free to explore all of the good and the bad.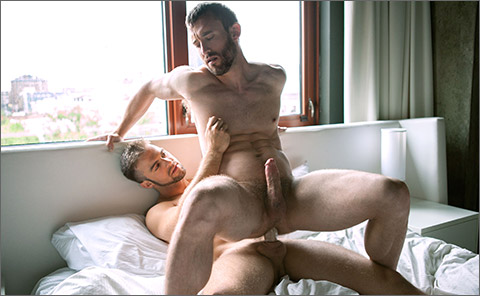 GABRIEL CLARK FUCKS MIKE GAITE
As we all know, Gabriel Clark loves to dominate so it's not often we see him with a guy that's comparable to him in stature and physique. But new CockyBoy Mike Gaite has just about the same amount of muscles and scruffy facial hair, so for a moment it seemed like Gabe had met his match! But after chatting with Mike for a little bit about a recent trip to Europe, different languages, and golden showers (err… Thailand's national flower of course), Gabriel finally coaxed out the words from Mike.
   "I'm versatile…" he said. "But I prefer bottoming." With a twinkle in his eye, Gabriel knew he had just received the green light to plow the hell out of Mike. So they stripped naked and sucked each other's cocks, Gabriel going down on Mike slowly but then full on skull-fucking Mike when it was his turn to get sucked. There was also quite a bit of nipple play (one of Mike's weaknesses), before Gabriel pushed Mike over on all fours and began pounding him doggy-style.
   By the sounds he was making, Mike was definitely not expecting the fuck he was getting from Gabriel. Gabriel was plowing him so hard that the slapping of Gabriel's pelvis to Mike's butt nearly drowned out Mike's moans. Mike then leaned back on Gabriel and rode his cock hard, with Gabriel pulling at his nipples throughout. But for the finale, Gabriel wanted to pound Mike in his favorite position — Mike's ass in the air with Gabriel's hands tight around Mike's ankles. After several deep thrusts, Mike shot his load upside down — some of it even getting in Mike's beard! That was Gabe's cue to finish himself off, so of course he hovered his dick over Mike's mouth and rewarded him with one of his world-class facials.

GABRIEL CLARK FUCKS CHRIS HARDER!
GABRIEL LENFANT'S FOOT JOB
GABRIEL LENFANT 2
RAINY AFTERNOON
DEEP PENETRATION
CASTING COUCH
A FUCK FEST!
DAVID DOES GOLIATH
RAPHAEL GETS CLARKED
INITIATING BENJAMIN
CUM DINNER FOR TWO
PILE DRIVING ON THE RIVER BANK
A REUNION TO REMEMBER
GABRIEL CLARK FUCKS MIKE GAITE
GABRIEL CLARK FUCKS ALLEN KING
GABRIEL CLARK FUCKS MARCO GAGNON!
GABRIEL CLARK FUCKS DARIUS FERDYNAND!
RAFAEL ALENCAR PLOWS JD PHOENIX!
GABRIEL CLARK FUCKS FRANKIE V!
GABRIEL CLARK FUCKS SETH SANTORO!
GABRIEL CLARK FUCKS LUKAS GRANDE
GABRIEL CLARK FUCKS DAMIEN GUNN
GABRIEL CLARK FUCKS KEVIN CARSON
GABRIEL CLARK FUCKS JAXON RADOC!
GABRIEL CLARK FUCKS WILLAM
GABRIEL CLARK FUCKS DAVID COREY
GABRIEL CLARK FUCKS LEVI KARTER!
GABRIEL CLARK HAMMERS ASHER HAWK
GABRIEL CLARK PUMMELS SONNY STEWART
GABRIEL CLARK POUNDS MAX CARTER
COLBY KELLER & GABRIEL CLARK FLIP-FUCK!
GABRIEL CLARK GOES CRUISING FOR ANDREW STRONG
GABRIEL CLARK POUNDS TONY MILAN
GABRIEL CLARK RAMS RICKY ROMAN
A THING OF BEAUTY
GABRIEL CLARK POUNDS DILLON ROSSI!
GABRIEL CLARK TIES UP AND FUCKS ANTHONY ROMERO!
PROJECT GOGOBOY EPISODE #4: THE ART OF THE LAP DANCE
PROJECT GOGOBOY EPISODE #5
GABRIEL CLARK BREAKS IN LORENZO
GABRIEL CLARK FUCKS JAKE BASS
GABRIEL CLARK DOUBLE-STUFFS ANDREW ELLIOT
GABRIEL CLARK PUMMELS BRANDON JONES!
THE FOURGY! TOMMY, MASON, GABRIEL & DAVID
GABRIEL CLARK BREAKS IN TOMMY DEFENDI
GABRIEL CLARK FUCKS PIERRE FITCH
GABRIEL CLARK & ADRIAN LONG FUCK MASON STAR
GABRIEL CLARK FUCKS MASON STAR
TRENT DIESEL & GABRIEL CLARK FLIP-FUCK!
GABRIEL CLARK FUCKS DOMINIC PACIFICO
GABRIEL & TRENT DP ANDREW
GABRIEL DRILLS ANDREW
GABRIEL FUCKS TREVOR
GABRIEL CLARK JACKS OFF
HOWL – PART 2
HOWL – PART 1
HOWL – PART 4
DREAMS COME TRUE
CRUISING – EPISODE 5
FALLEN
SECRET DIARY OF AN ESCORT 1 BTS
CRUISING EPISODE 3 BTS
CRUISING EPISODE 2 BTS
GABRIEL CLARK IS THE RIGHT STUFF
HANDYMAN
A LONG AWAITED FUCK
HEARTTHROB WORSHIP
GABRIEL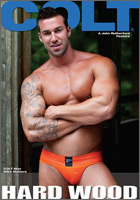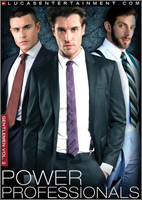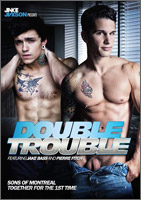 HARD WOOD
AUDITIONS – VOL. 40: RAFAEL CARRERAS' UNCUT CANADA
BACKDOOR
POWER PROFESSIONALS
MASCULINE EMBRACE
FUCK IT!
HARD & WET
CUM GUZZLERS
CREAM OF THE COCK
DOUBLE TROUBLE
TASTY TAYTE!
A THING OF BEAUTY
MAN HANDLE
PAINT IT BLACK
PROJECT GOGO BOY
10 FEET OF MEAT

COCKYBOYS
LUCAS ENTERTAINMENT
VIDEOBOYS
NEXT DOOR STUDIOS
MASKURBATE
MEN OF MONTREAL
CLICK HERE TO GO TO HIS COCKYBOYS DETAILS