William Higgins Hung Czech Gay Porn Star, Rosta Benecky
Known Aliases: Tomáš
Years Active: 2013 – 2016
WILLIAM HIGGINS INFO:
Age: 20
Home Town: Prague
Height: 182cm/5'11"
Weight: 77kg/169.4lb
Foot Size: EU42/US8.5/UK8
Penis Size: 17cm/6.69″
Profession/Student of: Sport School
Hobbies: Sport
Favorite Sports: Athletics
Active Sports: Athletics
Movie/Music/Sport Stars: Olivia Wilde
Visited Coutries: Switzerland
Want to Visit Coutries: Slovakia
Dream of My Life: I don't know.
Zodiac Sign: Virgo (August 23 – September 22)
Rosta Benecky is aged 20 and lives in Prague. He attends a sports school and in his spare time he loves athletics, and sports generally. What a very handsome guy Rosta is and he looks very fit too. As his removes his tee shirt we see that his body looks very good too. He gives us a lovely view of his sexy ass, as he lowers his shorts, with a coy look back over his shoulder. Then he turns around and lowers the shorts more to show off his flaccid cock too. As he poses for the camera a lovely smile crosses his handsome face. Then, completely naked Rosta kneels on the sofa to show off his hot ass. With his balls hanging down nicely he reaches back and spreads his hot ass so we can see his tight pucker hole. Then he sits on the sofa and plays with his cock, making it swell nicely. Leaning back and lifting his legs shows off that hot ass again. He really spreads the cheeks very well, giving a wonderful view of that hot hole. Then he stands again to show off his body and his big dick. He finishes off with that cock nice and hard and poking out very well indeed.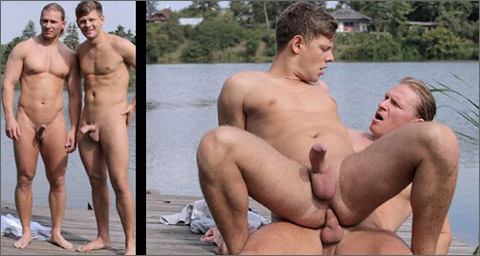 ONDREJ OSLAVA BAREBACKS MIKY BOLTON
It's a beautiful day at the lake. Muscle stud Ondrej Oslava and hung jock Miky Bolton are soaking in the sun, sitting back to back on a dock. Miky is naked from the waist down, his huge cock pointing up to the sky. Ondrej turns around, grabs the uncut rod, and begins to kiss Miky. Ondrej wastes no time and goes down on Miky's huge piece of meat. Miky pulls off Ondrej's clothes and returns the favor, feasting on his dick. They get down on the dock and 69. Ondrej lays down on the wooden boards and Miky slowly puts Ondrej's raw cock into his ass. Miky rides Ondrej hard as he strokes his thick, rigid pole. Miky unmounts and Ondrej blows him again. Miky didn't have enough so he rides Ondrej bareback once more, this time facing towards him. Miky lays down and Ondrej lays behind him. Ondrej pushes his raw cock into Miky from behind, pounding him bareback. Miky gets on all fours and Ondrej fucks him with his raw cock. As Ondrej gets close Miky lays back, lifting his leg, and exposing his ass. Ondrej Oslava shoots his cream on Miky's hole then seeds him bareback, pushing his wet cock back inside. Miky Bolton gets his turn to cum on Ondrej's ass and he does, rubbing his cock all around the hole. Miky tries to seed him but Ondrej's hole is too tight. He'll have to wait for another beautiful day by the lake.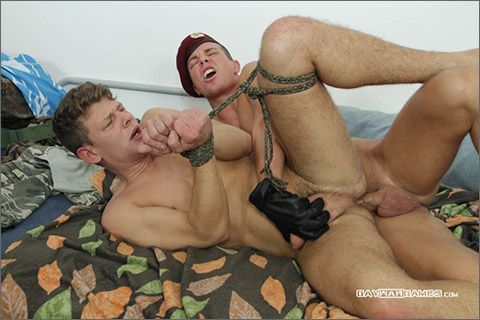 HOMELESS DAY
Was rainy day, and I found some homeless boy, who was quite good for some game. Let's start with some fun!

FULL CONTACT: ROSTA BENECKY & ANDREJ LAMOS – SCREEN TEST
In a great screentest we have Rosta Benecky and Andrej Lamos. They enjoy some kissing, whilst sitting on the bedframe. Then they stand and begin to undress each other, releasing to big hard cocks from their pants. As they play with the cocks they kiss again. Then Andrej drops to his knees and takes Rosta's massive pole in his mouth. He sucks on that big cock, taking it as deep as he can. Then, as they move to the bed Rosta takes a turn at sucking. His mouth envelopes Andrej's throbbing cock and he licks and sucks it real good. Then Rosta lays on his back and lifts his legs up, making his ass available to Andrej. Andrej gets to work, inserting a toy into Rosta's eager hole. As his hole gets worked Rosta wanks on his big, stiff, dick. Andrej leans over to suck on that big cock as he fucks the toy into Rosta's hole. Then he turns Rosta onto his side and shoves his cock deep into the waiting hole. Rosta can take cock real well and does so now. They move and Rosta sits his hot hole down on Andrej's stiff cock. He rides that dick real well. Next the move to missionary, with Andrej slamming his cock deep into Rosta's ass. Rosta wanks on his huge dick as he take Andrej's cock. As he wank his cock gets even harder and shoots his creamy cum all over his belly. Andrej is ready too and pulls out to dump his hot cum too. Then he leans forward to kiss Rosta once more after a great scene.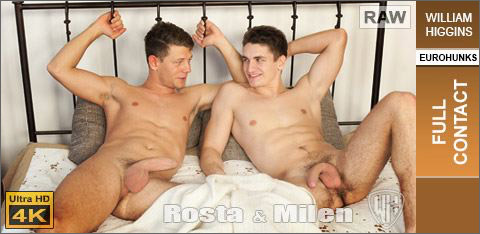 FULL CONTACT: MILEN PETROF & ROSTA BENECKY RAW
Milen Petrof and Rosta Benecky are in bed, and Rosta tells Milen that he should not go to school. Instead Rosta leans over to kiss his friend. He moves down to kiss Milen's chest and then releases his hard cock from his underwear. Rosta's mouth encloses the cock, sucking on it. Then he removes the underwear and returns to sucking on that stiff dick. Rosta then removes his own underwear, revealing his massive cock and moves over Milen so that they can enjoy a 69. He sucks hard on Milen's cock as his own is in his friends mouth too. Milen moves to sit on the bedhard, so that Rosta can suck him some more. Rosta is loving that dick, looking up into Milen's eyes as he sucks. Milen grabs Rosta's head and pulls it onto his cock. Then they swap places, so that Rosta can have his huge pole sucked again. Rock hard it fills Mien's mouth. He sucks and licks that big dick as the heavy balls hang below. As they move again Rosta goes on his knees, for Milen to fuck his hot ass. Milen takes that ass from behind, plowing his cock deep into the waiting hole. Then Rosta turns over onto his back and Milen fucks him some more. Rosta wanks his cock as his ass gets fucked deep and hard. He keeps wanking and soon works up a big load that he releases over his left leg. Milen keeps fucking that sexy ass until he is ready to cum too. Then he pulls out and shoots his hot load over Rosta. He milks his cock dry and leans over to kiss Rosta before they both go to the shower to clean up.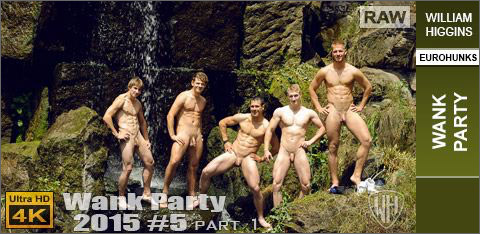 WANK PARTY 2015 RAW #5
WANK PARTY 2015 #5 features Rosta Benecky, Matej Valej, Lorenc Byro Matej Norzik and Dave Cargo. In this first part we find the guys out in the park having a great time. Lorenc and Dave are showing off with their acrobatic tricks, with Dave doing several somersaults. Then they run off, climbing down the hill to the waterfall, where Lorenc strips off and goes under the ice cold water. He has a great body and looks wonderful as the water cascades over him. As they play Matej, Robin and Rosta walk up and watch them. Then they walk closer and start chatting. They invite Lorence and Dave to join them at their place. Once inside Robin starts to show them how he uses the dumbells. Dave then takes a turn on them too. Meanwhile Matej uses other weights before letting Lorenc take a turn. Robin then sits and demonstrate more exercises with the dumbells, as Lorenc leans over to feel his muscles. He then sits on the bench to use the weights as Dave uses the other set. Next it is Matej's turn to show off his prowess before Dave takes another turn. Lorenc then goes again, this time the others stand around him and start to feel his chest.Matej flexes his muscles to show off his hot body, as the guys feel him. Lorence is very proud of his body too and is soon flexing to show off his muscles. Rosta does the same, comparing his legs to Lorenc's. Then Dave is under inspection too. When it is Robin's turn he pushes his shorts down to reveal some ass crack as everyone's hands are all over him. Lorenc leads the way to more, leaning over to kiss Robin's chest. They all examine Robin's legs too. Robin sits on the bench and everyone is all over him, Rosta kisses him , as does Lorenc as the hands grope his shorts. Lorenc licks that hot body and then pulls the shorts down so that he can suck on Robin's cock. He takes the cock all the way into his mouth, sucking it real good. Matej then sucks it too as Dave and Rosta get their own hard dicks out. They are both massively endowed and Robin is quick to start sucking on Rosta. His big dick fucks into Robin's mouth as Lorenc is back to sucking too. Then Robin turns his head and takes Dave's big, fat cock into his mouth. Matej sucks Robins again as Rosta's cock is fucking his face some more. Matej and Lorenc keep taking turns on Robin's cock as he takes turns on the other two. Then Robin stands and gets serviced my the handsome Rosta's hot mouth. Lorenc sucks Daves big cock, deep throating it until he gags. That dick goes all the way down his throat. Rosta also gags on Robin's dick and then swallowes Matej's too. They all move, with Matej on his back with Robin sucking him as Lorenc is laying over Dave sucking his cock and taking turns on Rosta's too. He is expert at sucking the really works those cocks. He places both cocks together and manages to suck both at the same time. Robin keeps working on Matej's dick as Lorenc's mouth works overtime.Rosta rubs a foot over Dave's big, throbbing cock and Lorenc sucks cock and toes at the same time. Rosta's foot rests on Dave's cock so that Lorenc can work on both. Meanwhile Matej is sucking on Robin's rock hard cock too. What a great start to a wonderful wank party, with much more to come in part two.
JAKE CRUISE'S COCKSURE MEN
WILLIAM HIGGINS
STR8HELL
GAY WAR GAMES
CLICK HERE TO GO TO HIS WILLIAM HIGGINS BIO PAGE