Czech Gay Porn Star, Petr Zuska
Known Aliases: Lino Belucci, Joel Vargas, PETR ZUSHA
Years Active: 2014 – 2018
Petr Zuska is aged 20 and live in Mlada Boleslav, where he works as a bartender. He enjoys sport, particularly athletics and football. Sent to us by his brother, Rado Zuska who is another very popular model, Petr looks so good in this shoot. He has such a handsome face and a lovely smile. He looks good as he poses for the camera, before removing his tee-shirt. Then we see what a very hot body he has. With a slim, swimmer's build that sexy chest looks great. He takes off his jeans too, and poses in his underwear before turning and lowering it to expose his beautiful ass. He does a half turn, as he flexes his biceps, giving a great view of his body and nicely rounded ass. Petr then removes his underwear to show off his flaccid cock, with the head covered by foreskin. He soon has that cock rock hard, pointing skywards, and what a beauty it is. He gives us some great poses, with his cock staying hard the whole time. Sitting on the sofa, and leaning back, Petr lifts his legs to give us a view of his hot ass. his hands spread the ass cheeks to expose his tight hole. Then as he sits up and turns over onto his knees, we see that his dick is still hard. On his knees we get another great view of that sexy ass before he turns again and finishes his shoot with more of that beautiful dick.
Model Name: Petr Zuska
Age: 20
Home Town: Mlada Boleslav
Height: 187cm/6'1″
Weight: 74kg/162.8lb
Foot Size: EU42/US8.5/UK8
Penis Size: 17cm/6.69″
Profession/Student of: Bartender
Hobbies: Sport
Favorite Sports: Athletics
Active Sports: Soccer
Movie/Music/Sport Stars: Nicole Kidman
Visited Coutries: Croatia
Want to Visit Coutries: France
Dream of My Life: I don't know.
Zodiac Sign: Leo (July 23 – August 22)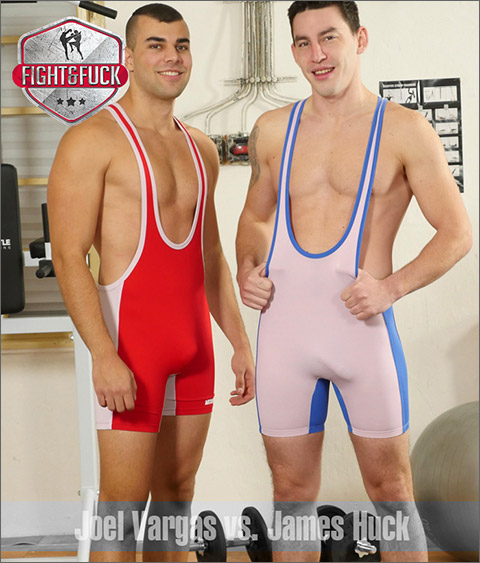 JOEL VARGAS vs JAMES HUCK
Joel is back in this new FightAndFuck episode and this time, he brought James Huck, his best friend. Even though they've only known each other for a couple of years, the 2 dudes are inseparable. They do everything together… Well almost everything! They haven't fucked yet! But hey, we are here to help them and they both know it. Whatever happens, they know that one of them is going to get fucked in the end 🙂 As usual, we had the studs on the mat for a wrestling match. Whoever loses gets the dick in the ass. We made sure to repeat that to them, just for fun hehe From the get-go, James had no chance. Joel took over James' body in no time, and whatever James would do just didn't work. Joel was the strongest and it was time for James to give up.
   Joel got James to suck on his uncut meat, James obliged. Then it was Joel's turn and he sucked that cock really nicely but the moment we were all waiting for was about to come. Joel got on his back and James, slowly, sat on his cock, taking the dick inch by inch. Let the fucking begin… bareback! James took it like a champ until Joel spewed his juice all over James' stomach. It was then James' turn to cum and he got Joel to suck on his cock to completion… mmmm delicious!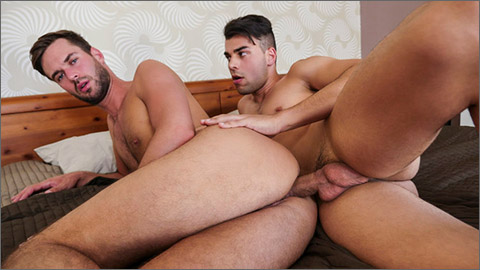 EUROPEAN STUDS KEVIN FALCO AND ANTONIO DELUCA HAVE A HOT BAREBACK SESSION
All good things can happen in a hot tub. You're already pretty much naked, and the heat from the warm water starts to produce beads of sweat on your hot and horny body. When you put two hot studs like Kevin Falco and Antonio DeLuca in the tub together, it is only a matter of time before the heat causes their boners to appear from beneath the water. They begin to take turns sucking each other's hot long uncut dicks before drying off and going inside. There they continue the hot blow jobs, but then Kevin takes it a step further and has Antonio sit down on his rigid cock. They bareback in that position before going to the bed. There Kevin fucks fucks him raw doggy style and in a spoon position. Finally they take turns cumming in each other's mouths.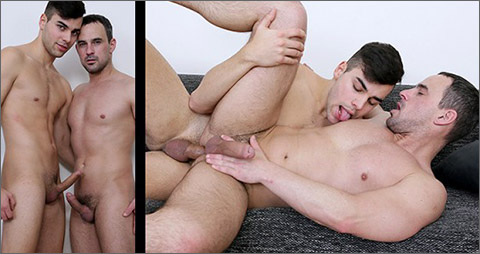 JOEL VARGAS BAREBACKS ANDY WEST
Sexy Joel Vargas and Andy West kiss intensely while feeling each other's amazing bodies. Joel takes Andy's shirt off and plays with a nipple. Andy gets on his knees and makes his way down to Joel's cock. Andy sucks on Joel's huge uncut cock and licks his balls. Joel takes his turn on Andy's cock by wrapping his lips around and sucking. They kiss before Joel sits on the couch and Andy climbs on top riding his raw cock bareback. Joel lays on the couch and Andy gets on top of him and fills his ass with cock. They mix things up and Joel fucks Andy bareback missionary style, filling his hole perfectly with his raw cock. With Joel's raw cock inside of him, Andy strokes and shoots his load all over his stomach. Andy get's fucked raw again until Joel squirts his juice all over Andy's ass cheeks. Joel sticks his cock back inside Andy West bareback, seeding him. Joel Vargas gives Andy a sweet smack on his thigh. They both end up with a giggle.


AT EASE: SMOKING HOT SOLDIERS SNEAK OUTDOORS FOR A SUCK-&-FUCK FRENZY!
We're not totally convinced that cigars come as standard issue for enlisters in the Czech army, but they're clearly one little luxury that young recruits, Joel Vargas, and new boy, Kyle Willis, are determined to make the very most of. Not that anyone could possibly blame them for taking a break from a life of fighting and killing; and, finding a quiet corner of the woods to relax, these two horny fighters take a chance to enjoy the simple pleasures that only long, hard phallic objects can give a man.
   And (obviously!) we're not just talking cigars here. In fact, the smoking session is very quickly abandoned once both fellows begin to realise that there's much more fun to be had with the contents of each other's khaki trousers – at which point Vargas immediately makes a bee-line for Willis's dick, like a hunter pouncing on his prey! You could almost feel sorry for the new boy were it not for the look on his cute little face that tells you that he's more than made-up by the move – a sentiment that's only underlined by the manner with which he returns the favour shortly afterwards.
   Indeed, you don't need to be too much of a sexual expert to realise that this is one young fellow who won't be truly happy until he's got his compatriot's shaft pushing into his guts in order to give his inexperienced ass-hole the stretching it's always dreamed of! Not that he has to wait too long for that fantasy to become reality. Soon he's being given a good old-fashioned Vargas workout, taking every inch of solid man-meat and spewing the contents of his nads in the process. All nicely topped off by Vargas collecting his pay-cheque by blasting his goo all over the lad's pucker!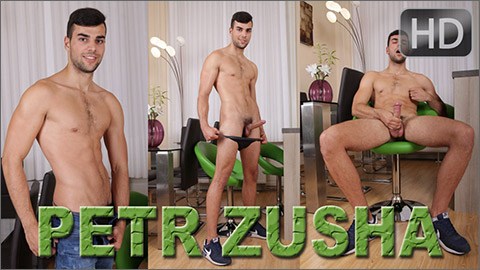 LEAN MUSCLE GUY, NEWCUMMER PETR ZUSHA, STROKES AND CUMS FOR YOU
Another stud, Petr Zusha, stopped by and got naked for us on ManAvenue and we're sure you'll be glad he did.
   This lean and muscle guy didn't take long to strip and get his dick hard for us. Our cameras were barely rolling before he was stroking his cock and walking around with a boner.
   Watch him stretch his long naked body out and really jerk his cock to a frenzy. He's pretty horny during the shoot and it didn't take him long to blow alot of steamy creamy on his abs. Fucking hot! Then he stands up, cum dripping and pops a final flex. Double fucking hot!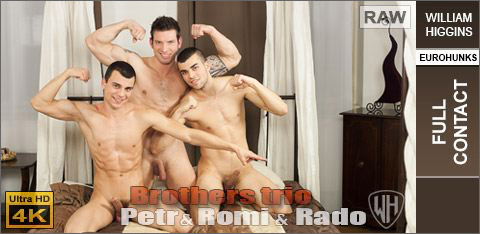 FULL CONTACT: RADO ZUSKA & PETR ZUSKA & ROMI ZUSKA – BROTHERS SHOOT RAW
We loved Rado Zuska when he first came to us, and he gave us some really great scenes. Then he did us a very big favor, sending his younger brothers, Petr and Romi,to us too. They too showed us just how good they are and now we have brought all three together for a great scene. It all starts with Petr taking a shower. As he washes himself Rado arrives and joins him. Pete lets the water wash over Rado and then Romi joins them too. All three sexy brothers showering together and they start to soap each others hot bodies. Rado is in the middle and he grabs at Petr's and Romi's cocks. Then he turns around so that Romi can wash his back and his ass. Then it is Romi's turn to be washed by his brothers. As they wash they get playful, with their cocks, having a lot of fun. Shower over we find the three of them laying on the bed and they decide to compare cocks. So they all start wanking and soon get nice and hard. Rado's dick looks so good and Romi suggests that he and Petr should suck it. Romi is quick to take the cock in his mouth sucking it before both he and Petr lick up and down the thick shaft. Then Petr sucks on the stiff cock as Romi licks Rado's balls.With all three guys rock hard Rado lays back so his brothers can suck him, kissing each other as they do so. Then Rado has to return the favor, so he kneels between them and takes turns sucking on each of those hard cocks. He does a great job on those dicks and then lays back with his legs up and ass in the air. That looks so inviting and Romi and Petr take turns in rimming the hot hole. Rado loves that feeling and soon is bending over, offering his ass up for some cock. Petr's throbbing cock soon slips into the eager hole, fucking it nice and deep. Then he makes way for Romi to fuck that hot ass too. Rado takes cock real well and moves onto his back so they can fuck him in missionary position. His ass gets a real good workout from his brothers, with both Romi and Petr taking turns again. Romi lays down on the bed so that Rado can climb on and ride his throbbing cock. Then he holds his ass in place so that Romi can pump his dick up into that hot ass. He fucks hard and fast and dumps his hot load deep in that ass. Rado spreads his ass and releases that cum. Then Petr and Rado kneel over Romi, wanking themselves. Rado soon dumps his cum over Romi's face. Petr keeps up his wanking and is soon rewarded with his own cumshot to end a really great scene, with Romi sucking on spent cock.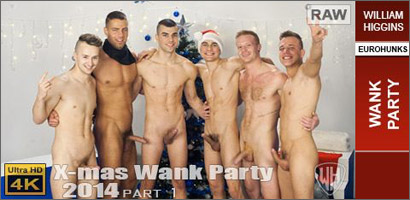 WANK PARTY 2014 XMAS
For our CHRISTMAS 2014 WANK PARTY we have a stellar cast, Hugo Antonin,Tomas Hozman,Tom Vojak,Arny Donan,Petr Zuska and Romi Zuska. In this first part we find the guy as they begin their celebrations with some wine, enjoying a chat as they do so. They sing and laugh a little before deciding to play some games. Spin the bottle seems to be the popular choice. Sitting in a circle the bottle is given its first spin, which results in Tomas having to remove his shirt. He is followed by Hugo, then Petr. Tom is next. When he spins the bottle it rests again, pointing at Tomas who has to remove his pants. Then Arny has to take off his shirt, and his spin results in Tom getting completely naked.Last off with his shirt is Romi. He spins the bottle and has Arny remove his pants. Then Arny has his revenge, with Romi taking off his. Only Petr and Hugo remain. It is Hugo who is next to get naked and lastly Petr does the same. The spinning resumes and settles on Tom and then Peter. So Tom has to give a little suck on Petr's cock. Romi is the next to be chosen by the bottle, and he has to suck Hugo. Then Arny decides to change the game. The bottle spinning will decide who will be active and who will be passive. Arny spins and is quickly chosen as one passive guy, then it seems that Hugo and Tomas are also chosen. But before they move onto that the guys decide on some hardcore sucking. Petr, Arny and Tom sit down, with Romi, Tomas and Hugo between their legs, to suck some cock. Those mouths quickly get to work on the cocks as Peter and Arny kiss each other. Then Arny turns and kisses Tom as well. The cocks quickly get very hard indeed , with Romi sucking Petr, Tomas working on Arny's meat and Hugo giving some hot mouth to Tom's massive dick. Then Tomas and Romi change places so they get to taste a differentn cock. Tomas really works Petr's throbbing cock well. He sucks and licks at it as Romi's head bobs up and down on Arny's. Hugo has Tom's big cock rampant and his mouth is wrapped tightly around it as he sucks. Then he swaps places with Tomas, and sucks on Petr for a while. Tomas gets to work on Tom's cock too as Romi is still with Arny. Hugo wanks his own stiff cock as he looks up into Petr's eyes and starts sucking him again. All change has Tom sucking Arny, with Hugo leaning over to suck Tom. Romi is busy on Hugo's cock too and his own is being sucked by Petr. Tomas stands behind them encouraging the all. Then as Petr, Tomas, Arny, Tom and Hugo stand in a sort of circle Romi lays in a revolving chair and is able to take turns on each cock. Romi has a great time as each guy's cock goes into his mouth. Moving again we find Hugo on the chair, with his ass exposed so that Tom can rim his tight hole. Tomas is laying down too and Romi has a great time tonguing his ass. Meanwhile Petr is wanked by Tomas and Arny is able to slide his cock into Hugo's mouth for more sucking. Those holes will soon be ready for some hot cock, as we will see in part two.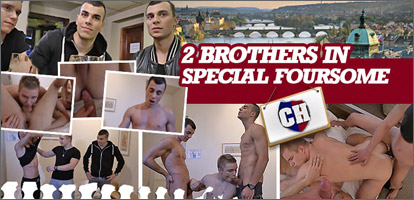 CZECH HUNTER 177
I got a call from a cute sporty hunk who I already fuck in the summer. Asked me out for a beer. So why not, I was actually in a mood to fuck him again. Once we sat down, he told me about two brothers he met in the gym. They spoke about money problems, so he came up with an idea to help them out financially and help me out to get what I always want. 24/7 and 365. But this sneaky little fucker wanted to rip me off and get some commission for this hook up. So I set him straight and told him that only way he can get money of me, is that I would fuck him as well along side with them. He agreed and I finally met those two brothers. They looked almost like twins. Both have well build bodies, cute faces and amazing smile. I was so impatient while they have been finishing their drinks.
FIGHT AND FUCK
RANDY BLUE
JAKE CRUISE'S COCKSURE MEN
STAXUS
WILLIAM HIGGINS
WILLIAM HIGGINS STR8HELL
BEL AMI
CZECH HUNTER
MAN AVENUE
CLICK HERE TO GO TO HIS STAXUS DETAILS