Sexy American Power Bottom Gay Porn Star, Nick Sterling
Known Aliases: Sterling (College Dudes)
Years Active: 2007 – 2017
TWITTER @NickSterlingNYC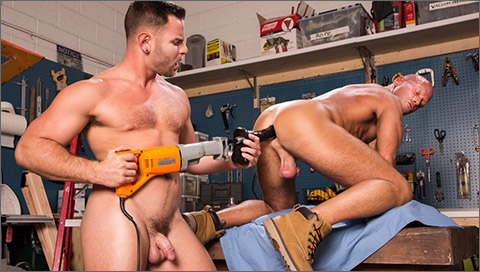 DIRTY WORK: Nick Sterling fucks and dildo drills Coby Mitchell
Nick Sterling is stroking his tool in the workshop, watching some porn on his phone. Suddenly, Coby Mitchell busts in on him. 'I was just about to cum,' says Nick. 'I'm glad you didn't,' replies Coby. Nick takes off Coby's shirt, and they stroke each other's cocks while making out. Coby gets on his knees and takes Nick's cock into his mouth, drenching it with spit and sucking it down all the way to the base. Nick gets down to worship Coby's cock next, tugging on his balls and deepthroating Coby's hard shaft. Then, they get creative, with Nick using a dildo on the end of a power tool to drill Coby's ass. Then Nick gives him the real thing, slamming his meat into Coby's willing hole. The tight skin around Coby's hole flexes and stretches as Nick pounds away. With Coby's leg over Nick's shoulder, Nick can fuck him harder and deeper than ever. When he's about to cum, Nick pulls out and shoots a massive, spurting load that drenches Coby's cock and balls in hot cum. Grabbing the dildo drill once again, Nick powers it up in Coby's hole, resulting in a giant geyser of cum that explodes into the air.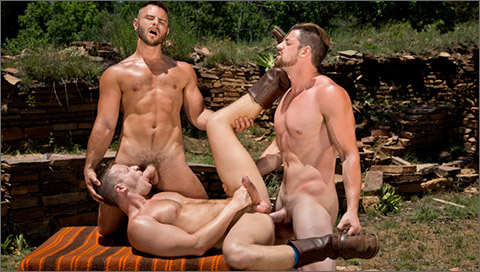 TOTAL EXPOSURE 2: Nick Sterling & Andrew Stark fuck Brian Bonds
Beefy Nick Sterling and dreamboat Andrew Stark spot Brian Bonds sunning near the old Native American ruin. They're both horned up and Brian is always up for a hot three way, so the hunks jump straight into the fun and slide their tongues into each other's mouth. Andrew's dick is so hard, his jeans are ready to burst, but Nick solves that by letting the cock out of its cage, having no choice then but to suck it. Andrew is a giant man, standing well over 6 feet, with the rest of his body parts in equal proportion. Nick tackles Brian's cock next, but his head continues to whiplash back and forth from Brian to Andrew. Nick and Brian entangle themselves in a sixty-nine, while Andrew bastes Brian's hole with his tongue and explores them more deeply with two fingers. When Brian lifts his ass into a shoulder-stand, it's a free-for-all on his hole, but Andrew's thick cock is first into the breach. Brian nurses on Nick's cock while Andrew fucks him. It's a super-hot change-up when Brian fucks Nick. Andrew's raging cock finds its new home in Nick's mouth. Climax for this trio finds Brian on his knees, swallowing two hot loads and drenching the thirsty ground with his seed.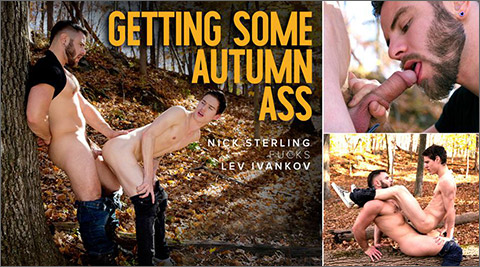 NICK STERLING FUCKS LEV IVANKOV
Meet our two newest CockyBoys: Lev Ivankov and Nick Sterling. Lev is the tall and thin type, with just the right amount of muscles to balance out his perfect physique. Being so new to the scene, Lev was nervous yet eager to get railed by our other new CockyBoy, Nick. Since Nick is a bit older, has a bigger build, scruffy beard, and thicker muscles, Lev was about to be broken in mercilessly!
   As their bodies met deep in the autumn woods, the grinding sounds of machinery off in the distance, the chemistry was instant. And their sexual energy was quite different from what you might expect around here — while Nick proved to be both extremely verbal and aggressive, Lev comfortably fit right into complete submission. Nick laid out everything he wanted Lev to do, from the kissing to the groping, and to the first time Lev's lips met Nick's cock.
   Nick forcefully skull-fucked Lev, telling him not to use his hands, before he bent him over against a tree and rimmed Lev's fresh hole. A short while later, Nick was pounding Lev doggy-style before pulling him up and holding him tightly to his body. He then brought Lev over to a fallen log, stripped of all his clothes and hammered him deep in missionary. Then Nick pulled Lev up to his lap so he could ride him, but Nick wanted to prove his full dominance. He picked Lev up, and with his strength alone, fucked him in the air, tossing him up and down with his cock slamming inside.

MONUMENTAL ASS: Tryp Bates & Nick Sterling flip-fuck
In nothing but tight, white jockstraps, Nick Sterling and Tryp Bates kneel face to face and make out while squeeze each other's bubble butts. Tryp bends over as Nick dives face first into his furry hole. Tryp wants to return the favor so he bends Nick over, spreads his beautiful bubble ass apart, and licks and nibbles. This is extreme, intense rimming – serious ass-eating action. Once they're primed and ready, Nick gets behind Tryp and slides his cock into Tryp's willing hole. Letting out moans and screams of pleasure, Tryp loves the anal pounding Nick's laying down. Changing pace Tryp flips Nick over and rams his cock into Nick for a flip-fuck session full of deep hole-stretching action. Nick gets pounded so hard he spews his warm load all over his abs, and Tryp pulls out just in time to shoot his load all over Nick's muscled ass.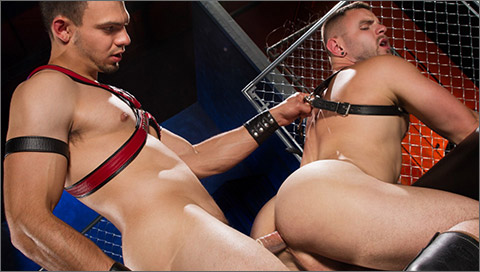 THE URGE – POUND THAT BUTT: Jason Maddox fucks Nick Sterling
Horned up Jason Maddox is on the hunt when he notices leather-stud Nick Sterling wandering aimlessly in the sex club. Nick strokes, inviting Jason over to grab a handful of his succulent ass. After being roughed up by Jason, Nick buries his scruffy face into Jason's bulge and takes a few deep sniffs before fishing his thick cock out with his talented mouth. Locking Jason's cock in handcuffs, Nick slaps Jason's rod making Jason slap him back. Nick gets on his back and gives Jason's throat an oral pounding. The heat rises as Nick bends over and Jason eats his firm, round ass in a rough and dominating manner. With the handcuffs still gripped around his throbbing cock, Jason eases his meat deep into Nick's hungry asshole. Starting off slow and steady, they quickly pick up the pace and Jason pounds Nick rough and hard holding him down by the back of his harness. Nick lays on his back and the chains on the cuffs rattle on between Jason's balls and Nick's ass as he pumps in and out of Nick's hole. Nick shoots his load all over his rock-hard abs while Jason keeps pumping. On his knees once again, Nick anxiously holds his mouth open for Jason's oozing load to be spilt down his throat. With his mouth full of cum, Nick spits some in Jason's mouth and Jason spits it right back.
HOT HOUSE
FALCON STUDIOS
RAGING STALLION
NAKEDSWORD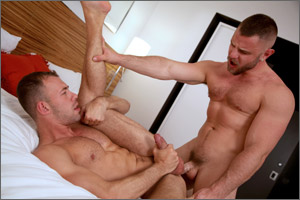 HOTEL HOOK-UP – ROCK HARD HOOK-UP: Nick Sterling fucks Brandon Jones
NICK STERLING FUCKS LEV IVANKOV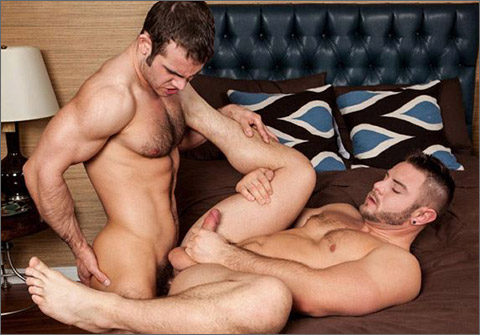 ABELE PLACE FUCKS NICK STERLING
DAN DARLINGTON FUCKS NICK STERLING
NICK STERLING FUCKS CAMERON MARSHALL
ADI & NICK
NICK & TREVOR
DEREK & NICK
ACE & NICK
NICK STERLING & CHIP TANNER SPIT-ROAST GABRIEL CROSS
BRETT & NICK
NICK STERLING SOLO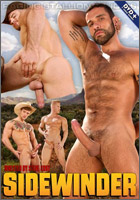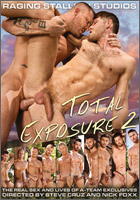 SIDEWINDER
TOTAL EXPOSURE 1
TOTAL EXPOSURE 2
KROSSFIRE (FEG-006)
READY TO FUCK (FEG-001)
JACKED (FEG-005)
TAHOE: KEEP ME WARM (FVP-253)
BEST BUDDIES (FVP-240)
ALPINE WOOD – PART 1 (FVP-241)
ALPINE WOOD – PART 2 (FVP-242)
TAHOE – COZY UP (FVP-252)
GUTTER PUNKS
THE URGE – POUND THAT BUTT
MONUMENTAL ASS