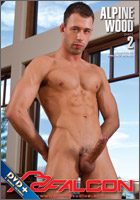 SCENE 2: Nick Sterling and Alex Graham flip-fuck
Crisp mountain air and a walk along the lake make the perfect prelude to romantic cuddling by the fireplace for Alex Graham and Nick Sterling, who have similar stocky builds. The enormous bulge in Alex's sweatpants displays a side-effect of cuddling with a hot stud like Nick: one big boner. Nick spies it and grabs hold, steadying himself as he swoops in for a deep erotic kiss. Nick swoops again and comes up with Alex's fat cock in his mouth. It glides smoothly in, to the base. Alex reciprocates, making eye contact as he sucks first cock, then balls. Nick's plump ass cannot be ignored, and Alex's attention is diverted into probing the warm crack with his tongue and thumb. Then Alex plunges in into Nick with his cock. They fuck in perfect unison of action and reaction. Then they swap, and Nick rams Alex in the missionary position until each triggers the other's climax and two cocks coat Alex in spooge.
years active:
2007 - 2015
known aliases:
Sterling
stats / info:
Nationality: U.S.A.
Age (2007): 22
Height: 5.8 (173cm)
Weight: 155 (70 kg)
Shoe: 9 US (43 EU)
Cock: 6.5 (17cm) cut
RANDY BLUE comments:
Nick Sterling is one hot jock. His beautiful muscle stud gym body is so cut you could run your tongue through every single ridge and crease and hit every single muscle. And his handsome face and charming smile, coupled with his outgoing friendly personality, would never lead you to believe this guy has an enormous sexual appetite and a penchant for dirty sex. He's adventurous in all things outside of the bedroom and was hesitant to talk about what he does behind closed doors for fear of scaring our audience away. Little does he know you guys will totally eat it up. We'll just have to get him on RBL to spill his beans, or throw him in with one of our other adventurous dirty boys and see what happens. His deep groans and nasty talk highlight the movement of his sweaty body as he works his cock for all it's worth. And his voice gets louder and louder as his heat grows and grows until his load not only shoots with incredible force, it erupts in a spray of hot steamy jizz that lands all over his smooth chest.