Handsome Athletic Czech Gay Porn Star, Mirek Madl
Known Aliases / aka: Tom Jacobs, Thom Jacobs, Abel Romanov, Czech Hunter 279
Years Active: 2016
WILLIAM HIGGINS INFO:
Mirek Madl is aged 20 and lives in Prague. He is a dancer and also enjoys going to the gym. He looks very good, with his beautiful face, as he poses for the camera. Stripping off his clothes we soon have Mirek naked and delivering a wonderful series of poses. That shows off his hot body, with his cock rock hard and standing proud. He doesn't stint on the ass shots either, with his hot, hairy hole being fully exposed in a series of great shots. This is one very sexy guy who is sure to deliver a great video next week.
Model Name: Mirek Madl
Age: 20
Home Town: Prague
Height: 156cm/5'1″
Weight: 58kg/127.6lb
Foot Size: EU38/US7.7/UK7.2
Penis Size: 14cm/5.51″
Profession/Student of: Dancer
Hobbies: Dance
Favorite Sports: Fitness
Active Sports: Dancing
Movie/Music/Sport Stars: Kim Kardashian
Visited Coutries: France
Want to Visit Coutries: Spain
Dream of My Life: I don't know.
Zodiac Sign: Leo (July 23 – August 22)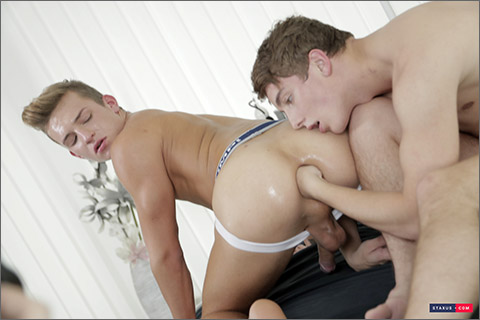 GIVE ME WOOD: DIRTY TWINK GETS FUCKED & FISTED TO A HOT, SPUNKY CRESCENDO
Peeping Tom extraordinaire, Titus Snow, continues his travails in the woods – on this occasion taking time out to see what horny boyfriends, Lucas Drake and Tom Jacobs, get up to when they're alone together in their nearby cottage. It goes without saying, of course, that we don't catch these two young fellows passing the time with DIY or doing the cleaning! Instead, they're ensconced in the favourite room of any guys their age – the bedroom – playfully engaged in a sensuous game of tonsil-tennis; before newbie, Jacobs, finds he can no longer hold back from taking a close examination of what his pal has got stashed inside his jocks.
   Seconds later and Drake's handsome ramrod is on full display; prior to Jacobs consuming the thick, meaty shaft courtesy of some energetic fellatio. Not that Drake is averse to giving head, as we already well know; and it will surely come as no surprise to anyone that he's soon replicating the act, with both lads rigorously 69-ing each other like a couple of cheap tarts. But Drake's never been one to resist getting the inches inside his guts for long; and fans who like to see him being speared in a whole variety of positions will soon be relishing his brutal deflowering.
   That said, it seems that a meaty dick isn't quite enough for him on this occasion. Indeed, the dirty little bitch is soon crying out for Jacobs to provide him with a no-holds-barred fisting – literally stretching his arsehole to buggery and creaming him off in the process. A top-notch display that leaves Jacobs to cream his filthy mate's outstretched tongue for the finale!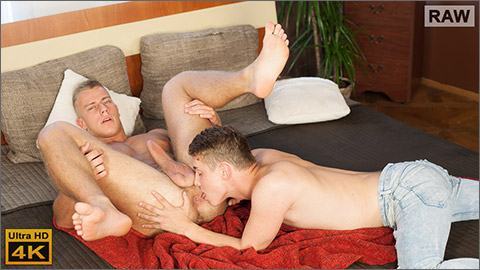 FULL CONTACT: BRADLEY COOK & MIREK MADL RAW
Bradley Cook and Mirek Madl are resting on the bed, almost falling asleep. Bradley suggest doing something, and his cock seems to be very hard in his shorts. It bobs in his shorts and quickly grabs Mrek's attention. He begins to run a hand over the throbbing bulge. Then he begins to kiss Bradley's torso. He reaches in and pulls the cock out of the leg of Bradley's shorts, kissing the head. He then takes the cock in his mouth and sucks on it. Then Mirek moves up and kisses Bradely before fulling releasing that big cock and going down on it. The fat cock fills his mouth as he sucks it. Bradley's shorts are removed to give access to his heavy balls too and Mirek eagerly sucks on them as well. Then, with Bradely naked and his legs in the air Mirek rims his tight, hot, hole and continues to work on that big cock. Mirek then gets naked, showing off his own rampant cock as Bradley moves onto his knees, presenting his ass. Mirek's dick slides deep into the waiting ass and fucks it hard. His cock fucks deep into Bradley's ass, that hairy ass taking it all the way. Mirek climbs up on that ass as he fucks so deep, with Bradley wanking his own throbbing cock. Then Bradley turns onto his back for Mirek to fuck him missionary style. He wanks himself as he takes Mirek's dick deep in his hole. Mirek pounds that hole as hard as he can as Bradley's wanking speeds up. Bradley shoots his hot cum over his belly as Mirek continues to pound his hole. Then Mirek pulls out as he is ready to blow and shoots the hot cum over Bradley. He wanks both cocks together, milking the last of the cum from them and leans over to kiss his buddy after a very hot session.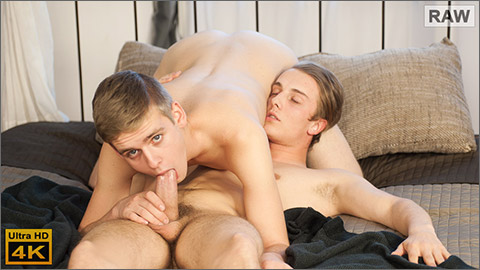 FULL CONTACT: BRADLEY COOK & MIREK MADL RAW
We have a lovely Dreamset today, which was suggested by Mario, a great supporter of the site. He wanted to see Mirek Madl and Lubos Zeman getting it on together, with Lubos giving up his sexy ass. Mirek is on the bed when Lubos arrives and joins him. They begin kissing each other and Lubos feels all over Mirek's body, pushing up his tee shirt. He soon has Mirek's jeans open and his swelling cock in his hand. Lubos sucks the cock into his mouth and works it so well, taking time for more kissing too. He keeps sucking on Mirek's stiff cock and then climbs over into a 69, with both of them naked. Mirek suck Lubos too, so both of them have their mouths full fo cock. Mirek really enjoys Lubos' dick and sucks it some more as Lubos kneels before him. Then Lubos straddles Mirek and slides his sexy ass down onto the throbbing cock. He starts riding that dick before Mirek takes over and thrusts it deep into Lubos' eager ass. He fucks that sss nice and hard, stretching the hole. Then Lubos lays down and wanks himself as Mirek's dick pounds into his tight hole. Mirek really works that hole good, slamming his dick in as deep as it will go. Lubos keeps wanking and shoots his hot load as Mirek's cock keeps fucking as hard as it can. Then Mirek pulls out and Lubos moves onto his knees, presenting that hot ass again. Mirek's cock slides back into the hole and fucks it hard and fast. He keeps up the fucking until he is ready to blow his load. Then he pulls out and shoots his creamy cum all over Lubos' ass. After milking all the cum from his cock Mirek takes Lubos off to the shower to clean up.
WILLIAM HIGGINS
STR8HELL
BADPUPPY
CZECH HUNTER
BEL AMI
STAXUS
CLICK HERE TO GO TO HIS WILLIAM HIGGINS BIO PAGE