American Gay Porn Star Sean Cody Amateur, Jordan Boss / Jordan
Years Active: 2011 – 2017
SEAN CODY INFO:
Height: 5'10"
Weight: 160lb
Cock: 6.5″
MEN.COM INFO:
Hair Color: Brown
Sign: Aries
Eye Color: Brown
Dick Size: 7.5″ cut
Height: 5′ 11″
Weight: 180
Sexual Positions: Top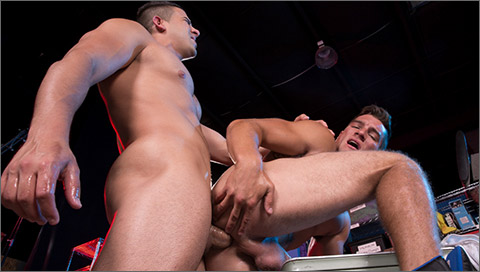 DEPTHS OF FOCUS: Jacob Taylor fucks Jordan Boss
As Director Austin Wolf photographs Alexander Volkov in the studio, production assistants Jacob Taylor and Jordan Boss retreat to the gear room where they initiate some steamy action of their own. Jordan playfully shows Jacob his ass, and Jacob takes the invitation, pulling down Jordan's shorts. They make out while stripping their shirts off, revealing smooth, jacked bodies. Eager to show off his cock sucking skills, Jordan whips out Jacob's cock and cups the base while working the sensitive, uncut head with his wet lips. Spit slides down Jacob's shaft and off his balls. Trading places, Jacob returns the oral favor for Jordan. Spinning around, Jordan spreads his ass and gives Jacob full access to the tender, pink hole. While applying slick spit with his tongue, Jacob uses his thumb to push the saliva into Jordan's ass. With Jordan's ass practically begging to get fucked, Jacob mounts him doggy style and slides in. With ever-increasing intensity, Jacob works Jordan's hole as sweat glistens from their muscular shoulders. Jordan's verbal affirmations make it clear just how much he craves Jacob's fat dick inside him. Flipping on his back, Jordan takes Jacob's cock directly to his most sensitive, stimulating area. Jerking his cock, Jordan shoots a massive load that projects across his thick arms. Jacob shoots like a fountain, delivering massive arching ropes of cum that splatter across Jordan's beefy torso. With their own behind-the-scenes fun finished, it's time to get back to work.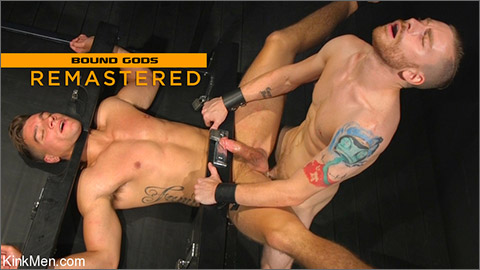 STRAIGHT STUD WANTS ONLY BONDAGE BUT HE'S MADE TO TAKE COCK UP HIS ASS
Jordan Boss is a straight guy out looking for some hard corporal and little bondage. Jordan comes to the dungeon of Sebastian Keys in order to seek out his pleasures, but on one condition: no sex. Mr. Keys could care less about Jordan's desires and ties him to a rack where he can do whatever he wants to the muscular sex toy. Jordan soon finds out that his sexuality has no meaning once Mr. Keys beats his cock with a crop before strokes it to the point where Jordan begs to cum. Mr. Keys then suspends Jordan on a Lazy Susan, and viciously flogs him in all directions. Jordan feels euphoric as Mr. keys bombards him with the flogger, that is until Mr. Keys pulls Jordan's head down, and has him suck some hard dick. Jordan is then suspended in the air for another round of hard flogging. Mr. Keys gives Jordan the chance to lie down as he is affixed to Mr. Key's bondage table, with a rope pulling at his balls, and clothespins covering his body. Jordan has given up on his no sex motto and fully embraces Sebastian's hard cock up his tight hole. Jordan feels new levels of pleasure from the ass fucking and unleashes his cum all over the bondage table before Mr. Keys' hot cum fills his mouth.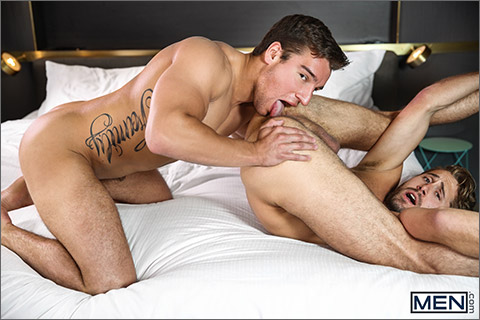 ON DEMAND
Wesley Woods orders room service — in the form of Jordan Boss. Wesley salivates over Jordan's cock, sucking away until Jordan flips him on his back and begins rimming his tight pink hole. Once properly loosened, Jordan plunges deep into Wesley filling him full of his delicious cock. The boys then flip and Wesley gets his turn stretching Jordan's hole before cumming on his face.

JORDAN: FRAT BOY ROPED, TICKLED, CANED AND FUCKED
Rope man J.J. continues to drill Jordan's frat boy ass while he is roped, spread wide, like a stuck pig, to the steel ladder suspended in midair. "Please….please…fuck, fuck, fuck!" the poor kid screams as the gun-like dildo rams his boy-hole over and over, making him swing back-and-forth on the ladder, tight hemp ropes digging into his chest and waist. After a while, rope man Anthony takes over, pushing the dildo in hard and roping it in place, permanently fucking the roped boy. Then, to make things interesting, Anthony nooses the boy's balls and stretches them toward the ceiling. J.J. is so turned on by Jordan's precarious position, he comes back with his cane and whips the boy's stretched thighs.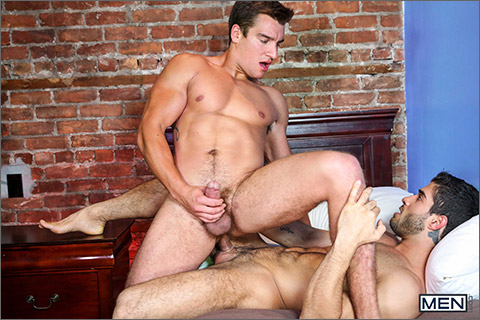 NEW YORK CITY WHORE – PART 1
When Diego Sans is refused an acting role as a hooker he decides to show he is the man for the part by transforming himself into a real New York City whore. Diego fucks the cum out of his sexy client, Jordan Boss, before he shoots his hot load into Jordan's mouth.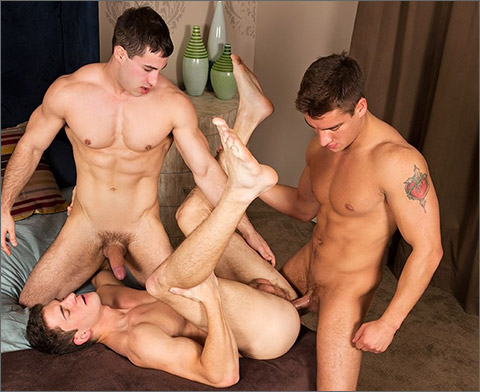 JOEY, RANDY & JORDAN: BAREBACK
HOT HOUSE
GAY ROOM
KINK MEN
SEAN CODY
MEN.COM
KENNETH BENJAMIN'S ROPED STUDS
CLICK HERE TO GO TO HIS SEAN CODY DETAILS