American Muscle Hunk Gay Porn Star, Jaxton Wheeler
Known Aliases: Valentino at Chaos Men
Years Active: 2012 – 2015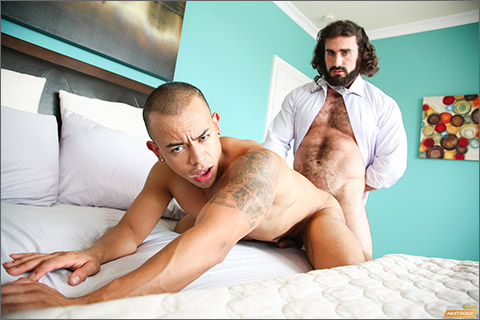 CHEATING BUSINESS
Jaxton Wheeler is a high-powered exec with one thing on his mind: Rey Luis's dick.
   Jaxton is staying at a resort on business, away from the wife and away from the kids. Last time he was in the area, he met Rey at a casino, just off the interstate. The two had some drinks together and ended up fucking in Jaxton's hotel room. Since then, Jaxton's cock has been aching for more Rey.
   Now is his opportunity. He calls Rey to see when they can get together. Rey comes over as soon as he can and the two have a glass of champagne. But the bubbles go down quick, and Rey pulls down Jaxton's pants so he can wrap his soft, wet lips around that thick meat.
   Rey's mouth is even more incredible than Jaxton had remembered. After a little while, they move to the bed where Jaxton enjoys tasting Rey's hard dick for a while. It's not long before Jaxton is sliding his erect cock into Rey's tender ass. Ah yes, this is the sweet hole Jaxton's been craving. And that hard pounding is what Rey had been missing.
   Check into the room with Jaxton and allow some pleasure to mix with business as these smoking hot guys reconnect.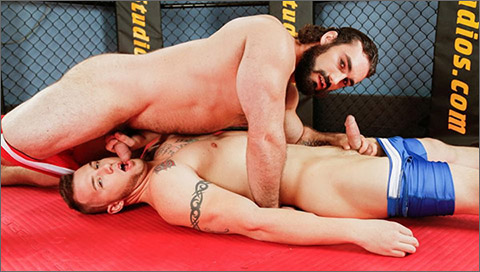 THE SINGLET LIFE
As Jaxton Wheeler & Chris Noxx spar on the wrestling mat, it becomes rather obvious immediately who has the upper hand. Jaxton, the bigger man of the two, conveys a swagger that conveys confidence and control, while Chris works for every opportunity available, only to have Jaxton use his brute strength to ultimately force his opponent into submission. Jaxton thrives on submission, and his need to control extends beyond just wrestling. So when he spies a hard on located in Chris' shorts, he seeks to dominate him there as well. Stripping him out of his singlet, Jackson hovers over Chris as he begins to take Jaxton's hard cock into his mouth. Jaxton puts his hand on the back of Chris' head and pulls him in closer, shoving his cock down Chris' throat before turning him over right there in the middle of the gym and having his way. Chris takes Jaxton's pounding like a good bottom boy, as Jaxton shows no mercy, bending Chris over up against a wall, and then flipping him over onto his back, pounding him without concern before dousing him with a victorious load that leaves Chris covered in cum and hell bent on besting his friend, even if it's the last thing he ever does.