Blond Czech Gay Porn Star, Florian Richter / Florian Mraz / Hugo Antonin
Known Aliases: Pavel Gaborik, Adam Sin (Spritz), Raul Dolce (Hammer), Roy Garret, Roy Garrett
Years Active: 2013 – 2018
STAXUS INFO:
Florian is a dirty guy who loves to try new things. He has no limits and can often be found at his local sauna experimenting.
Date of birth: 9 November 1990
Height: 5'11" / 180 cm
Cock size: 6″ / 15 cm
Ethnicity: Czech
Role: Versatile
Interesting Fact:
Florian used to be a plumber.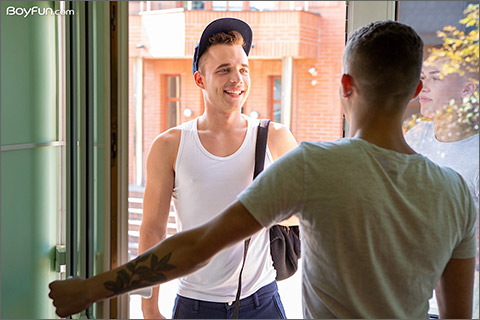 CZECHING OUT THE TUTOR
Educators usually have to work by certain rules when it comes to their interactions with students, but that's not the case when it's a private agreement like the one Florian Mraz is seeking. He's calling on sexy young JD Black to come and teach him English, but you know there's an ulterior motive for him choosing the gorgeous twink. After a few minutes it becomes clear to JD that this isn't going to be easy, especially when fit young hunk Florian unexpectedly decides to take a shower. The pretext for some BoyFun is soon set when JD barges in to find out where his reluctant student is and catches him naked. Surprisingly, Florian returns to the lesson fully clothed, but just as horny. All it takes is a little caressing and some suggestive talk and the handsome guy has seduced his slim friend, kissing and stripping on the bed, their uncut cocks quickly out of their pants and slipping into their mouths. Florian is an expert cock sucker, but he's even more skilled when it comes to sliding his naked uncut boner into a boy's willing butt hole. JD takes it from behind, savoring the pleasure of a deep thrusting from his handsome new friend. The sight of them spooning with legs spread is so delicious it's enough to entice anyone into fantasizing about making this duo a threesome, and after a little ass-to-mouth with JD getting an extra taste of that big dick he hops on for a ride, impaling himself on his buddy. Florian might not learn a whole lot of English but he does reward young JD for his efforts to teach with an impressive cum load to the face, which soon has the gorgeous young twink erupting his own juicy goo from his boner! Looks like this handsome young hunk might need a few more lessons, although hopefully he'll learn to say more than "I'm gonna cum"!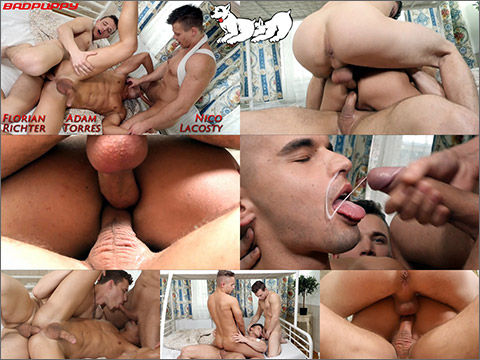 FLORIAN RICHTER & NICO LACOSTY DP ADAM TORRES
Nico Lacosty woke early to find his buddy Adam Torres sound asleep in the bunk above him. As Nico crawls into the bunk with Adam he wants to play; but, Adam wants to be left alone. Nico pulls on his jeans and heads out for a walk. During his walk, Nico meets Florian Richter and it was immediate lust. Nico was horny and since Adam was not giving it up, Florian would do nicely and he invites Florian back to his place. They both crash on the lower bunk, stripping off their clothes, sucking cock, shaking the bed and ultimately waking Adam who was still asleep in the top bunk. Adam peers over the top rail, sees the hot action starting below him and decides it's time to get up and join in. This three way of hot young studs managed to work itself into a sticky frenzy very quickly. Adam is the first to have his hole filled. As he's sucking Nico's cock, Florian pushes in from the rear and begins pounding away at Adam's plump, tight ass. Things really heat up when Adam crawls on top of Nico, sits down on his cock and then Florian climbs in behind Adam as well and shoves his cock into Adam's ass at the same time. Florian gives Adam a good fucking; but, the excitement gets to him and he has to pull out as he shoots his jizz all over Adam's balls. When Florian is finished, Nico rolls Adam over, pushes his cock deep into his ass and continues the pounding until Nico's ready to cum. He pulls out, climbs above Adam's chest and blows a thick creamy load into Adams mouth and all over his face. Adam's not been forgotten as Nico and Florian work to stimulate his cock, balls and chest until Adam's sprays his load all over himself and Florian's hands.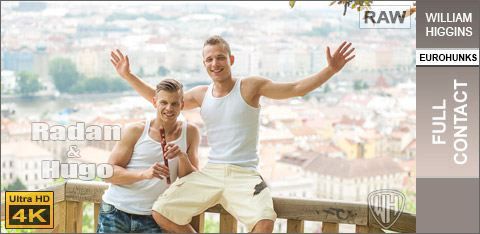 FULL CONTACT: HUGO ANTONIN & PETRI HIT RAW
Hugo Antonin is sitting up on Petri Hit playing his recorder. Radan Flex approaches and asks about playing it. He has a try, but has other things in mind and kisses Hugo, who responds eagerly. The decide to climb further up the hill, to a more secluded spot, where they find a blanket that they can use. They sit down on it and begin to kiss again. They are soon bare chested and rubbing each other's crotches as they kiss. Then Hugo removes his shorts to expose his rock hard cock. Radan leans over and takes it in his mouth to suck it. His mouth wraps tight around the big, thick cock as he sucks it. Hugo then helps Radan off with his shorts and returns the favour. He shows that he really sucks well too, working hard on Radan's stiff one. As he sucks that dick Hugo wanks himself. He licks up and down Radan's shaft and sucks on the balls too. Then they kiss again and get into a spoon position so that Hugo's big cock can slide deep into Radan's hot ass. That cock fucks Radan's eager hole deep and hard, opening the hole real well. As he fucks Radan's ass Hugo reaches over and wanks him too. Then Hugo lays on his back and Radan sits on that big cock so that Hugo can continue to fuck his hot ass. Radan's dick stands proud as his hole is pounded. Then his ass rides on that cock, sliding up and down the shaft, the hole stretched wide. His own cock is still rock hard and flops from side to side as he rides Hugo's. Moving to missionary position the fucking continues, with Hugo really working that hot hole. Radan cant get enough of that big cock and rides it again until Hugo is ready to cum. He pulls out and shoots his hot cream all over himself. Then Radan wants to cum too and he wanks himself until his releases his juice. They lay side by side, kissing as we leave them to rest.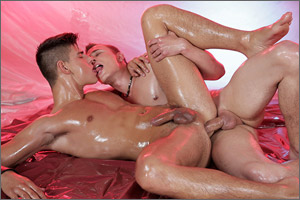 OILED TO THE HILT, TWO HORNY LADS PERFORM FOR THE BOSS & THEN PISS AWAY ALL THE HOT SPUNK!
It's often been commented that the stewardship of the Catholic Church is rather akin to that of the Italian Mafia – a point that is heavily underscored in this perverse little scene featuring Shane Hirch and Florian Mraz, who are forced to perform a live sexual show to one of the senior Church fathers. That, of course, implies that neither of these kinky young fellows is a willing participant in the series of carnal acts that follow – but the fact is that nothing could seem further from the truth!
   Indeed, it's hard to disguise the clear grin of anticipation that dons both their handsome faces at the start of this daring escapade; and by the time they've smooched each other's faces off and drenched a generous flow of massage oil over every inch of flesh in sight, their mutual pleasure is pretty much impossible to overlook! As a consequence, we suspect that there'll be a whole legion of fans following the Holy Father's example, unzipping their flies and wanking off to the filthiest, kinkiest coupling you're likely to have witnessed in a long, long time!
   Believe it or not, however, the hardcore fornication that ensues between these two lads – each one fucking the other in a flip-flop frenzy that arguably eclipses the wanton rimming and foot-play that precedes it – is not the highlight of this escapade. For that particular honour surely belongs to the top-notch piss action that concludes proceedings – a torrent of hot yellow nectar washing away the trails of spunk that both Hirch and Mraz have worked out of their balls just a few moments before! Church life was never so much fun!
BOY FUN COLLECTION
BADPUPPY
STAXUS
WILLIAM HIGGINS
WILLIAM HIGGINS STR8HELL
HAMMER ENTERTAINMENT
CZECH HUNTER
SPRITZZ
TYLER'S ROOM
BIG DADDY
BIG DADDY / OUT IN PUBLIC
FLORIAN MRAZ BOY FUN PROFILE
FLORIAN MRAZ STAXUS BIO PAGE
FLORIAN MRAZ WILLIAM HIGGINS BIO PAGE